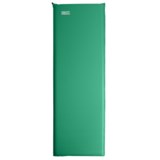 Closeouts. The Therm-a-Rest Trail Pro sleeping pad provides superior warmth and cushioned comfort for car camping. The self-inflating design features diagonal-cut foam and two inches of supportive loft.
Average Rating based on
11
reviews
3.454545
0
5
Verified Buyer

Reviewed by Carol the Hiker from Carolinas on Tuesday, March 14, 2017

I've developed a health condition so that I need to take a midday nap. My husband and I enjoy taking day hikes. This pad is lightweight enough and comfortable enough that we can carry it on our daypack, I can stretch out after lunch, take my nap, and then we can continue on our hike. It's exactly what we wanted.

Verified Buyer

Reviewed by Theo the Snowshoer from New York on Monday, February 27, 2017

What follows is a list of points in no particular order:

-it's comfortable

-only takes three breaths or so to be fully inflated

-it's long enough for someone who is 6'

-it keeps you very warm in cold ground

-it's not small when compressed, over two feet wide and 6 inches across

-it's heavy, you'll know you're carrying it

-the cloth it's made of seems durable

-dries quickly

Verified Buyer

Reviewed by Kurt from Wyoming on Thursday, January 26, 2017

I thought I was ordering the item pictured. What I got was a rectangular shaped pad 78" x 25" x 2" . I needed to use it the day it arrived and for the week sense, so I couldn't return it. Other than that, it is a good it's a good thermarest pad.

Reviewed by NotToday from New York on Tuesday, January 24, 2017

i was about to buy this pad/mattress and had to call customer service to question the 5.8 r-value. after talking to a therm rep and finding out they DO NOT make a pad that has a 5.8 r-value, this model is only a 4.0 unless you buy the ladies and for some reason it goes up to a 4.8 value. I'm sure it is an awesome pad but i would hate to count on the warmth that's missing. good luck to the ones that bought it and beware to the ones that are looking. For those wondering the Therm-a-Rest NeoAir Xtherm is the 5.7 r-value model and it goes for around $200 USD depending on the sight you go to....

Verified Buyer

Reviewed by dks from Texas on Thursday, January 12, 2017

These were definitely not the same pads pictured but I went back and read the fine print (says rectangular). Also they were labeled SMU which is special markup from Thermarest. Excellent pads but there was no stuff sack or bands to tie, wrap, or secure and transport the pads. I called Thermarest and they are shipping some stuff sacks to me free.You get what you paid for, just a sleeping pad.

Verified Buyer

Reviewed by OutdoorGal from Eastern WA on Monday, May 18, 2015

Unlike another reviewer, I did get the pad pictured. Initially I opened the valve at home to make sure it would fully inflate and after about 24hrs it mostly did. I did have to add a few puff to get air all the way to the end. I'm hoping future inflations will go more quickly since they'll be in the field and not my living room.

The pad is comfortable and exactly what I'd expect from it.

Verified Buyer

Reviewed by TheDenton6 from Michigan on Tuesday, April 28, 2015

It has been a long time since we converted to a 5th wheel. Now as I'm piecing together backpacking gear, I was hoping to get a comfy sleeping pad. I did receive the item as described/pictured. And, it does seems to be comfortable for my over 40 body. However, it didn't pack down as small as I was hoping. Cant image putting on or in my pack. Will probably exchange for a closed foam pad that is more indestructible.

Verified Buyer

Reviewed by dog walker from Colorado on Monday, April 20, 2015

Bulky but OK. Best for car camping. This pad came as it was pictured in the add.

Verified Buyer

Reviewed by Enginerd from Virginia on Monday, April 13, 2015

I carry the Prolite when backpacking, but I got 2 of these for car camping and a very short backpacking trip with my 8-year-old daughter and her friends. It is certainly more comfortable than the Prolite, but it does weigh 3 times as much.

Verified Buyer

Reviewed by Crispy from Illinois on Wednesday, April 1, 2015

The description doesn't match the title and picture. The pad I received (Camper Deluxe) did match the description. It's nice and thick and warm, but a bit bulky. Also, this one does not come with a stuff sack. Overall an excellent pad for the price.