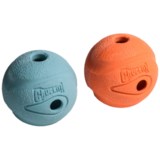 Closeouts. Pet Mate's ChuckIt! The Whistler ball is ideal for dogs who need a little audible stimulation to keep them excited about chasing a ball.
Average Rating based on
19
reviews
4.736842
0
5
Verified Buyer

Reviewed by Blue Dog's Mom from California on Wednesday, March 29, 2017

The texture is good and easy to grip even when wet or slobbery. Easy to wash alternative to tennis balls. Sturdy, yet has enough give for it to be somewhat pliable and easy on a dog's teeth and jaws when they squeeze down.

Verified Buyer

Reviewed by Yosemite girl from California on Wednesday, March 22, 2017

These are always a great way to make my dogs happy!! These are sturdy non-destructible balls and the dogs like the whistling noise when I throw them.

Verified Buyer

Reviewed by Melissa O from Virginia on Sunday, March 5, 2017

My dog will typically chew the fuzz off of regular tennis balls and chew hiles in them. These balls are super tough and emit a faint whistle

Reviewed by RedMtMom from Eastern Washington on Monday, February 27, 2017

These are my dogs favorite toy, hands down. She loves the whistle as it sails through the air and she munch, munch, munches it all the way back on the return. She's a chewer, but this ball seems to comfort her like a Binky to a baby. We've had these for about a year now; they re holding up nicely. Only purchased more as replacements for those lost to the brush, as these hold up even as a dedicated outside toy. She prefers the orange over the blue ball, consistently, so there must be an odor she can sense in the dyes.

Verified Buyer

Reviewed by Canine Foster Mom from Florida on Tuesday, April 5, 2016

All of our dogs who enjoy chasing balls love these! The dogs are able to hear/track the subtle noise that the balls make as they spin in flight. They bounce pretty well and hold up reasonably well against moderate chewing. (If you want them to last, don't let them stay in the presence of serious chewers for long periods of time!)

Verified Buyer

Reviewed by Thomas-Tampa from Florida on Friday, February 26, 2016

These balls hold up rather well and have a good bounce. I have a 60 pound Australian shepherd that will chase balls all day. Tennis balls and other manufactures equivalent to fetch balls will last no longer than a week in general. I would recommend this if your dog is tough on destroying play items.

Reviewed by GAGirl from GA on Monday, February 8, 2016

Labs love these. They bounce very well/high off soft ground!

Verified Buyer

Reviewed by Owi from wa on Friday, February 5, 2016

Tough, durable and easy to see..... my dog is the Master Destructor, and can hardly put a dent in these...

Verified Buyer

Reviewed by Steve from Lake Tahoe, CA on Tuesday, October 13, 2015

He want put it down and hasn't been able to tear it up yet.

Verified Buyer

Reviewed by northern gal from northern Minnesota on Wednesday, September 30, 2015

I had a dog toy whistler ball from Duluth Trading Co. It had a noticeable whistle and was much larger. My labrador dog loved it until it was lost, sinking in the swamp. This Chuckit ball is small, tennis ball size, and maybe the whistle is more audible to a dog's hearing (?).