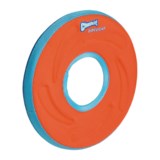 Closeouts. Pet Mate's ChuckIt! Zipflight flying ring is a fast-flying toy that's soft enough to not hurt your dog's teeth. The soft but durable construction floats, too.
Average Rating based on
8
reviews
4.625000
0
5
Verified Buyer

Reviewed by Tephra from Colorado on Tuesday, March 7, 2017

I really like the chuck-it toys, they are durable and my dog loves them. I like this one in particular because it is more durable and I can roll it instead of throwing it because it has wider edges. It is also throwable as well, but I like the speed I can get when I roll it and it is fun to see my do react when it bounces over bumps!

Verified Buyer

Reviewed by Mac101 from oregon on Thursday, March 17, 2016

This is well made and great price, my dog loves it.

Reviewed by Davey Crockett from Tennessee, California on Monday, March 14, 2016

Bought this on a whim after reading the great reviews. Very well made, our 4 y.o. 42-lb English Springer Spaniel can't seem to chew her way through it. Plus, she seems to like her new toy just fine as part of her little menagerie of toys. A few things that make the ChuckIt Flying Ring not a great toy, and why we and our pup love the Floppy Disc "Soft Bite" much more:

- Not super aerodynamic. The buoyant rubber material is heavy. Coupled with the large hole in the middle, the disc does not stay airborne for long; Floppy Disc, by comparison, glides and stays aloft with ease.

- Unstable flight. Compared to our comparably sized Floppy Disc "Soft Bite" that travels fairly straight and level (if tossed that way), the Chuckit version always seems to list to one side.

- Not great for direct-to-dog tosses. Maybe a very big dog would be OK with it, but for only an 8" diameter this disc is really HEAVY, and results in serious hard impact when tossing directly to the pup. She understandably always ducks away and avoids it.

I dunno. For six dollars and change, maybe we'll keep it anyway. However, generally would not wholeheartedly recommend this toy for smaller than a 60-lb dog.



Verified Buyer

Reviewed by DCCRanch from North Texas on Monday, March 14, 2016

My dogs love Frisbees and this is no exception. They like gripping it in their teeth through the hole in the middle. Haven't tried it in the pond yet to see how it floats. It doesn't fly as well, in my opinion, as the solid material Frisbees. Would like to have one without the hole to see if it flies better. The material around the outside that looks like it provides the buoyancy would more than likely be damaged by a heavy chewer if not supervised.

Verified Buyer

Reviewed by Mac101 from oregon on Wednesday, February 17, 2016

I bought this for my new dog but it ended up that my 7 year old lab just loves. I even order a second one just in case.

Verified Buyer

Reviewed by Linda from Upstate New York on Saturday, January 30, 2016

This Flying Ring has become my dogs favorite toy. I try to throw others but she just wants this one. I ordered another for a backup.

Verified Buyer

Reviewed by LucyandSam from Virginia on Wednesday, October 28, 2015

My dog loves this toy and begs to play with it.

Verified Buyer

Reviewed by Leverkit from Colorado on Wednesday, March 18, 2015

Dog loves it. Durable, Floats and stays on top of snow making it easy to find (have lost many toys only to be found after the snow melts).