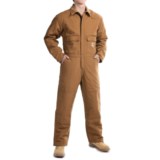 2nds. As durable and warm as they are protective, Carhartt's Flame-Resistant Duck coveralls provide increased protection against electric arc flash and flash fire exposure. Premium 13 oz. cotton duck is fortified with an array of fire-resistant elements, including quilted lining, Nomex® zipper tape and inner cuffs, snaps and more.
Average Rating based on
27
reviews
4.185185
0
5
Verified Buyer

Reviewed by Mark from North Carolina on Thursday, April 6, 2017

Carhartt nuff said....I could not find any blemishes or construction faults on these to make them 2nds. Hey, for the price you can't beat them! True to size and length. I have a long torso and short inseam and the short version fit great. Very warm and once broken in with washing and softened with vinegar soak they are very comfortable.

Reviewed by Trader x from Eastern PA on Friday, March 31, 2017

If you are looking for this as a job related garment, I'll say this is well made and should function beautifully as stated. If you are just looking for an insulated coverall but do not want to loose any mobility, consider other options. Many reviewers mentioned the issue regarding mobility(comfort as well), please read them. I made the mistake of not reading this carefully before buying. This weighs around 10 lbs.. Good luck.

Reviewed by Salt Lake City from Utah on Tuesday, March 28, 2017

Awesome overalls. Super heavy duty and super insulated/warm. They are a bit stiff due to the dense fire-proofing materials but not terribly so after a wash or two. I ordered a regular length XL and they are perfect height-wise (Im 5'11) and leave plenty of room in the body for extra layers if needed (I plan to use them as a snowboarding suit). I cant find anything wrong with them, so Im not sure why they are "seconds".

Verified Buyer

Reviewed by abby from pa on Monday, March 27, 2017

My husband seems happy with them, and the price was right; even though they're considered seconds!

Verified Buyer

Reviewed by Tractor Dave from Vermont on Monday, March 27, 2017

Awesome coveralls, but at nearly nine pounds, they are heavy. Really well made, with thoughtful design.

Verified Buyer

Reviewed by DK from Central Wisconsin on Monday, March 27, 2017

I really questioned buying these after reading some of the reviews, because users said the coveralls were sized wrong and were heavy and uncomfortable. I found none of this to be accurate.

Size: I'm 5'7" , 168 lbs and I ordered a med short and they fit perfectly.

Weight: these are not a light coverall that you wear when changing the oil when it's 40 degrees out (although you could). These are heavy coveralls and they fit like they should....they are heavy and bulky from both the insulation and flame resistant covering. If you go in thinking these are flight suit flimsy .... you're going to be disappointed. You won't be doing much running in these bad boys. That said, whatever you do in them, you'll be protected and warm.

Overall impressions: why not 5 stars? It's a fair question - they're just not 5 star comfortable. Could they be? Maybe, i don't know. They are pretty good though and they do exactly what the Carhart says.

Verified Buyer

Reviewed by Megan from MD on Monday, March 27, 2017

Thick and durable. Will keep me warm in winter.

Verified Buyer

Reviewed by BrentsGirl from California on Saturday, March 25, 2017

My man has always wanted these but could never afford them. I just bought him a pair and he absolutely loves them! They r awesome! The only thing is that they r just a touch too big so we r hoping they shrink. He wears a 34 pants and 36 coveralls. I got him 36. He said that if they made a 35 those would have been perfect. Either way, he really loves them.

Verified Buyer

Reviewed by N/a from Mt on Tuesday, March 7, 2017

I liked the product , well made. The first order I ordered 2x they were too big so I reordered a XL it was too big also, so I sent both pair back.I will not order carhartt coveralls unless they are sold in number sizes like 50 x 32. Sorry I could not write a better review.

Reviewed by First responder from North Idaho on Friday, February 24, 2017

Great coveralls. I'm 6 foot, 210 pounds (average build). I first ordered the XL. It was like wearing a sleeping bag so I ordered a Large. It too was very big. (6 inches too long in the crotch and 4 inches in the leg. I ordered a Medium (I haven't worn anything medium since grade school). It was a perfect fit. I'm happy. Just wish it came with the hood.