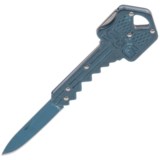 Closeouts. Ensure you're prepared for quick cutting tasks with the SOG key knife, a stainless steel pen blade with a handle that's the shape and size of a house key.
Average Rating based on
11
reviews
4.818181
0
5
Verified Buyer

Reviewed by Daturtle from West Virginia on Thursday, August 11, 2016

This little gem far exceeded my expectations. I could kick myself for not ordering more at the time. Very sharp blade and the item is not really heavy but is constructed well (does not feel like it's going to break or fall apart in your hand). I purchased it for work, to open boxes from deliveries we receive but it is great for all sorts of uses, including personal protection.

Verified Buyer

Reviewed by MichiganBorn from Michigan on Wednesday, August 10, 2016

Handy both a few to give as gifts. Well made ,sharp edge,

Verified Buyer

Reviewed by tawkboyd from Idaho on Wednesday, August 3, 2016

Bought this for my wife's key chain, she likes it. Doesn't really look like a key, in so much as 'keyesk'. Makes a good letter opener, pen knife. She likes it.

Reviewed by Savvy Sleuth from Oregon on Tuesday, July 26, 2016

I purchased (2) of these SOG Key Folding Knives; one for me and one for my daughter who is going off to college. I liked the idea of a knife that was small, convenient and easily accessible when out and about. The stainless steel constructed SOG offered the twist of something that could easily hide on a keychain.

The blade is 1.5" long and very thin, but appears strong enough for the tasks I'll be asking it to do. Cutting off tags, opening letters or similar will be a breeze with this thing. Deboning a chicken? Probably not. It's not completely hidden when the knife is closed, but enough that at first glance you don't notice it's a knife. The blade extends and locks into place. A button on the edge near the top of the key must be depressed to release the lock to fold the knife back up.

I'm not crazy about the blue-green-gray color, but it does make it easily identifyable on my keyring. I'm considering buying about 10 more to give as holiday gifts as both men and women will appreciate its usefulness. Really like it and recommend it to others.

Verified Buyer

Reviewed by Yo2luzina from Texas on Saturday, July 16, 2016

I ordered these for that small pocket in my walking shorts and it fits perfect. I showed it to my hubby not knowing who SOG was and he informed me they make quality stuff. Really impressed with the thickness and ease of opening and closing mechanisms.

Verified Buyer

Reviewed by Martin from Miami on Tuesday, July 5, 2016

Well made and form fitting for your everyday key ring. Never get caught not being able to cut what you need. DONT forget to remove it from your key ring if you are going to be flying, cause you will have to buy another one!!!

Verified Buyer

Reviewed by Justin from Texas on Thursday, May 12, 2016

low profile and available when you need it. If you get the colored version, just know that it's place among the keys will necessarily cause the removal of the color, but that doesn't bother me, as I'd prefer it blend in with other keys anyways.

Verified Buyer

Reviewed by Helen from San Francisco on Friday, March 11, 2016

bought this quality SOG knife to use as a letter opener/pen knife on my key chain. I especially like the way it locks into position and the blade is released by pushing in the lock release on the bow of the key. Highly recommend!

Reviewed by D. from Mississippi on Thursday, March 3, 2016

Just received this little key knife yesterday - pleased with the overall quality. The stainless blade steel type is unknown and the edge is quite sharp out of the box. Features a back lock type blade lock. All riveted construction and hefty for its diminutive size. Although it will carry on a key ring along with other keys both the color and heft obviate it as not being a key. I've carried an el cheapo for many years that is no larger than the other keys on the ring but it is inferior in quality, not stainless, and very limited in use for fear of breaking. No such fear with this little SOG. I wouold like to see SOG make a key knife that is machined from a titanium billet that is scaled more to the size of a 'normal' key. All in all I was surprised at this model's quality and like it for what it is. Bought two (new product discount) and had one sent as a gift; each knife shipped N/C with the STP promotion. Hurrah.

Reviewed by Teddy's Mom from Novato, CA on Friday, October 2, 2015

I always seem to need to cut some small thing (for example, the tag off an item I've just purchased) when I don't have scissors or a knife handy, so I bought this to put on my keychain. Very convenient, low-profile, sharp little blade. The only thing I have found problematic is it is tricky to "unlock" and close the blade back up; I'm always a little worried that I'll cut myself. All in all a cool product.