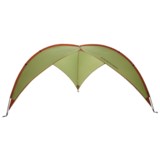 Closeouts. Think of ALPS Mountaineering's Tri awning as shade insurance -- no matter how hot the day is, you'll always have a cool retreat to escape under. Easy-to-assemble three-pole design includes a Sunshield side fabric panel for added protection from the sun.
Includes stuff sack, stakes and guy ropes
Size: Adjustable from 13½x13½' to 15x15', 75-95 sq.ft.
Height: 6-6½'
Stuff size: 25x5"
Weight: 11 lb.
Material: UV-resistant polyester fabric and fiberglass poles
Made in China.
Average Rating based on
102
reviews
3.960784
0
5
Verified Buyer

Reviewed by Nick from Memphis on Tuesday, June 19, 2018

Good design, easy set up and take down (easily less than 5' with 2 people), creates a good patch of shade. Exactly what we wanted - we use it for our kids sporting events. Have to be a little careful due to the fact that it blocks the view of people sitting to the side of you if they are back a little further than you.

Verified Buyer

Reviewed by Chris from Maryland on Monday, June 4, 2018

This awning does not stand up in even light 5-10 mph winds. The guy-lines help a little, but fundamentally the poles are too long and flexible to keep the awning fully upright. Also, the shock cord in one of the poles broke after very little use. Dealing with Alps Mountaineering directly.

Verified Buyer

Reviewed by MRose from NorCal on Wednesday, May 31, 2017

Haven't gotten to the beach yet- so that review is for later, but setting this up in the yard was easy for two experienced tent pitchers, it is really BIG- no problem for the gang w. beach chairs- and it packs into a small 9.5lb load-good for duffle packing.

Reviewed by Cody from southern california, colorado & montana on Thursday, December 15, 2016

If you buy this, just know that it should be used as a sunshade on calm to mildly windy days. Otherwise you'll need to buy larger stakes (take a hammer) and likely still be disappointed and frustrated if you have wind. it was entirely too flexible, so moved like a kite, and the grommet on the side that would apparently add another tiedown point ripped away in the first gust.

Verified Buyer

Reviewed by REF from Decatur, GA on Wednesday, September 14, 2016

Arrived in a dented box with no product damage. Although a very awkward process to pitch with 2 people assembling and breaking down, the long structural poles, pegs (highly suggest purchasing 3 - 7 sand anchors), and guy lines held this canopy better than any other tent or canopy on a FL Gulf of Mecico windy beach with 10-15 MPH gusts. Other canopies and instant pop-up tents damaged by the wind were in a disposal by the end of the day It provided a fantastic shaded area. It dries fast, and stores nicely into the canopy zippered bag. I'm happy with my purchase.

Reviewed by PAcamper from PA on Saturday, September 10, 2016

First, we are talking about under $100. We use it at the beach. We added 5 sand anchors and we use all the tie downs. Is it perfect, no. We have used it 14 times in windy beach situations. I do expect to have to repair a pole occasionally. Proper and secure tie downs are essential and yes it blows around. It offers a lot of shade at a budget price.

Verified Buyer

Reviewed by Glassgirl from Lake Michigan on Thursday, July 7, 2016

Those long hot days at the beach call for some relief, for some more than others in our family. This tent creates max amount of shade because of its shape and its ground hugging profile. It also does very well in the high winds we sometimes have along Lake Michigan and There's plenty of room underneath for lots of chairs. This is our third tent we have ordered over 20 years (sand in the fittings eventually renders it unusable). We've seen all kinds of tents on the beach but this is the best one for us. We don't have the handiest guys but they are able to set the tent with no groaning.

Reviewed by Karen from New Mexico on Saturday, July 2, 2016

This shade tent is light, easy to set up, comes in a great carrying case, and is generally fantastic in every regard except one: it is made from the cheapest possible materials. The first time we used it, one of the grommets popped off. The second time we used it, the fabric tore along a seam and two of the fiberglass poles shattered after a strong gust of wind. We won't be using it a third time. I'm giving it one star because I was still picking fiberglass splinters out of my hand three days later, and that completely overrides any appreciation I might have for the great form factor or setup capability. SO DISAPPOINTING. I would pay a LOT more for this tent made with materials meant to withstand, y'know, the outdoors.

Plus, ow.

Verified Buyer

Reviewed by Dan from NYC on Tuesday, May 17, 2016

But weak for windy day.

Reviewed by H to the izzo, V to the izz-a from Tennessee on Monday, May 16, 2016

I'm sure this thing might have some usefulness to someone, but I can't for the life of me think who that person might be. I ordered this as I thought it might be useful for a beach trip or down on the river during the summer to provide shade. I gave it to my wife so that she could use it for field day at her school. I haven't even taken it out of the bag. So when I came in that day, I asked her how it worked and she said they never could get it to stay up (That's what she said). Anyway, me thinking that I am a superior outdoorsman, decided that i would set it up in the yard and show her how easy it was and how well it would work.

Conditions: Sunny, wind gusts to about 10-12 mph, but otherwise calm
Place: my sodded lawn
Time to erect: 10-15 minutes
Time to get correct: additional 30 minutes

Pro's: Was up

Cons: Whenever the wind would blow, This thing folds up like a double stranded DNA helix. I'm talking like barely any wind at all and this thing goes to flopping around the Wacky Waving Inflatable Arm-Flailing Tubeman. So i think, this is what those extra tie downs are for and place them around it and anchor them to the ground.
Well, this works, so i go to attach the additional sun shade, clips break.

So, the worst part was that during this ordeal, my wife is looking out the window at me and laughing hysterically as I swear and throw things like a child.
Well, I decided to go inside and get something to drink>>>>fast forward a couple hours, I go back outside and this thing has blown down, stakes pulled up and pieces of tent strewn across the neighborhood. Thought about just moving, but instead decided to find and pack up all the parts of this thing and send it back.