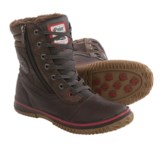 Closeouts. A little bit of old-school sneaker inspiration joins reliable waterproof protection and warmth in these Pajar Tour snow boots, loaded with a waterproof membrane, 400g insulation and an eye-catching, multi-material upper with plush Berber fleece shaft lining.
Average Rating based on
12
reviews
4.583333
0
5
Verified Buyer

Reviewed by Brian F. from Bangor, ME. on Tuesday, December 5, 2017

Just what I wanted and needed, a pair of winter boots that will keep my feet warm and dry this winter. They're comfortable, too. Not too heavy, so your feet, calves and thighs won't have to work overtime. The side zippers are an ingenious addition, but be sure to lube them with silicone spray or something so you can zip them more easily once they're on.

Verified Buyer

Reviewed by Shopper of the family from Michigan on Monday, November 7, 2016

Liked this boot because it wasn't big and clunky like most insulated waterproof boots. Bought for my husband- he also found them very appealing. I ordered his size, but they run a little small, so had to order the next size up-which was perfect. Haven't had the opportunity to "test drive" since it hasn't gotten cold yet, but they have a lot of insulation, so should be fine! Will be good for general winter use.

Verified Buyer

Reviewed by Grandmama's daughter from NYC on Wednesday, February 10, 2016

These boots are comfortable and easy to put on. I'm happy that I bought them and would buy them again. They do run small so if your an 8 1/2 get a size 9 boot.

Verified Buyer

Reviewed by billgator from Fair Hill, MD on Sunday, February 7, 2016

I haven't had the chance to wear these in conditions below 30F so can't comment on the warm factor. Judging from my other snow boots and how they deliver these feel like they would be fine above 25F but for extreme conditions I would want something with a thicker sole. They look and feel great and the Euro size 45 ( 12-12.5 USA ) fit my size 11 feet nicely. if you had to walk to work through slush with your office shoes in the pack, these would be great. Not so bulky you would be tripping over things.

Verified Buyer

Reviewed by Chris from Bozeman, MT on Tuesday, February 2, 2016

If you're anything like me, making a product deserving of this title is darn near a sin. Boot looks great on the shelf and seems to have high quality materials, but fails in its actual intended use. I would assume the only reason to add a zipper on the side is so you can slide your foot in and out without having to do the laces every time. However, the zipper only gets you a 1" gusset at the top, and almost no extra room anywhere near the ankle and footbed. This makes it practically impossible to wrench the boot onto your foot (as a ski patroller I know my way around tight, uncomfortable footwear), and the time lost in the process is not only really frustrating, but far exceeds that of just tying up a shoe. If you leave the laces loose enough that you can actually get it on with any amount of ease, your foot is flopping around inside (not great in ice and snow) and the leather just kind of slumps and looks really shoddy.

Doesn't meet my needs for an easy-on snow boot with a functional fit, so it will sadly have to be returned.

Verified Buyer

Reviewed by Spark from Iowa on Sunday, January 31, 2016

I would probably give these boots an extra half star. They are extremely comfortable. The zipper/lace combination allows you to customize the fit. They do run slightly small and the 44 fit very well for my usual size 10 wide. Zippers are slightly stubborn where boot flexes and need to be closed before you tighten the laces. After a mild week in Yellowstone(low of 3 degrees F), they were waterproof and had decent insulation. At colder temperatures it might depend on activity levels and how good your circulation is.

Verified Buyer

Reviewed by Anthony from Minnesota on Wednesday, January 27, 2016

These shoes are absolutely wonderful. They fit true to size, extremely warm and comfortable. In fact, my kids wear them when I am not paying attention.

Verified Buyer

Reviewed by Phil from Minnesota on Tuesday, January 26, 2016

I really like my Pajars. Rated down to -22, these make getting out in our Minnesota winter easy and comfortable. They don't fit quite like sneakers but neither are they cumbersome and clunky like snow boots I've had in the past. The zippers make them easy on and off. I got them in black and they look really nice. Yay!

Verified Buyer

Reviewed by Jason from Milwaukee on Tuesday, January 26, 2016

I wore these boots while riding my bike in 0F temps and my feet were the least of my worries. Totally comfy through the wind and the chill. Plus they aren't bulky like many winter boots, which allows for added style and flexibility. The zippers on the side ensure the boots are tight and air-proof.

Verified Buyer

Reviewed by Vaca Mac from San Francisco on Thursday, January 7, 2016

I needed a boot for warmth and waterproof. These fit the need perfectly. I normally take a 10 wide. I bought these in a size 44 european. They are a little snug since I haven't broken them in yet, so I removed the insole which made the size just right with heavy socks. They arrived just as the storms from el nino hit northern California where I live. My feet are dry and toasty and with shallow lugs on the sole I'm not tracking in the outside when I come home. A great feature is having both laces so I can adjust them with any weight of sock and a side zipper making them easy to get on and off. These will work great if I go to the snow in the Sierra mountains 2 hours away or just splash around the field of our local animal shelter which frequently floods. If I were to have only one pair of shoes this winter I would choose these. I highly recommend these.