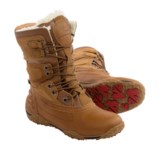 Closeouts. Snow-covered streets, ice-dipped branches... 'tis the season to bring out Pajar's Pearl snow boots, ready to take on cold, wet conditions with a waterproof membrane, warm insulation and a thermal rubber sole that maintains traction even in extreme cold.
Average Rating based on
18
reviews
4.055555
0
5
Reviewed by chris from San Francisco on Wednesday, June 1, 2016

Very warm and waterproof (I hiked in the snow), true to size. You have to use a bit of strength to tighten the laces to a good fit but once you do it feels great. My only critique is that they seem rather fragile. I scratched it up (maybe past the waterproof layer?) while wearing them on my short bike commute. I'd expect winter boots to hold up to a bit of abrasion I might encounter in the wild.

Verified Buyer

Reviewed by Mandiwarhol from Kentucky on Wednesday, February 10, 2016

I ordered these boots based on their excellent review. I was looking for something stylish but WARM in the winter and waterproof. I have only worn these boots twice outside in the cold and both times my feet stayed very toasty. They are a little taller than I was expecting but thats OK for warmth. They are very nice looking and not too stiff for comfortable walking- I find the footbed to be adequate but some may need a little more support. Overall, they seem well made and well worth the money.


Verified Buyer

Reviewed by Sonora Golfer from Plymouth, MA on Thursday, February 4, 2016

These boots are very comfortable and warm. I was disappointed in the man-made material though.
I had typed in leather as a filter so I was expecting all leather boots. The leather/suede is the lacing part which is very attractive. The man-made material is cheap looking and if you don't wear your pants in the boots, that's what you see.
I returned the boots. Size was perfect. I liked the color. The fatty ankles didn't bother me too much (and they do scrunch out as mentioned in other reviews).
If you don't mind thst they are not entirely made of leather, these are nice boots for the money spent.

Reviewed by Biscut001 from Indiana on Monday, January 25, 2016

I ordered these boots 2 wks ago and had to send them right back, I tried them on and they bunched up around the ankles,but other than that the boot was nice, I wear 7 and they are true to size even with heavy socks.

Reviewed by Nothern Girl from Yk on Sunday, January 17, 2016

I've been wearing these boots for three weeks now and love them! They are stylish (with skinny jeans), comfortable, warm and the best part are the grips. They work well in icy conditions. I live where in northern Canada where there's always ice and snow on the ground and these grips are amazing! I've noticed other people have complained about the "bunchy ankle" I find this is what helps the boot be more flexible and comfortable. I get compliments on them all the time. I'd recommend this to anyone.

Reviewed by Karen from ND on Sunday, January 17, 2016

Haven't taken them out trekking for long periods of time, but they've served me very well this winter in the Dakotas where it's been down to -30 degree temps the past few weeks. Comfortable fit and super lightweight compared to other boots of similar grade.

Reviewed by Rachel from Burlington, Vermont on Friday, December 25, 2015

I put these on my wish list for Christmas and they appeared under the tree this morning! They're exactly what I was hoping for based on the description and photos. They're not bulky, they are comfortable, and they look beautiful! I didn't have any strange fit issues or bunching in the ankle. My shoe size is 6.5 for sandals and 7.5 for boots/sneakers/most casual shoes. I got the 38. My foot isn't that narrow but doesn't take a wide either. With a medium weight sock these boots fit perfectly! If I sized down they'd be too small. I haven't worn them yet but I will be taking them to Maine in a few days (it'll be cold and there will be snow). I'm confident that they'll keep me warm. I recommend!


Reviewed by bizeemom from Washington on Tuesday, December 15, 2015

The good thing about these boots is that they not clunky, heavy snow boots. I was not able to wear them out in the cold but I think they would keep your feet warm. However, they were stiff enough around the ankles to make them not very comfortable. Also, there was a seam that would push on my heel, and you could clearly feel it with your hand. It was only on one of the boots, so I think it was an unusual manufacturing defect. I normally wear a size 7.5 and the 38 was snug enough that I could not wear heavy sock with them. I would say they run a little on the narrow side.

Verified Buyer

Reviewed by Nelle from Washington on Tuesday, December 15, 2015

I was disappointed in the awkward lacing system that could not flatten the weird tongue. Walking was not comfortable with the bunched material inside digging into my leg. The profile of the boot appeared sloppy. I am returning them for a better,less complicated boot.

Verified Buyer

Reviewed by lolasmom from syracuse, NY on Tuesday, December 15, 2015

First off, snow boots are not pretty and these did not disappoint. They are not pretty, kind of fun looking, soft inside but definitely not pretty. They are warm,without being hot and most importantly not heavy. I tend to have my boots on for 6 or more hours at a stretch when I am working and heavy boots are just too tiring to wear. When I first put them on, it seemed that the sole was rather hard but after a half hour or so they were fine.The only thing I don't like about them is the laces which I intend to replace. I think they will look better and be easier to lace with ovals or a wider lace.