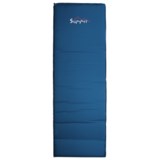 Closeouts. Enjoy many camping seasons with this ALPS Mountaineering Summit sleeping pad. Self-inflating nylon pad has PVC dot bottom to keep pad from sliding while you sleep.
Average Rating based on
215
reviews
4.148837
0
5
Verified Buyer

Reviewed by Climberchick from Massachusetts on Thursday, October 19, 2017

I have only used it once, so the self inflate didn't work so well. I guess it takes a few times using it before the self inflate works properly. So I blew it up. it didn't take long and held the air well.

Reviewed by OccasionalBackpacker from California on Tuesday, October 3, 2017

Worked alright the first time we used... The second time it deflated completely. Found the source was the at the nozzle seal. Rapaired with the kit included but did not fix. Had to sleep the rest of the trip on the floor. :( Get the non-inflatable ones if you want to save yourself the pain.

Verified Buyer

Reviewed by Carrie from Colorado on Wednesday, August 23, 2017

This is a nice sleeping pad for car camping. It is comfortable and easy to inflate. I often turn it upside down so my sleeping bag sticks with the "dot bottom" as that happens more than it sliding around on the tent bottom. It is a bit big and bulky for backpacking, but I wasn't planning on using it for that anyway!

Verified Buyer

Reviewed by Lisa girl from Nevada on Tuesday, August 15, 2017

We have only recently received these and haven't had a chance to use them overnight, but was immediately impressed by the comfort when we laid them out on the floor. Can't wait to really give them a true test! So far we are ecstatic with this purchase.

Reviewed by Granola1NC from North Carolina (NC) on Monday, July 31, 2017

I bought 3 pads for an upcoming trip to Acadia. Two of the 3 pads started bubbling up the first time they were inflated. The outer-covering separates from the inner core. I had read similar reviews but took a chance. So sorry that I did. I am sending all 3 back and going with something else.

Reviewed by RockClimber45 from Minnesota on Thursday, July 27, 2017

I read the reviews before buying. Used it once while camping. I had to blow it up myself because the self inflation never kicked. While laying on it I noticed there were some spots where I felt like I was sinking to the ground. Maybe I didn't put enough air in it because I know it wasn't leaking air. I also had trouble getting all the air out while deflating the pad. I've been camping without a pad and I think it's better than nothing.

Verified Buyer

Reviewed by Crima from Colorado on Friday, July 14, 2017

Used this for the first time this week. Worked great and had no issues with it. Slept great!

Verified Buyer

Reviewed by Kknudsen from Alaska on Monday, July 3, 2017

I've bought two of these mats. The first one I bought at the beginning of last summer, the last one I bought in June. I was a little hesitant because it received some bad reviews. I am wondering if people who had mat malfunctions didn't follow the instructions after taking out of the shrink wrap. I did exactly what the directions said after removing it from the shrink wrap and I slept on it two nights tent camping in Denali last year and have used several times since then without any issues. I liked the mat so much I bought a second one! I think for the price it is a great deal. Make sure to store it flat when it is not being used.

Verified Buyer

Reviewed by Sue of Kazoo from Michigan on Thursday, June 22, 2017

I bought this sleeping pad to lie out and sunbathe; it works well to provide comfort in the breast area while lying on one's stomach. It does need a dozen breaths blown into it to start with (per another reviewer), which is not a big deal. I throw a towel over it, add a pillow and can actually fall asleep on it.

Verified Buyer

Reviewed by Mel from Wisconsin on Monday, June 19, 2017

I'm more than happy with the ALPS Mountaineering Summit Sleeping Pad. I've always had the Thermarest and hesitated at first because of the price... seemed too inexpensive and I was concerned about the quality. I am very happy! Slept on it camping this past weekend and had no issues. Worked perfectly! Will most likely be purchasing another!