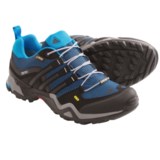 Closeouts. Adidas Outdoor Terrex Fast X Gore-Tex® XCR® trail shoes offer stability for speed hikers who tackle technical terrain in wet weather conditions. They have full-length adiPRENE® cushioning and an aggressive TRAXION® lugged outsole.
Average Rating based on
17
reviews
4.411764
0
5
Verified Buyer

Reviewed by Joe's Wife from HappyValley on Sunday, November 6, 2016

I love these shoes, this is my fourth pair. My only complaint is that they don't come with the bungee laces anymore. Unfortunately the aftermarket bungee laces are pricey and not as nice.

Verified Buyer

Reviewed by Plaster master from Kent Ohio on Thursday, September 29, 2016

The shoes fit good and look great. I'm really happy with this purchase. They seem to fit true to size.

Verified Buyer

Reviewed by Martthew from Berkeley on Thursday, September 22, 2016

The shoes were very comfortable and feels very light. There are very stable to walk with. I like the style a lot as well.

Reviewed by WarminRichmond from Richmond, VA on Wednesday, September 7, 2016

As I have seen noted in reviews elsewhere, it is a bit on the narrow side, but since I have a narrow foot, it isn't a problem for me. I found the fit to be fine. I haven't worn it on a trail just yet, but I have worn it more than just a little around town. Break-in was minimal. It is a very, very comfortable shoe.

Reviewed by Tom, the reviving hiker from Georgia on Monday, August 22, 2016

I needed to replace some Garmonts that served me well years ago. When I pulled them out to use for the first time 10+ years, the soles had started to degrade. Time to retire them.

I ordered this and several other shoes (Adidas, Garmont) in different sizes to be sure I got the best fit. My shoe size has gone up in the past 30 years or so, and I had assumed it was because shoe lasts have changed. But I learned yesterday, that after age 40, feet can grow about 1/2 size over ten years; body weight is a factor, too, as arches can lower and feet widen. That explains why I used to be a 10 narrow, and now I'm an 11M.

As for the shoe, it seems very well constructed and has support and cushioning just where I need it. I'm wearing it most of each day this week to break it in a little, and find it comfortable - except when it is fully laced and I am sitting down. Then I loosen the laces.

My itinerary is 7 to 8 rainy day hikes of 6 to 10 miles, with light pack. The shoes seem stiff enough that rocky trails won't be a problem, but light enough that I'll hardly know I'm wearing them. If my experience is different, I'll update the review.

Verified Buyer

Reviewed by Bama Hiker from Shiregrass of Alabama on Wednesday, August 10, 2016

This is my 5th purchase of the Adidas GTX trail hiking shoe. My first two pairs were in 2012 when I was preparing and training to walk the 500 mile long Camino de Santiago (Camino Frances) later in Spain in 2013. After about 50 miles in the first pair that I was using for training hikes and being impressed with quality and comfort, I bought the second pair on sale to keep and use later on the Camino. I put just over 600 miles on the first pair, so I knew they would last the 500 miles in Spain. By training in the first pair -- my feet were already accustomed to the shoe and I didn't have a single blister or problem when I hiked the Camino. With some occasional shoe glue I used my first pair as trainers for about 1000 miles before retiring them to lawn mowing duty. The second pair after the Camino were used for more hiking trips and then training, retiring them with about 1100 miles on them. What I love about them are their thick soles for extra comfort, great arch supports, and gapped heels for gaiter straps. I train in what I also wear out on the trail. Quality materials and construction.

Reviewed by Cuazman from Arizona on Friday, August 5, 2016

These shoes compare to Salomon XA Pro 3D Ultra GTX trail running shoes. I have wore both and the these Adidas Terrex Fast X shoes are much more durable than the Salomons. This review is based on my use of these shoes that are approaching end of life. These Adidas are a tough shoe that will hold up well. Failure begins on top of the shoe at the edges where your toes/shoe flex. This is happening much less severe than the Salomons and much later in life. The fabric across the top of the toes on the Adidas is more durable and is showing no signs of wear. The Salomons fabric has failed all the way across the top of the shoe. There is no sole shoe separation with the Adidas unlike the Salomon which are starting to separate at the sides of the toe. Sole wear is slightly better with the Adidas. When new, the Salomon are probably a little better of a running shoe because of easier flex. This makes the Adidas much better as a light hiker or rough terrain trail runner. Both quick lacing systems are similar, but again the Adidas shows no signs of wear. I like these shoes and will buy them again.

Reviewed by JoeF from Wisconsin on Monday, July 11, 2016

I bought these right before a trip to NZ. They were pretty stiff but I assumed they'd loosen up a bit after use and would be less prone to wearing out. I was half right. They certainly haven't worn out but they're still the stiffest hiking shoes I've ever worn. Rather than conforming to my feet, I think my feet would conform to them after a few miles. A pair of custom insoles should be on anyone's list if they buy these.

The fit is fairly narrow (which is good for me) but the toe box is a little wider than I'd like.

On the plus side, the Goretex works very well and they are fairly light. Also, the sole is very grippy, inspiring confidence in wet conditions. But if I don't need waterproof shoes I never reach for these and put on Asics Ventures instead. Those are extremely light and comfortable right out of the box (and half the price).

Verified Buyer

Reviewed by GCDan from IN on Monday, June 13, 2016

As a USPS letter carrier I put in over 60 miles per week. So the two most important things are comfort and durability, and am very happy about both of these qualities with these shoes.

Reviewed by Outside in Oregon from Oregon on Friday, September 4, 2015

Great footbed support. Very comfortable yet firm enough to maintain stability over rocks and uneven terrain.