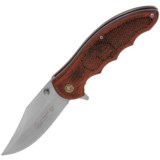 Closeouts. A retro-inspired clip-point knife with a red pakkawood handle, Puma Knife Company's Vintage 3530 folding pocket knife features finger cutouts and a thumb guard for excellent handling.
Average Rating based on
5
reviews
3.600000
0
5
Reviewed by D. from Southeast USA on Friday, October 7, 2016

I bought one Vintage 3530 ~two years ago. I arrived looking very nice, operating sweetly, quite sharp (but needing a hone), and priced below $12 USD. I quickly ordered two more. Those arrived with many issues including poor appearance and checkering on the scales, blades off center, poor deployment and locking, and not sharpened well. I sent those back for return as cosmetically challenged and mechanically dysfunctional. This same scenario happened with two other Pumas I ordered but without keeping either of the two. The "proof of blade hardness" stamped on each knife Puma sells is a credit to the German steel quality. Although the blade is the heart of the knife there remains every thing surrounding the blade. In fairness to both STP and Puma I did order two other Pum folders that were excellent is every way - both were kept. One can never be sure about a knife ordered until it arrives, seen, and handled. Puma's SGB line is the bottom of their line. I have not ordered any of the High level hand made knives because they are higher priced (TOO high). So, one really never knows about the SGB line because they vary widely.

Reviewed by William from New England on Sunday, August 7, 2016

I was expecting a solid feeling knife, but this feels like it's plastic. The blade is sharp, but not ground well. The knife does not flip open without using two hands and it makes a grinding sound as it opens (I was expecting this to flip open smoothly). The wood feels very cheap and light. The blade also wiggles from side to side. I feel bad returning a $10 item, but I don't see much use for this.

Verified Buyer

Reviewed by Scott from NC on Tuesday, May 17, 2016

This knife is designed to be a "flipper" Yet, I had to add some oil and quite a bit of wrist action to get it to flip open and then the liner lock would go all they way over past the blade and jam. This has the look, style and good steel to make a good pocket knife but the execution is lacking somewhere.

Reviewed by DH from Middle Georgia on Thursday, March 10, 2016

What a treat! I wasn't expecting much from a sub-$20 knife but what I received was a pleasant surprise. The quality is on par with knives costing several times this price. Blade is of exceptional German steel and locks-up tight. It opens smoothly and is razor sharp out of the box. For the price, this is a bargain you should not pass-up. While the box is printed with CHINA, please note that it was only assembled there. The steel itself is all German.

Verified Buyer

Reviewed by Flint Springs from Kentucky on Wednesday, May 27, 2015

This Puma is a beauty and is an ease to handle like my others. Puma steel is first rate and stays sharp; when it needs sharpening it's easy and quick. This takes me back to a large Puma Game Warden I had for years. It's a handier size to carry than the Game Warden!