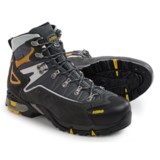 Closeouts. Asolo's Flame hiking boots are ready to burn up the trails with a performance-minded mixture of waterproof breathable Gore-Tex® technology, moisture-wicking lining, and a stabilizing and traction-hungry sole. Add in internal shock-absorbing technology, a debris-blocking tongue and durable, supportive construction, and you've got yourself one well-rounded pair of hikers for any trail you tackle.
Average Rating based on
87
reviews
4.701149
0
5
Verified Buyer

Reviewed by Trekker One from California on Thursday, November 23, 2017

The Flame is the best boot I have used for serious long treks. The heel cup adds huge support while on uneven surfaces. I very much like the 3rd locking islet from the top where you can cinch the tightness of the foot part of the boot and take your time lacing the upper boot - do not know why Asolo doesn't do this for all their higher end boots - ? I have bought 2 additional pairs just in case they change the style.

Verified Buyer

Reviewed by XC Skier from NW Wisconsin on Thursday, November 9, 2017

My 4th pair of Asolo hiking boots - I love them all. These have great foot & ankle support and great traction on the trails. They are stiff when new and require breaking in - I just wear them in my workshop for a few months.

Verified Buyer

Reviewed by Daddy green jeans from Pennsylvania on Monday, November 6, 2017

I recently purchased a pair of the Asolo Flame Men's boots. I'm an avid hiker/backpacker and frequent places local to me, Appalachian Trail, all throughout the Pocono Mountains and can't wait to get out and tear up the steep rocky trails we have here in Pa. These are honestly the best hiking boots I've ever purchased based on construction, design and quality of materials. I went with a M Size 9.5, as I've been that size my entire adult life but they were a bit small so if your reading this, you may wanna keep that in mind. I decided to call Sierras customer service and swap them for a size 10. Let me tell you..... I'm a first time customer here and will definitely be dealing with them again. The representative was polite, knowledgeable and made a speedy exchange for me. Looking foreword to hitting the trails in my new size 10's. I would definitely recommend these to friends but then again they will definitely want a pair when they see them.

Verified Buyer

Reviewed by NashLove from Tennessee on Sunday, November 5, 2017

I wear these almost every day to work in and have bought several pairs now. They have good support and are very comfortable for daily wear. I recommend them to others needing good ankle support and sole support.

Verified Buyer

Reviewed by Chase Xeen from VT on Monday, July 24, 2017

Purchased the 9.5 WIDE, thinking about wearing from time-to-time thick wool socks. Fit was excellent--definitely not too wide--and comfortable after a full day of hiking. Like the rugged hardware and awesome sole. Good discount provided by STP.

Verified Buyer

Reviewed by Marc from Portland, OR on Monday, July 17, 2017

These boots are clearly well made and will last for many, many years. I took these boots on a short backpacking trip right out of the box. They are a bit stiff, but provided great ankle support. I have a very wide foot and these fit good with only a little snugness on my pinkie toes. My Achilles was also a bit sore after I hiked out, but overall they fit very well with zero break-in time.

Verified Buyer

Reviewed by Matt of the Bob from Montana on Monday, July 10, 2017

I handed down my pair of Asolo Neutrons to my son because they were a bit too narrow for me. I loved them and was so worried letting them go for fear of not finding a good replacement. However, with only a few miles in my Flames I think that I have found a worthy successor. They are certainly stiff to start out with and will require a bit of break-in but my initial impression is that these have a little more heel cushioning while still maintaining the stability that I need for my week-long hikes of 70 or so miles. My previous Asolo's have been very waterproof and I have no reason to believe that these will perform any less remarkably. And as always, STP was quick to ship and deliver. Love buying from them.

Verified Buyer

Reviewed by Bill from Colorado on Wednesday, July 5, 2017

I've used Asolo boots for years. This was the third pair that I have ordered from STP. Oddly, this pair was different than previous pairs. This boot came up an additional inch on ankle. I found it uncomfortable. The same size that I always order this time ended up not fitting as well as two previous pairs. Sole seemed much stiffer than before too.
Sierra Trading Post return worked well. I rate STP a 5 star with Asolo slipping to two stars.

Verified Buyer

Reviewed by AaronL from North Palm Beach on Monday, June 12, 2017

They are great looking shoes and I think will be awesome once I get used to them and break me in a bit. The are a little stiff. Not too narrow like the Vasque breeze. I returned those because I liked these better.

Verified Buyer

Reviewed by ncroclimber from Raleigh, NC on Wednesday, May 10, 2017

I've been trying to find a boot that fits for months. Finally, I did. I really wanted the Lowa Renegade from REI to work. Its an incredibly well made boot. However, after a 2 mile easy walk in the woods with the dogs it had already rubbed a nasty blister on my heel. I also ordered the La Sportiva Omega, Kayland Titan Rock, Kayland Titan Ferrata, Kayland Micro Plume, and the Asolo Flame in regular width. I will review these specially for each boot.
Out of ALL these boots, the Flame wide fit my foot perfectly. I don't have a super wide foot, but the regular width squeezed my forefoot uncomfortably. The wide isn't that much wider, but it's just enough for my feet. The heel is perfect with almost no slippage going up hill. All the other other boots I tried slipped severely.
I can't say how long the sole will last as it's not Vibram. However, it sticks to the trail very well.
My only minor gripe are the laces. They seem abnormally abrasive. I've rubbed some skin off tightening them. I am a rock climber of 43 yrs so yes, my hands are appropriately calloused.