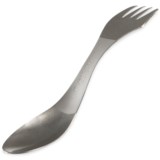 Closeouts. An ultralight, virtually indestructible tool that's perfect for backpacking, Light My Fire's Titanium spork features a large spoon on one end and a fork with a short knife on the other.
Average Rating based on
81
reviews
4.654320
0
5
Verified Buyer

Reviewed by Dash from Maine on Thursday, February 22, 2018

Pros:
Super lightweight, strong and stylish, especially for hiking gear.
Unlike some cheaper stainless steel utensils, I did not detect any metallic taste.
Made in Sweden.

Cons:
Expensive but well worth it for me to avoid anything plastic.

The serrated edge on the fork end of this spork chafes the side of my mouth. I need to be careful of how I am eating. I may try to grind it down to a blunt edge.

It also transfers heat quickly, because of it's length it can get a little hot when used as a cooking utensil.

Would be 5 stars if . . . There were a non-serrated option of this product. I always carry a knife when backpacking and in general, prepared hiking food tends to run a on the mushy/soft side. Really no need for the sharp edges.

Also, I would like to see a hole in the handle so it can be attached to a small string or lanyard.

Verified Buyer

Reviewed by Garo from Japan on Wednesday, January 31, 2018

I never go camping without this Spork. Light, durable and never rusted. I really like it.

Verified Buyer

Reviewed by vitsupertramp from Kiev on Thursday, January 25, 2018

Good thing! light weight!

Verified Buyer

Reviewed by RDQ from Washington on Thursday, January 18, 2018

How do you keep your husband out of your silverware drawer.... Get him a good quality Spork! Finally a spork he's happy with, what more can one say? I have just ordered another for my son, so his wife can also stop counting the silverware! LOL We have tried the plastic sporks and they just did not work out. Very happy with our tough Titanium spork. Hopefully, no one at work steals it.

Verified Buyer

Reviewed by Nickels from Midwest on Monday, December 25, 2017

On a titanium tear to lighten my pack weight. This one piece eating utensil fits the bill.

Verified Buyer

Reviewed by Tom from Minneapolis on Tuesday, May 30, 2017

Last fall I got a pair of the plastic version of these. We liked them, but routine use for cooking resulted in both having slightly melted tines, which was irritating. So we got four of the titanium ones. Compared to the plastic ones, the titanium ones are smaller, thinner, and stack better. But they're also noticeably more apt to bend, and a little harder to use since they're so thin. The knife on them is good enough for butter, cheese, etc., but won't cut through meat in any reasonable way. My daughter likes the plastic ones better, while I definitely prefer these. It would be nice if the tines were pointier and closer together, and if the knife were a little sharper or at least serrated better. Still, these are our go-to utensils now.

Verified Buyer

Reviewed by Ms hiker from New York, NY on Tuesday, May 30, 2017

This lightweight spoon/fork with serrated edge is a nice addition to my lightweight backpacking gear at a great price.

Verified Buyer

Reviewed by Moose from Minnesota on Saturday, May 13, 2017

It's incredibly lightweight, but at the same time very strong. Not the most comfortable to hold, but that's what you would expect from the design and it's what you have to give up to go as lightweight as possible.

Verified Buyer

Reviewed by Jim D from Evanston, IL on Sunday, May 7, 2017

I love LMF's plastic sporks and thought I would upgrade! Glad I did - Love it!

Verified Buyer

Reviewed by CW from Austin TX on Thursday, April 27, 2017

NOW I CAN STIR THE POT IN THE HIGH COUNTRY WITHOUT WORRY!!