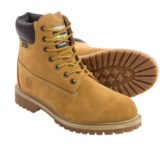 Closeouts. Khombu Hank snow boots bring waterproof construction and Thinsulate® insulation to a work boot profile. A great choice for demanding jobs and tough slogs in winter conditions.
Average Rating based on
8
reviews
4.625000
0
5
Verified Buyer

Reviewed by Drootle from PNW 30 miles from Olympic NF on Tuesday, April 18, 2017

Here is the TLDR if your a
Good value for price for basic boots.
Are actually waterproof.
Don't expect $200 dollar performance but best under $50 for waterproof cheapies I've found.

Good stuff:
Went hiking in out of 2-3" puddles and small steams no issues.
I didn't stand in them fishing but my toes feet were dry for light hiking use.
I've since treated them with water repellent to try and get more life from the boot.
Soles seem to be good. They are tough but pliable.
These are a hard rubber/poly sole. They are what they look like. Not some fake foam stuff.
Boot is a softer Cowish leather suede. So it'll shouldn't require much break in of the boot or your feet.

Bad stuff.
I ordered an 11 and they still seem a little big. I normally wear a 10.5 or 11 US so that's my fault. Even long hikes when the foot swells from standard excerise they still felt big.
I'm going to replace the insole that came with it with a thicker gel type. The included one is just a thin poof foam.
This will allow me to stomp on rocks a bit better without getting fatigue and take up some of the space of a larger boot.

The suede shows marks quickly. Since these are boots and not church shoes i'm sure people will understand.
The toebox and boot in general are softer than I normally like.
The first pair of white socks I wore with them turned yellow in pressure points from from leather dye. The yellow color is not from the cow's pelt and was added which is typical of most modern leathers but the dye process was cheapie.

These VS the world.
If you can get this on sale it's probably a better value than the big5, Ross Walmart cheapie boots.
I murdered some Adidas waterproof boots in about 1 month of light hikes that costed more.

Sierra TP is actually TJmax company? Which isn't bad but they Spammed the heck out of my email once I ordered the boots. We all gotta get money and do business but it was a bit much. A quick update to my email settings fixed it.
Thier store was less like big5 or REI and more like a cloths store when I visited them in Silverdale Wa. Not bad but its 90% cloths and 10% sleeping bags/yoga stuff. Expect flannel shirts and yoga mats not axes and blackpower rifles.
Good staff there.

I expect to replace these after 1 year of light hikes.
I swear to YOU dear reader if they don't last that long I'll jump on here and update.
Read that as no news is good news.
I bought on 3/1 2017

Verified Buyer

Reviewed by tomglo from Sd on Wednesday, April 12, 2017

Comfortable boots, and quick delivery as usual.

Verified Buyer

Reviewed by Rogeagle from Maryland on Sunday, April 9, 2017

Great boots. Can't say how they are in the snow and much but have been trekking about and they are comfortable supportive and all around great. They are reported to be insulated with Thinsulate and are supposed to be waterproof. If so, amazing. All around comfortable great boots. I wear an 11 and have wide feet. These fit well with right amount of room.

Reviewed by Rk516 from Syosset on Monday, March 13, 2017

These are the best snow boots you will find, and even better is the savings that you will find here at Sierra Trading Post. First off you are getting an all leather boot that is waterproof. The overall construction is on par with another brand that I won't mention that charges 4 times the amount then you will pay for these. Fit is perfect and comfortable. You also have non skid soles and leather padding around the ankle. You can't go wrong with these boots. Shipping was also fast!

Verified Buyer

Reviewed by Roger from NE on Monday, March 6, 2017

The size is much larger than the documented size.

Other than that it was pretty comfortable.

Verified Buyer

Reviewed by Carlos from Taunton on Saturday, March 4, 2017

Very comfortable. Well made. Very warm.

Verified Buyer

Reviewed by JMickD from Denver on Saturday, February 20, 2016

I live in a different state from my 25-year-old son who texted me one day saying he has no shoes for snow in winter. So I nervously found and ordered these from Sierra and had them shipped. I soon got a photo by text of him wearing these boots with a thumbs-up sign that some words that said fantastic. I escaped from being a loser dad yet one more time. :-)

Verified Buyer

Reviewed by Gregory from Maryland on Saturday, January 23, 2016

Nice and warm. Suits the purpose. The reasons why I am not giving 5 stars are lack of ankle support and softer then expected nose. If you are not interested in these two aspects, this is a perfect pair for winter. I definitely recommend this product.