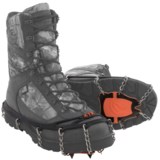 Closeouts. Yaktrax XTR traction cleats deliver outstanding traction on snow and ice. The adventure-ready, off-road design features a patent-pending high-strength spike design and plates that help prevent snow buildup.
Average Rating based on
24
reviews
3.791666
0
5
Verified Buyer

Reviewed by Seaminus from Vermont on Monday, January 29, 2018

I this pair when I saw them up for clearance. The Yaktrax XTRs that I have now are on 3rd season, and they are like new. They are used primarily for snow clearing and hiking icy, hard pack snow covered trails. They 2 features that are strengths as compared with other versions of this accessory:
1. The metal cleats are stainless steel and they maintain sharp edges without bending for excellent traction even when used on concrete surfaces.
2. They are easy to put on a variety of snow boots and trail hikers, and they stay in place during rigorous activity.

Verified Buyer

Reviewed by LiLoLa from Poconos on Monday, December 25, 2017

Today is our first snow day (White Christmas, YAY!) since receiving the cleats, I have felt so secure while shoveling my sloping driveway. For my purposes, these are great, so grateful I ordered them.

Reviewed by Old man of the mountains from Massachusetts on Wednesday, December 6, 2017

Bought a set of these 3 years ago. I do a lot of winter hiking in the White Mountains of New Hampshire. While doing a traverse above tree line one of the cleatsjust broke at the base of the plastic bottom plate. This was a real issue as the rocks and snow were ice-covered. I had to McGiver the cleat so I could get back to my car. These would probably be fine for walking your dog on an icy day around town. If you want a great micro-spike for hiking,bomproof, bite the bullet and buy a pair of Katuhas.

Reviewed by Dave in Co from CO on Thursday, April 6, 2017

I bought these thinking the bottom plates and grip would hold up well and prevent snow chunks from building up during icy / snowy hikes. On level ground (like on a driveway), they were ok. During a hike, on steep descents, the rear plate continuously slid up behind my heel. There was no connection between the plates to keep the rear plate / spikes from slipping up behind the heel. One of them actually fell completely off, and I had to dig around in the snow to find it. I made sure I had the right size for my boots. On the trail 2 days ago, I actually found one of someone else's Yaktrax sitting on a rock next to the trail! I've talked to others that have experienced the same thing.

Verified Buyer

Reviewed by Andrew from NY on Wednesday, February 22, 2017

great price however you get what you pay for. Front and rear plates not joined together. Ie no structure to keep the plates together when going up or down hill. Just get Microspikes.

Reviewed by Bob from Michigan on Monday, February 20, 2017

These have great grip, but will not stand up to hard use. Maybe for walking out to your car or shoveling your walk, but not for extended use. I used them for an event that was on an ice-covered lake and after less than 2 hours BOTH of them broke in the same place. The rubber that the chains attach to is unreinforced and the hole will tear out completely.

Verified Buyer

Reviewed by jhfields from Idaho on Wednesday, February 8, 2017

They worked great in ice and snow.

Verified Buyer

Reviewed by Helen from Oregon on Thursday, January 26, 2017

These do the trick-no slipping on black ice!~

Verified Buyer

Reviewed by Whiskey Jim from Wisconsin on Thursday, January 19, 2017

Having taken a fall milliseconds after seeing both of my feet much to close to my line of sight at the horizon while sprinkling salt on the drive after a bunch of freezing rain I figured I'd check these out. And they are something....I suspect the next step up is actual crampons. They are made of sturdy materials and they mounted well on a men's size 13 hiking boot. There is no doubt that these will hold me steady but I'm a bit worried about the surface of my drive....but not as much as the integrity of my body.
Nice little bag they come in so handy to have in the vehicle too.

Verified Buyer

Reviewed by c. from Bishop on Tuesday, December 27, 2016

easy on & off--excellent traction!