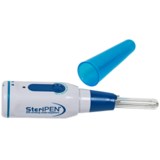 Closeouts. The SteriPEN Classic water purifier uses ultraviolet light to kill 99.9% of bacteria, viruses and protozoa in a half-liter of water in 48 seconds with a touch of a button.
Average Rating based on
16
reviews
3.625000
0
5
Verified Buyer

Reviewed by Mark from Aspen, CO on Tuesday, June 14, 2016

Very poor product that needs a lot of work in our experience. We ordered two, one arrived DOA and the other only works intermittently.

Verified Buyer

Reviewed by utah john from utah on Monday, May 9, 2016

bought this as an experiment- first attempt with new alkaline batteries went well- then stepped back to using some slightly older batteries and the UV light went on but off quickly- it appears that complaints about the performance are related to a set of batteries that are overall weak or mis-matched weak ones with a couple of strong ones. So, the verdict is that this is a good system provided you have a strong set of 4 AA batteries. I will keep a set of strong new Li batteries for my prepper needs. The 4 star rating will be up graded when i complete the experiments with my Ni/NiH rechargables- I like the compact structure of the unit and it appears to be sturdy.

Verified Buyer

Reviewed by Mountain Mike from Reno, NV on Tuesday, April 19, 2016

Great, light-weight water purifier. Awaiting opportunity to test in the field. Not sure how it will do with muddy, stagnant desert water. But will try at first opportunity. It packs nice and the only weigh really is the batteries in the unit. I am excited to have this and work with it this spring & summer... I plan to report back my findings.... more to be revealed.

Reviewed by ipartner48 from Alberta on Sunday, April 3, 2016

Been using a Steripen for 8 years now - used it for multi-day hikes trekking thru Asia and South America. Also used it for treating hotel tap water in Mexico, Cuba, Bhutan, Nepal, Peru - never, ever had any problems. Their is a little trick to using it as I have seen some users have difficultly using it - you have to wait a second or two as the green light blinks AND THEN put in the water bottle. If you press the button and put it straight in the water bottle, light turns red and is not ready to use. Be patient - I highly recommend this device for all your travels.

Verified Buyer

Reviewed by Jim from CO on Tuesday, March 22, 2016

Great when it works, frustrating when it doesn't. I have an older SteriPen I use for travel. It is very finicky about the salinity of the water -- a little too conductive, or not conductive enough, and there you are, using Iodine again. I bought a new one, hoping this had been fixed. It worked once, and the lamp failed. Sierra replaced, and the replacement seems to work with local water -- We'll see how it does on varying water on future trips. Always take chemical back-up.

Verified Buyer

Reviewed by CharBark from Boston on Wednesday, January 20, 2016

Bought this for my trip to Nepal and India. I plan to use it on tap water to fill up water bottles, I personally wouldn't trust it with water from lakes or rivers ... the only way to trust that is by boiling!

Verified Buyer

Reviewed by Suprwags from Colorado on Tuesday, December 29, 2015

Small, simple, fast and very effective way to ensure water is REALLY safe to drink!!!

Verified Buyer

Reviewed by Ripped Off from USA on Sunday, December 27, 2015

They failed to mention this SteriPEN Classic is not in the original retail packaging and comes WITHOUT the pre-filter. Everywhere else it came up included the filter for the same price and later found Home Depot had it for less. The "Shipping and Handling" plus return shipping made it not cost effective to send it back. A 20% loss of the purchase price to send it back. This is a common way to keep returns down. "Customer Service" was indifferent and only said they would talk to IT to have the add changed. So far this has not happened. Other friends mentioned problems with quality and service also. NEVER AGAIN Sierra Rip Off Post.

Verified Buyer

Reviewed by Rock from Montana on Monday, September 21, 2015

After years of drinking water flavored with iodine or chlorine, I get to drink water that tastes good! Filters work OK, but they are heavy and tend to require a lot of maintenance, cleaning, boiling, etc. This gizmo takes a just a moment and kills everything, protozoa, bacteria, and viruses. They use a commercial version of this technology to sterilize water in hospitals, so no more Legionaire's Disease.

The only drawback is that the manufacturer does not recommend using standard alkaline batteries, as the electronics in the unit make heavy power demands on the batteries. For a long trip, I would recommend rechargeable batteries and one of those solar panels that straps on the top of your pack.

We used a wire mesh coffee filter that fits in the top of a water bottle to filter out the big stuff in the water.

This device is highly recommended for those that want to go into the back of beyond and drink safe water that is not flavored with iodine or chlorine.

Verified Buyer

Reviewed by Climbhigh from NJ on Monday, September 14, 2015

This is the original model of the SteriPen Classic and treats only 3000 liters of water.The substantially upgraded model, the Classic 3, operates on four AA batteries batteries. With one set of alkaline batteries, the Classic 3 purifies up to 50 liters or supercharge your Classic 3 with lithium batteries and treat up to 150 liters. It has a lamp life of up to 8,000 liters. The reviews on the Sierra site are confusing as from the descriptions I think the reviews are from all the SteriPen models they sold over the years. I hiked, backpacked and toured through many countries and would always want the best purification system available.