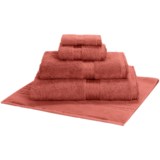 Closeouts. Renaissance bath sheet from Christy is decidedly superior; from its richly detailed appearance to the unparalleled quality of the combed Egyptian cotton pile, the difference is clear.
Average Rating based on
21
reviews
4.476190
0
5
Verified Buyer

Reviewed by Telzey Amberdon from Connecticut on Sunday, January 7, 2018

These HUGH-TASTIC towels are for my new sea-beach-themed bathroom in my new house, so they won't be in use for a couple of months. I can't tell you how they wear, but I can tell you that I love the color, a bright and happy marine blue/green. As manufacturers do, Christy is moving from vivid colors to embark on a new, pastel color palette for 2018 (NOOOOO!), which is why these expensive, well-made towels were affordable. Personally, I like the vivid colors better!

Verified Buyer

Reviewed by Debb from Idaho on Monday, January 1, 2018

These are divine towels. I have been buying Christy of England towels for yeara and always come back for more.

Verified Buyer

Reviewed by Dusty71 from ND on Monday, December 25, 2017

It's a heavy weight towel in a very pretty color.

Verified Buyer

Reviewed by janutcha from New Jersey on Saturday, December 2, 2017

I've been buying these for years from STP. Thick, heavy, lush bathsheets.

Reviewed by Smoo99 from Cleveland OH on Sunday, November 13, 2016

These towels are generously sized, soft, lofty and an all around delight. We started out getting 2 Christy hand towels and have ended up replacing all our towels, face cloths etc with this line. Couldn't ask for more.

Verified Buyer

Reviewed by Willozwisp from High Desert, NM on Tuesday, July 7, 2015

Have purchased these for years. They take a beating. Thick. Soft. Absorbent. Great size for the bath. Well made. Top quality. Great price point.

Reviewed by jeltez from in the keweenaw on Friday, August 30, 2013

I have never had so much "lint" come off towels before. They smelled a bit off when I got them so I put them in the washer. I took 2 handfuls of "lint" out of the washer, and then had to empty the lint screen twice before they were dry. The clean towels look like I have used them for at least 5 years and are actually thread bear in a few spots. They also don't feel anything like my other real Egyptian cotton towels. They feel like there is a polyester fiber in them.

The size of the bath sheet is exactly what I was looking for. I just wish the quality was better.

Reviewed by countrygrandma from PA on Thursday, August 22, 2013

Big and soft and absorbent. There was a review about all the lint, I did not experience that at all. I will buy another one in a coordinating color.

Reviewed by Hithere from USA on Tuesday, July 23, 2013

Fabulous, long lasting towels will bring a little bit of luxury to your everyday life. I can't say enough about these towels - FABULOUS!!!

Reviewed by Toni from Illinois on Wednesday, May 29, 2013

I like the Christy Renaissance bath sheet. It is good size, wraps around the body nicely. They could make it in some interesting colors. The Egyptian cotton pile of the towel is pretty absorbent. I think I remember my old Christy Egyptian cotton towels were thicker than these.