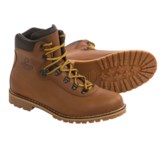 Closeouts. Alico's Summit Light hiking boots are handcrafted by artisans from the Dolomites -- an awe-inspiring region within the Alps that's known for its jagged peaks and deep crevasses. No wonder, then, that these durable boots are made to conquer the roughest terrain the world has to offer, and they do it all in durable, waterproofed leather with a sturdy Vibram® outsole.
Average Rating based on
20
reviews
4.650000
0
5
Verified Buyer

Reviewed by Hiker/Hunter from Oklahoma on Monday, September 12, 2016

Years ago, I owned a pair of "old school" hiking boots that weighed almost 3 pounds each. They were very comfortable, incredibly well made "tanks" and are probably still setting in someone's closet today. The Summit Light's share some of the same attributes and quality of my old boots; leather lined, great leather uppers and a re-buildable sole, but they are REALLY light weight. I have three other pairs of hiking boots made by very reputable manufactures and the Alico Summit Lights compare very favorably. While the soles are thinner than two of my other boots, I see not reason why they will not be every bit as reliable.

They have a generous toe box that allows me to wear evenly the heaviest socks comfortably. I can't say that about my other hikers. I've had them on three short hikes and I am still in the break-in mode but, I am really impressed. I know they are closeouts, but I can highly recommend them.

Verified Buyer

Reviewed by Jim, the Crazy Winter Fly Fisher from Colorado on Tuesday, September 6, 2016

These are the best fitting and best made hiking boots I have ever had on my feet. I have tried them out on several hikes in the mountains and they proved to be exceptionally comfortable--no blisters or sore feet afterward. They also look very cool! Kudos to the Italian boot makers! La dolce vita!

Verified Buyer

Reviewed by Jim, the Crazy Winter Fly Fisher from Colorado on Wednesday, August 24, 2016

These are the most comfortable boots I have ever owned. Great for getting to those high mountain streams to throw a fly to native cutthroat trout. They are made of high quality leather inside and out with Vibram soles. Made in the Dolomites by Italian craftsmen; it doesn't get any better than that! These boots are lighter in weight as the soles are not as heavy as other Alico boots. They are true to the Italian spirit, "La dolce Vita!"

Verified Buyer

Reviewed by John in Iowa from Iowa on Friday, August 19, 2016

Comfortable with little break in. Lighter than other leather boots but still seem durable.

Verified Buyer

Reviewed by mbscreen7 from L.A. on Wednesday, August 3, 2016

A great boot for fashion or every day wear. Not as rugged as it appears in the photos. I probably wouldn't wear this boot for real hikes, especially with a pack.

Verified Buyer

Reviewed by Slovenian Stallion from Arizona on Monday, August 1, 2016

I purchased my first pair of Alicio boots many years ago but switched to Asolo for my last several pairs. When the Alico Summit went on sale I jumped at the chance to try them again, not because I was unhappy with my Asolo's but just to try something different. I like to keep a new pair of boots in my closet as a back up and shop the sales for good quality buys. When the boots arrived I forgot how basic the Alicio boots really are with no gortex or liner. The boots seem less form fitting and more bulky than my Asolo's.. The Summits reminded me of an old boot from the past and just did not fit or feel close to the Asolo's that I am wearing know. I returned the boots and opted for the Zamberlain....and I was not disappointed when the Zamberlain's arrived. Don't get me wrong, the Alico Summit is not a bad boot, it just seems like old technology and you can do better with the Asolo's or Zamberlain's.

Reviewed by Frank from Prairie Village KS on Friday, July 22, 2016

I have owned several pair of both Guide and Summit Alico boots. I really am fond of them, I have enough to last me until I am dead. I saw these on closeout, and even though any more Alico boots means that I will have to wear some in the happy hunting ground, I can't possibly live long enough to use the ones I have, well I could not resist. They are nice, just lighter than the standard Summit's At first I thought they were a bit smaller, but the size F Superfeet fit in the lights the same as in the standard Summits so they are the same size inside lengthwise. I don't notice any difference in width either. Anyway I am pleased, and might even buy another pair if they ever get more size 12 and they are on closeout. But if I did not have so many Alico boots already, I would be willing to pay more than that for them. I figure these are my Sunday go to meeting boots.

Verified Buyer

Reviewed by SkiPC from Utah on Tuesday, July 19, 2016

I tried several Alico boots and found them all to be of high quality; however, the sizing is quite different from model to model. The Summit is sized a little large, but not overly so. They are stiff out of the box, but to me that just means the leather will last a long time once broken in. I haven't hiked in them yet, as I have a bruised ankle, and it hurts given the stiffness. I like the old school design, especially the double stitched welt. I am confident these boots will last a lifetime. That said, the soles are thin for hardcore backpacking, but that is what I wanted. I did not want heavy boots designed for carrying heavy loads over long distances. I would recommend these boots to anyone wanting good looking boots with more than adequate support for recreational hiking. I tried the Belluno and Backcountry first, but the Bellunos were huge and lacked ankle support, and the Backcountrys, while true to size, just weren't the style I was looking for.

Verified Buyer

Reviewed by Timpa Vettenranta from Finland on Thursday, July 7, 2016

I have only used these a week or so and I now I can tell that these are most comfortable our of box full leather boots I have had or tested. Most of time I dont use socks at all and these are still realy gentle to feet, zero blisters and sores. Quality realy good.

Reviewed by Yellowiron from Idaho on Saturday, July 2, 2016

The reviews on Alico Summit Boots are simply not correct.
I have been looking for over 50 years for a boot of this quality
and believe that if you increase all the praise by 50% you will
be getting close. These are absolutely the most awesome boots
I have ever owned. I live in Idaho, 12 miles from Yellowstone Park,
and have owned many pairs of hiking boots over the years. The
slightly worn ones will be going to charity. You can't go wrong with
Summit Lights for casual hiking and everyday wear. Summits for
activities more taxing. They are both leather lined. If I were going
to wear them in the Arizona low lands I would probably pick a Alico
without leather lining.

As a footnote, Sierra Trading Post has the best service bar non.