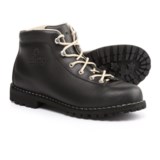 Closeouts. The Alico Belluno hiking boots are handcrafted in Italy of fine leather with a Vibram® outsole that creates plenty of all-terrain traction for quick trips or multi-day excursions.
Average Rating based on
51
reviews
4.333333
0
5
Verified Buyer

Reviewed by Ridge Runner from South Dakota on Tuesday, February 20, 2018

This boot is of good quality leather and well made. For the most part it was comfortable for me. However, the toe box for me was a little narrow after trying both the D & W width. It is still a very good boot and well worth the money but I found the Tahoe to have a wide toe box which fit me better.

Reviewed by Old geologist from Kansas - flat lander on Monday, February 19, 2018

I am an old school sort of guy when it comes to outdoor gear and apparel, though I've come to appreciate the materials, design and construction of modern outdoor enthusiasts gear and apparel (tents, rain jackets and backpacks for example). However, I firmly believe that old-world construction and materials of hiking/backpacking footwear still offers the best comfort, durability and serviceability options (i.e. full leather uppers, welted lugged soles) when compared to the glorified tennis shoes that go for hiking/backpacking boots now-a-days. Having admitted up front my bias please keep reading . . .

I've purchased several pairs of Alico boots from STP and found all of them to be true to size, extremely comfortable after a reasonable break in period and durable, except for the synthetic liners. More on that later.

The full leather uppers are extremely resistant to rock abrasions and lacerations. Especially in highly crystalline, metamorphic and angular rocky terrains. I've worn tennis-shoe like boots in similar areas and they were nearly shredded (mosltly along the many seams joining the fabric/leather panels together) after only 4 weeks or so of use. If you do not want to replace your boots every year or so, I'd suggest more rugged materials (leather) and construction techniques (the fewer the seams the better).

My only observation is that I recommend Alico construct all of their boots with full-leather linings. The boots I've owned with synthetic/fabric liners have worn out "prematurely" causing comfort issues and requiring that I take a boot out of service.

The argument against non-GTX linings is that they are not "waterproof". I've never had wet feet issues with any leather lined boot, but then again the boots were properly maintained and suitably "snow-sealed". Also, I've purchased third-party foot beds since the OEM foot beds are not to my liking. They may work for you, but I find after market foot beds a better option for me and STP sells these as well; one-stop shopping. WooHoo.

Finally, STP sales and service are exemplary. I can't recommend them strongly enough.

Verified Buyer

Reviewed by Phil from Missouri on Monday, January 1, 2018

Love the boots. They fit true to size. Plenty of room in the toe box, which can be a problem for me. The remind me of my old Danner Mt. Lights, which are also great boots, but at twice the cost. My only complaint is that the picture shows a Vibrum sole, but the boots I received have a Davos sole. I guess we'll see how they hold up.

Reviewed by Alex from Florida on Monday, December 18, 2017

I bought these boots because they had excellent reviews and were reasonably priced. I thought they would be high quality and I looked forward to many years of use.

I had them for a year before the sole of one boot began to separate from the leather. I never abused the boots; I just used them on occasional hikes and when traveling in colder weather. They should have lasted much longer. I took the damaged boot to a skilled cobbler- I'm looking at $80 to have the boots re-soled. I wish I would have chosen a different boot a year ago. These were a total waste of $130. There's absolutely no way they are worth the "compare at" price of $240.

Verified Buyer

Reviewed by None from Mid west on Monday, November 13, 2017

Fits true to size very little break in time

Verified Buyer

Reviewed by Steve from Tennessee on Thursday, November 9, 2017

The biggest problem was that from a comfort standpoint, the boot was not wearable. There was a hard lump under the outside edge of the insole of the right boot. Almost like an arch support on the wrong side of the foot. As soon as I put weight on it, I knew there was no way it could be worn.

Secondly, the boot that arrived looked nothing like the boot that I ordered. The material was completely different from what I thought I was getting. I've never ordered boots online before so lesson learned.

Verified Buyer

Reviewed by Justin from Wichita, KS on Sunday, September 3, 2017

Nice boots. Light hiking, backpacking, and for everyday wear.
The laces that came with the boots I ordered were different than those shown in the picture. My boots came with a cream/ gold color, the same color as the upper inside of the boot.
The footbed is not very cushioned but with the proper socks this is not an issue.
I ordered my actual size despite reading reviews suggesting to size down by 1/2. I'm glad I didn't because the fit is accurate. The toe box is roomy allowing for thicker socks to be worn without pinching your foot. I ordered 9.5 M, my heel rests perfect in the heel cup, no sliding in any direction, my toes fit perfect the front of the boot just short of hitting the toe box.
I would not suggest buying a Medium width boot if you have narrow feet since these boots the toe box for a medium is on the wide/roomy side.
Sole of the boot is thin accurate to the picture which is stylish, low profile, allowing these to be worn in more formal settings. The color of the rubber of the sole is that of traditional Dr Martins without the semi transparency.

Reviewed by Britney from Brooklyn, NY on Wednesday, July 12, 2017

These Alico boots look amazing and are incredible quality. I took my time breaking them in over the fall and they were perfect for light hikes and walking around NYC in the winter. I purchased them mainly for hiking this summer and was so disappointed in the boots after hiking Mt. Katahdin last week. My toes were destroyed on the way down the mountain (two hours of misery!!!)! I'm not sure if I just need a slightly larger boot (I purchased a men's size 7 1/2 and maybe I need a men's 8?) since I heard that your feet swell more on summer hikes. If Sierra Trading Post would consider an exchange for a bigger size, I would HAPPILY try another pair. I get so many compliments on them and have sent many friends to purchase them and now regret the recommendation... whats the point in looking good if you're in pain?

Verified Buyer

Reviewed by desertrat from California on Friday, May 26, 2017

These are a well made boot that are lighter than the other Alico products I have seen. Unfortunately the interior volume is lower than I need, I have a high arch, so they don't fit right. I returned them.

Verified Buyer

Reviewed by Day Hiker from VA on Tuesday, January 31, 2017

Perfect fit. Nice lighter weight for my use. Had Sundowners for last 20 years. These are lighter and better fit- little wider then the Vasque, which is good for me.