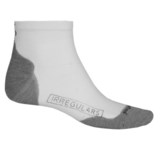 2nds. Hit your stride in the comfort of SmartWool's PhD V2 Run Light socks, featuring strategically placed bands at your flex zones and ventilating mesh panels. High-performance merino wool fibers wick moisture, dry fast and help regulate foot temperature for long-lasting comfort.
Average Rating based on
16
reviews
4.375000
0
5
Verified Buyer

Reviewed by Matty the runner from Georgia on Monday, August 21, 2017

Nice light socks that are long enough to stop friction at the top of my running shoes. Some brands of shoes run more than others and i began to get blister problems wearing my shorter no show socks. These socks do a good job and feel comfortable too.

Verified Buyer

Reviewed by Lbseals from Oregon on Sunday, July 2, 2017

Not much to say. Nice and snug. Good fit for the stated size. Hard to keep white.

Verified Buyer

Reviewed by MAD from Colorado on Wednesday, April 26, 2017

Out of the package they look to small but stretch for a nice comfortable fit. They're Smart Wool, you know what your getting, a good sock that will keep you feet happy.

Verified Buyer

Reviewed by whatever from CO on Sunday, April 2, 2017

No complains. Socks fit well and feel great.

Verified Buyer

Reviewed by Judy from Michigan on Wednesday, March 29, 2017

This socks are great for walking even in Florida.

Verified Buyer

Reviewed by John from Oklahoma on Wednesday, February 8, 2017

SmartWool makes excellent socks, and these are no exception. Especially good for activewear. Wish all my socks were SmartWool!

Verified Buyer

Reviewed by Seth from Mexico on Tuesday, December 13, 2016

I love SmartWool socks and despite their high price, try to only wear this brand, since they last so long and resist odors so well. I'm a bit worried about these new ones though, because they seem a bit too thin, as if they'll wear out too quickly.

Verified Buyer

Reviewed by Kim from Wyoming on Wednesday, November 30, 2016

The only socks that I wear are SmartWool because of the quality and the support. I can't seem to find what made these a 2nd but I will take it. I am sure there is a seam off a little of the logo is wrong somehow but the it doesn't hinder the sock from preforming as it should (and always does). I have several of these socks and love them all. I am training for a marathon so lots of running here and they hold up great!! They wick the moisture away from the sweat and snow. My feet are not tired after a 15+mile run.

Verified Buyer

Reviewed by JM in Oregon from Oregon on Friday, November 18, 2016

Bought this to get my order up to free shipping, but I always love SmartWool. These didn't disappoint, a little more cushioning than my ultra lights, but still comfortable in my barefoot Merrells.

Verified Buyer

Reviewed by Rick in Texas from Texas on Monday, November 14, 2016

I didn't realize these were 2nds till I saw on the socks themselves a large imprint "IRREGULAR". So my only complaint is that it wasn't clearly marked. I now see in the product description a link to this information but it is rather small (4 characters) and easily missed.

That said I can't tell what's irregular about them so keeping the socks.