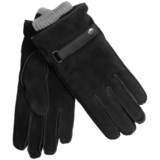 2nds. Get two great pairs of gloves in one go! These durable, low-bulk suede gloves can be worn on their own, or paired with the removable, lightweight knit liner gloves for a bonus boost of warmth.
Average Rating based on
11
reviews
3.909090
0
5
Verified Buyer

Reviewed by Bradford from Boston, MA on Tuesday, March 21, 2017

I love the look and feel of these gloves. But there is one problem. EVERY time you take them off and put them on, you need to take the liner out. Try as you might, you just cant get your hand out, then back in, without taking the liners out.
Its a bit of a pain.
But, they're very nice once they're on. So it doesn't bother me TOO much.2

Verified Buyer

Reviewed by Qi from China on Saturday, March 4, 2017

Very suitable for winter

Verified Buyer

Reviewed by Bucky from Ne on Tuesday, January 24, 2017

Now I understand brooks brother

Verified Buyer

Reviewed by Zintis from Upstate on Wednesday, January 4, 2017

While the quality of the product is good, it's impossible to remove or put on the gloves when the inserts are in place. Must be done separately each time. By themselves, the outer gloves are too large, bulky and cumbersome.

Verified Buyer

Reviewed by ToddinVA from Tidewater, VA on Thursday, December 22, 2016

These gloves have a removable liner which is fine for cool weather, but when put together with the suede shells are too thick and difficult to put on. The shells are too big without the liners to be worn comfortably on their own.

Verified Buyer

Reviewed by liz horton from new jersey on Wednesday, November 30, 2016

These are a gift for my boyfriend. They really are lovely.

Verified Buyer

Reviewed by BigK from BC on Tuesday, November 8, 2016

The feel and quality of the materials are without question excellent; however the idea of having a glove liner didn't quite work out as designed. Slipping on the gloves with the liner is not the problem, but when you want to take them off at the same time, you have no choice but to take the liner out too. Then you have to take off the liner and you are left with two gloves to hold onto. The gloves work well alone, but not together. A big inconvenience in the design.

Verified Buyer

Reviewed by Vox from New Hampshire on Wednesday, November 2, 2016

Liners are clearly the source of the 2nds rating. Loose stitches. Fits tight with liners and loose without them.

Verified Buyer

Reviewed by DogMa from DC on Wednesday, February 17, 2016

These are warm and have a nice fit. Because the knit liners are only connected by a snap, it is usually necessary to remove the liner, put that on, then slip the leather glove over.

Verified Buyer

Reviewed by Ace from New Orleans on Saturday, February 13, 2016

Nice gloves.