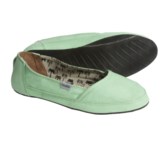 2nds. Like the Indonesian coconut it's named after, Indosole Kelapa espadrilles are part of your island daydreams. This low-cut moccasin has a removable 2mm EVA foam insole with arch support.
Average Rating based on
6
reviews
2.666666
0
5
Verified Buyer

Reviewed by IdahoSkier from Idaho on Tuesday, August 30, 2016

I consistently wear a women's size 6 but these were huge...they were equivalent to at least a size 7, if not bigger. The size smaller wasn't available in the color I wanted, otherwise I would have gotten them because they really are cute.

Verified Buyer

Reviewed by Randy from North Carolina on Monday, August 22, 2016

If returning an item was free, these would certainly go back! Cute color, but poor quality and the fit is very awkward. If you have very wide feet, yet narrow across the toes... these might work for you. Otherwise, they just don't fit. And one shoe is wide and almost stretched along the sides while the other appears normal. Not sure what I will do with them, probably donate in hopes they will fit someone.

Reviewed by BirdLady from Central Ohio on Wednesday, March 16, 2016

I've had a foot injury and my left foot normally needs a 1/2 to full size larger. I used to wear 5.5 - 7 depending on shoes and usually point of the toes (ex.cowboy boots I wear 7's). I got these in a 6. I am planning on wearing without socks. They are a tad tight aroun the ball of foot on sides and top. This material should stretch though. One thing I did notice is if I take the foot inserts out I can not only wear socks but they can be up to a med/heavy sock. So...win, win, both ways! I've decided I'm happy I got the 6!!
I love the vibrant color. The picture is pretty much an accurate photo of the shoe. Not sure why they are seconds? I would say they fit true to size. And can also be a 'go to ' shoe to keep by the door. Wear them off and on a few days around the house to stretch them to a perfect fit before wearing them anywhere long term. I'm very happy with them!
In the photo I didn't put my left foot (shoe on R in photo) all the way in the shoe so you can see how it makes a difference on the size shoe I wear. According to direction it says if u r a 1/2 order next size up, which I did not.
Sorry...it won't upload my photo from my iPad and when I try to load from iCloud or drop box it just keeps loading and NEVER finishes...

Verified Buyer

Reviewed by Kath318 from Maryland on Friday, February 12, 2016

I bought the black and teal ones, and the pattern is just adorable. Based on other reviews, I went with a 7 instead of my normal 6.5, but I'm not sure that was the best thing to do. While the heel is tight and the fabric digs in a bit, the rest of the shoe is too big. I'm sure I can find inserts to help with support (because these really don't give you much) and that might help with the sizing, but I may have to put bandaids on my heels until these wear in. Still... I love the look, and the price couldn't be beat.

Reviewed by PNW gal from WA state on Tuesday, January 19, 2016

These looked so cute I broke my "no shoes" rule at stp and got these, and after visiting the Indosole website read that they recommend sizing down for these flats. Accodingly, as I am a six and a half, got the six. They are way too small. And I would have followed the other reviewer's advice to size up but it was posted about the time when I ordered.

Reviewed by Elyssa from MA on Tuesday, January 12, 2016

these are cute, but... I regularly fit a size 9, and these easily run a full size smaller. Order up a whole size if I were you. Also, they cut into the Achilles tendon above the heel - perhaps this will loosen up with wear - I won't find out. Will be giving them to a relative w/ smaller feet.