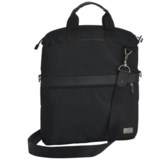 Closeouts. Somewhere between a messenger bag and a purse, the Eagle Creek Convertible laptop handbag is perfect for the urban commuter. When folded over crossbody style, it handles lunch, papers, collapsible umbrella and a tablet in the exterior zip pocket. In fully extended tote style, it accommodates 125% more.
Average Rating based on
7
reviews
3.714285
0
5
Verified Buyer

Reviewed by keyknok from CA on Thursday, August 18, 2016

Not sure I'll keep this bag. It is a little awkwad. The shoulder strap crosses over so it's not very convenent to take a small laptop computer in & out of the bag while it's on your shoulder. The back zipper droppes into the main compartment. It's looks & feels awkward. If you use only the bottom half & connect the strap to the lower hooks - the top doesn't flop over nicely. It kind of sticks out as if the material is too stiff. I'm going to return it.

Reviewed by Earthy Mom from Arizona on Wednesday, August 10, 2016

I love this bag. It's become my daily casual purse. The details and construction are awesome. I love padded the phone pocket. Fits my iPhone5 perfectly. (Probably too small for the bigger phones out there though). Style wise, I find it to be the perfect balance of polished, modern & sporty. As for the color, I ordered Cappuccino, and I find it to be more olive/army green than brown, but I love the color and prefer this shade to the Khaki/brown range. At this price, I feel like I got the greatest deal ever. May even treat myself to the black color as well. If you are interested in using the security features on this bag while travelling, I have a note: The top zipper has a great eyelet for passing the zipper pull through to keep someone from opening the bag quickly without your knowledge, however, there is also a way to enter the bag from the side zipper, and that opens right into the main compartment, where you'll likely keep your wallet, etc. So, I'd keep that side next to your body, and not facing outward. But, for daily use without security concerns, the easy side access is a handy feature, because you don't to reach in from the top to access your most used items. I haven't used this with my laptop yet, but I love knowing that I have that option. Great find!

Verified Buyer

Reviewed by mo from Albuquerque on Thursday, June 30, 2016

I really like Eagle Creek merchandise but this combo of a handbag and a laptop case just didn't work for me. The dimensions are odd and it doesn't carry well. I returned it.

Reviewed by N from Central Illinois on Thursday, February 18, 2016

A smart design. I have been carrying a small purse and didn't want to have to carry a tablet bag in addition. This should work as my only bag now, I can just carry the tablet as needed. My Surface Pro 4 (with keyboard cover) fits horizontally so I can still fold over the top part. If I'm traveling or need to carry extra/larger stuff unexpectedly, the vertical configuration should come in handy.
The "cappuccino" color is actually khaki, more olive green than brown. Bag is soft, lightweight and casual-looking. It's basically divided in two: a fuzzy-lined laptop side, and a side for stuff. More interior organization on the "stuff" side would be nice, as would an exterior pocket; the external zippers are just side openings to main bag compartments. A higher-end, more business-y version of this would be great.

Reviewed by tro from Illinois on Sunday, December 20, 2015

I wanted a sleeker bag with room for my 14" laptop (thin Lenovo T450s) & related accessories, plus wallet and phone, a few papers -- the basics-- & not a huge bag. This fits the bill and I'm really pleased with it for that.

I read some reviews that this bag was too small but was pleased to find that my laptop actually fits horizontally (barely) which is nice although a bit fussier to get in and out. It is plenty spacious for loading vertically. If you have an older thicker 14" or a 15" and want a lot of extra space for other stuff you'd probably want to look elsewhere.

The durability and materials are good as you'd expect for the brand but the style is kind of blah in my opinion in the vertical mode. I got the black for business travel, but still would have appreciated just a little more texture or contrast somewhere in the design.

Verified Buyer

Reviewed by DaffyD from FL on Wednesday, November 18, 2015

The description says "Flap closure unfolds to extend silhouette to a vertical tote for 15" laptop carry" but my 15" laptop did NOT fit without causing major stress on the top zipper and seams. Would be fine for a smaller laptop or tablet. The long strap works well as a crossbody but the strap material is slick and there's no pad to keep it from slipping when carried on the shoulder. Inside organization for small items is skimpy and hard to get at. The foldover feature is clever but would be improved by something to clearly distinguish one side from the other - it's difficult to tell whether the zippers in the middle access the main compartment or the laptop pocket without opening them, which adds time fumbling for wallet/keys/etc. On the plus side, it's lightweight and reasonably versatile as an all-in-one day bag for carrying a *small* tablet plus ordinary essentials. I needed it for a trip so I kept it and used it, but if I had it to do over again I would buy a different bag.

Verified Buyer

Reviewed by MelbaMae from IA on Tuesday, October 27, 2015

This bag is very nice for stowing an iPad mini (I don't know if a regular iPad would fit), my cell phone, chargers, wallet, cosmetics bag, etc... It has 3 ways to get inside it which is convenient. I like that it can fold over if you don't want it as long looking. the very long sturdy strap is adjustable and easily goes cross-body. The quality is good, the price on STP is phenomenal!