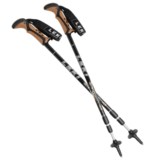 Discontinued or prior year model. LEKI Summit anti-shock trekking poles help you stay upright when carrying a pack through changing terrain. Internal shock-absorbers in the lower shaft cushion impacts, and ergonomic Aergon Cor-Tec grips stay comfortable during long trail days.
Average Rating based on
16
reviews
4.625000
0
5
Reviewed by Damien from Utah on Wednesday, November 30, 2016

Having never used trekking poles before, I wasn't sure what to expect. I knew I didn't want a speed lock pole as I was concerned about [...] getting caught in the lock and I felt, I could lock these down much more. I really like the sleekness of the pole, it doesn't get caught on anything and once they are locked down, they do not move. They do take a little longer to loosen and tighten but I'll credit that to what adds to the strength of the lock. I've gotten them caught in a couple rocks and did feel the tip give but not break, which it was designed to do. The cor-tec grips feel great and have not caused any issues. They are very comfortable to hold going up and down. My first hike with these was a 3400' ascent in 3 miles over sandy, rocky terrain. They held up perfectly. I used them almost entirely going up and 50% of the way coming down. I couldn't get over how well my legs felt the next day. I can partially attribute that to the poles taking some of the strain off my legs. It's so much easier to get over small obstacles while using the poles to help with balance.

If you are ok with having to take a little extra time to adjust them, then gram em. They are well made and will last a good while.


Reviewed by DC Hiker from Washington, DC on Saturday, November 26, 2016

I ordered these poles and then read the reviews on the REI website and wondered if I'd made a mistake. Good news: these poles are well-made, sturdy, and easy to adjust. Plus their price at Sierra Trading Post was great for this kind of quality. I've packed them in our checked luggage for one overseas hiking vacation where the poles worked out well. Highly recommend!

Verified Buyer

Reviewed by Barbara H from New Mexico on Thursday, November 3, 2016

I haven"t given these to my son yet, but I have the ladies model and I love them!

Verified Buyer

Reviewed by Dave from Atlanta on Wednesday, November 2, 2016

LEKI poles are well made, strong, and designed for comfort. The anti-shock feature is easy on your wrists.

Verified Buyer

Reviewed by Pete the Hiker from Virginia on Saturday, October 22, 2016

The order process was painless. The product was shipped on time and with tracking. I received the product in good condition with excellent packaging that protected the contents. The service from Sierra was courteous and informative. Leki is a reputed supplier of trekking poles made in Europe and is a German company. The poles were very well made and sturdy.

Verified Buyer

Reviewed by Bill J from CT on Monday, October 17, 2016

These poles instill confidence on the trail...have used them for about 15 miles so far on variety of terrain from smooth and easy to steep with nasty cobbles (Metacomet Trail in CT). Very light and quiet. I like the new shape of the grips, can be used with different hand positions. My only complaint is the tightening mechanisms - it requires twice as many turns as my old Komperdell poles, and it's hard to sense when they are fully tight, so i just count 8 or 9 turns to fully tighten or loosen. once set i don't feel a need to adjust them; I just lean on the top of the wide axis of the grips on a steep downhill.

Verified Buyer

Reviewed by Waterfall Hiker from North Carolina on Sunday, October 16, 2016

I bought a similar pair of Lekis years ago for my AT thru-hike. They are still in good working condition after over 12 years of use and abuse, but I've been introducing some friends to hiking/backpacking and wanted an affordable second pair to lend out. These poles are perfect. I've used them a few times myself already, and they appear to be the same top-notch quality as my old Lekis. They seem a little harder to tighten, but that may just be because I'm so used to my old ones.

Verified Buyer

Reviewed by Tara from Maine on Thursday, October 6, 2016

These are high tech at a great price. Light weight, durable, travel ready being collapsible. Traction on the tips are perfect. Cork grips are extremely comfortable. Just ordered another pair for a family member. Highly recommend.

Verified Buyer

Reviewed by Weebles from Virginia on Tuesday, September 27, 2016

This is my second pair. I loved first pair, so bought these for my wife and she loves them too.

Verified Buyer

Reviewed by Shari from Ohio on Tuesday, September 6, 2016

I'm new to using trekking poles. Based on research, it seemed the LEKI Summit anti-shock trekking poles offered a great product for the price. I trained with them one time...adjusting the poles for steep inclines...adjusting them again for descents...and all seemed fine (although I wasn't a fan of the composite cork handles...my hands sweat like crazy which was odd!). Unfortunately, I went out again a few days later and the locking mechanism failed on one of the poles (it wouldn't tighten). I was so disappointed, and in a bit of a panic, as I was leaving in a few days for a hike up Mt. Washington, ME. I went online and had the BEST Live Chat experience with "Sue" who helped me with the return/reorder process of another brand pole. And because I needed the poles to arrive by Wednesday, Sierra Trading is shipping them overnight...free of charge. While I was very disappointed in the LEKI product, Sierra Trading Post's customer service more than made up it. I'm giving the product review "1" star, but giving STP's customer support "5" stars!