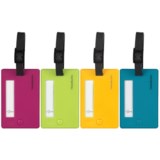 Closeouts. This set of four Travelon luggage tags feature bright colors to make it easy to spot your bags quickly.
Average Rating based on
11
reviews
4.181818
0
5
Verified Buyer

Reviewed by JHK from NE MN on Sunday, July 30, 2017

Solid, secure, attractive

Reviewed by LilyCatsMom from SF Bay Area on Monday, June 19, 2017

Nice eye-catching colors to make one's suitcase easy to spot in a sea of similarly-sized black and navy blue suitcases. Seem sturdy and like that the address/phone info are concealed. Only change/addition I'd like would be a way to insert one's business card in, which is what my spouse usually does with luggage tags (although with this design it would be hard to have the window line up with a person's name on a business card since the name location can vary from card to card)

Verified Buyer

Reviewed by seashantih from Pacific Northwest on Wednesday, June 7, 2017

These have a great secure design that I really like. They are high-quality and seem very sturdy.

Reviewed by L a viajante from Arizona on Monday, May 1, 2017

I regularly travel internationally to remote locations and have had a problem with losing luggage tags off of my bags (3 have disappeared over the last 2 years). Thought these would be an inexpensive replacement. The tags are fine. Unfortunately, the paper on which you write your address is permanently glued to the plastic back panel. That means that each tag can only be used for a single address unless you want to write in pencil and erase. Not very practical for someone like me who needs to change the contact address/phone number to match the destination for each trip (my phone doesn't roam to the places my bag travels to).

Verified Buyer

Reviewed by Shore Rat from Illinois on Saturday, December 24, 2016

Can't wait to use them

Verified Buyer

Reviewed by HaffieLover from Colorado on Thursday, December 15, 2016

Love these. This is the second set I've purchased. Well made, easy to see.

Verified Buyer

Reviewed by AnnieO from El Paso on Thursday, September 1, 2016

Love them! Colorful and easy to see. I did not find the straps cumbersome to remove to be able to add my contact information. Easy to secure on the luggage and quite sturdy.

Verified Buyer

Reviewed by momofmany from MN on Thursday, March 17, 2016

Glad to have a set for the family. I only wish they were a little lighter with same security feature.

Reviewed by BigRed from Michigan on Monday, March 7, 2016

I love the bright colors of these, but they make it much too hard to see the address--you have to undo the strap, and even then it's a struggle to open them. I also don't like how thick and stiff they are. Nice to have the multi-pack, since you can never have too many luggage tags, but these are not the style for me.

Verified Buyer

Reviewed by MiniDog47 from Illinois on Friday, February 26, 2016

I love these luggage tags. I love the bright colors. I like that only my name is shown to protect my privacy. My other information cannot be accessed unless the tag is removed from the luggage and the strap is removed from the tag. The cover slides over to reveal my address, phone number, etc. Very clever design!