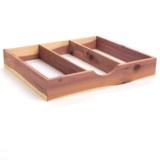 Overstock. Protect up to a dozen ties inside this Great American Hanger Co. tie box, crafted of naturally aromatic and pest-repellent cedar.
Average Rating based on
3
reviews
3.666666
0
5
Verified Buyer

Reviewed by D. from Souteast USA on Thursday, November 10, 2016

After ordering three items one arrived damaged. Another was sent out by STP and arrived in excellent condition. These are a great value @ STP pricing (and customer service). Although these are structurally adequate for use as drawer dividers one can easily add small wood dowel pins or brass escutcheon pins (pre drill and use a bit of glue) to improve the strength of the joinery. The cedar grade is ~ grade 2 furniture and they arrive planed & sanded. Additional sanding is also easy using ultra fine sand paper (by hand / blocked or sponge blocked). If stronger scent is desired either initially or at a future point in time simply apply a small amount of Natural Southern Red Cedar Oil. Also, when Red Cedar wood bottoms are desired rather than the Melamine bonded bottom used then one can use Natural Red Cedar Drawer and Shelf Liner (10" x 6') ; this is a very thin roll of genuine Red Cedar veneer that is rolled and can be trimmed to fit using a sharp razor knife and straight edge. I bought a roll from Amazon for < $6 but have not had time to try it yet. It is quite thin and fragile and holds the radius of the roll (~ 2.5"). Careful handling is required and flattening ( mist spray a bit of H2O, cover with a flat wood or metal panel) may be advised prior to gluing to the substrate divider bottoms. I like the precision cutting & planing of each piece prior to assembly.

Reviewed by D. from Southeast US on Tuesday, November 1, 2016

Three were ordered one of which came apart while gently withdrawing it from the manufacturer's tight fitting unit carton. STP sent a PERFECT and SOUND replacement for it The two others slid right out with gentle coaxing fully intact and looking & smelling very nice. These "Accessory Boxes" are made of ~grade # TWO southeastern red cedar whose grain varies from strait/clear to variated to figured to small tight knots. The joinery is precision cut and assembled with GLUE ONLY. There are no dowels or pins used at any of the eight joints. The pieces are planed and machine sanded smooth - smooth enough for most folks as delivered - but may be easily sanded more with extra fine sand paper by hand. The square cut and planed side and divider piece's top edges may be smoothed and rounded by hand sanding should one want this....very easy and enjoyable to do. When periodic enhancement of the aromatic cedar odor is desired just apply a light coat of genuine cedar oil distillate (eg, Giles & Kendall brand US Cedar Oil) to the grain with a soft cotton cloth (store the cloth in a sealed Mason jar) and final wipe surfaces after penetration if necessary. The four side corner joints and four divider end joints may be strengthened by pre drilling for small wood dowel pins, brass escutcheon pins, or micro screws. Because these Tie and Accessory Boxes are intended for smaller fine clothing items they should be more than adequate in strength so long as enough glue was used when assembled. I will assemble the six pieces of my defective box with both glue and solid brass escutcheon pins (see NOTE below) because the wood grain is highly figured, beautiful, and smells great. One of the six pieces is predestined to be permanently warped due to an unusual knot in the mid length of the piece. I believe it forced the original glued joints apart and also may not have had enough glue applied when first assembled, thus, the defective unit. NOTE: The solid brass escutcheon pins are made by: CLENDENIN BROS. INC.; Baltimore, MD. 21213 and can be ordered directly from them @ (410) 327-4500. They have been making specialty fasteners for 140 years and offer old fashion customer service to all. I found mine ~ 15 years ago in a local old world hardware store in Biloxi Mississippi. The correct brass fastener type is as follows: Escutcheon Pin (Oval Head) #18 guage x 7/8" shank length (either smooth or ringed). I have a few 2 oz. boxes remaining from a previous project. Pre drilling will prevent the thin cedar pieces from splitting; inject a bit of glue before tapping in the brass pins. The bottoms of these Accessory Boxes are made from a solid layer of 1/8" Lauan or Beech wood having a thin layer of Melamine heat bonded to one side for stability, durability, and appearance (the glossy white bottom surface seen in the photograph). I will use 1/4" tongue & groove red cedar (left over from cedar closet stock) for the defective box's bottom to add strength, beauty, and additional cedar aroma. The bottom slats (~2" width and cut to length) will fit into the side piece grooves when possible and be pined around the perimeter. Alternatively I may reassemble the defective box without its bottom stacking it onto another unit to double the standard depth of one original unit. Brass E-pins with heads clipped off will function both to locate and join the sides. STP has priced these cedar boxes for clearance. They are sized for many drawer applications and are a bargain from the good folks at STP.

Reviewed by SouthwestRez from Southwest on Saturday, January 23, 2016

I was so excited to find this at a decent price. I wanted to use it for sock/underwear drawer organization. I am thoroughly disappointed. One of them came damaged with splinters of wood. They are of poor quality and not constructed very well. Additionally, I expected some aroma of cedar; there was none. Will be returning.