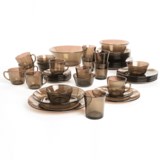 Closeouts. In your choice of amber or cobalt blue, this Duralex Lys service set is a great buy on French-made tempered glass. Durable and chip resistant, the set includes six each of standard place settings, plus two serving bowls.
Average Rating based on
9
reviews
4.111111
0
5
Reviewed by dpfromva from Virginia on Monday, October 10, 2016

I was excited to get this set for my small addition kitchenette, based on its durability and that it wasn't oversized. Opened the box to find a bowl completely smashed in sharp shards all over the inside of the box. Will not order anything fragile from Sierra again. The box was wrapped in bubble wrap inside the cardboard shipping box but it was thin and mostly deflated. This is a very heavy box and now I have to lug it a UPS store. Oh bother.

Verified Buyer

Reviewed by Renata from New Jersey on Wednesday, August 24, 2016

I order the dishes in brown, the color is great. Overall the items are a bit smaller (comparing to the standard American sizes) as they are Europen. But it works great for me, less food on the plate....less food that I eat LOL.

Verified Buyer

Reviewed by Long Time Sierra Shopper from CT on Saturday, August 20, 2016

These are very nice I bought the blue and am happy with the color. Finally got rid of my mixed matched set and replaced them with these.
The coffee cups are more the size of an espresso size not what I would use for my daily cup, and the drinking glasses are the size of juice. Great quality very happy

Verified Buyer

Reviewed by binienda from Atlanta, GA USA on Wednesday, August 3, 2016

I ordered these dishes for our rental house. They are very pretty and seem durable and sturdy. The set includes a variety of different bowls and some cute sized "tumblers". Typical dish sets do not included these pieces so I think this makes the purchase a good value. Very nice feel for such a good value.

Reviewed by Hiking mama from Colraodo on Sunday, July 10, 2016

The name Duralex says it all. I have had these Duralex glass bowls, cups and dishes in the amber color for over 45 years. They have been through kids, moves, etc. and there has been relatively little breakage or chipping and only slight scratching. I have only had one dish actually break when my husband tapped the edge of it wrong and it broke into tiny pieces like safety glass does. It was quite a spectacle:almost like an explosion.
Some people commened on the size of the plates. These were daily dinner plates for our family for 20 years. I switched to 12" plates 25 years ago for dinner. I wish I were as thin as I was 25 years ago. These still see daily use for breakfasts and lunches. Maybe I should start using them for dinner again...

Reviewed by Daljeet from Santa Clara, California on Friday, June 3, 2016

Just received my 3 boxes in blue. They are gorgeous. I love them. Thank you Sierra Trading Company.

Verified Buyer

Reviewed by kat from Massachusetts on Monday, May 16, 2016

Beautiful color but, plates are very small and cups even smaller. Looks like it's made for kids.

Verified Buyer

Reviewed by sandy from Stamford CT on Saturday, November 28, 2015

Love cobalt blue glass and really like this set -- color is great, and they handle fine in dishwasher and microwave. Lots of compliments. One caveat -- the "dinner" plates are the size of American "lunch" plates -- guess that's how the French stay slim! Coffee cups are small but perfect for after-dinner coffee or expresso.

Verified Buyer

Reviewed by SEB from Boston, MA on Wednesday, November 25, 2015

I love using glass dishes, and these are tempered, so they are suited to microwave use. I like the nice warm yellow-orange color, which is not amber or brown. I also have a set in blue (slightly lighter than cobalt). The glass is medium quality, so there are occasional bubbles or minor flaws. Also the brand name is a small line of writing, located on the eating surface. Not noticeable in yellow or clear, but very noticeable in the blue. Seems like a mistake - usually this would be on the bottom!