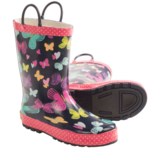 Closeouts. Rainy days are a welcome occasion, thanks to Western Chief's rain boots and their creative, adorably fun designs.
Average Rating based on
13
reviews
4.769230
0
5
Verified Buyer

Reviewed by sdepaoli from Mars, PA on Wednesday, October 26, 2016

Awesome boots, the are easy for my 3 year old to pull on and off, they keep her feet dry, and there are several cute patterns to choose from. I ordered a second pair for Grandma's house.

Reviewed by MEL from Portland, OR on Monday, October 17, 2016

I bought these last season in anticipation for this year. So about a month ago I pulled them out and we've been wearing them on rainy days. Well - they are already falling apart. One loop end broke off - so I taped it. Then one loop came totally off, and now there is a split at the seam near the toe so they are no longer waterproof! Rain boot should last through a season! or at least until the next size is needed, which would probably come first. May be that I got a lemon - but I'm pretty disappointed. Gave it 3 stars still because they are cute, and I have seen them resold often, so they can hold up. My pair just did not :(.

Verified Buyer

Reviewed by Turtle316 from San Diego on Monday, October 17, 2016

We don't get enough rain here, but when we do it turns into a toddler free for all. Rules fly out he window and we play in the puddles near the street.
So these will keep his little feet dry, not that he cares at all, but it makes me feel better

Verified Buyer

Reviewed by 2greatpyrs from Washington state on Thursday, September 22, 2016

Colorful designs, well made, ideal for splashing

Verified Buyer

Reviewed by latimer02 from West Monroe, LA on Monday, January 25, 2016

We love our western chief boots! I really like this brand plus can't beat the price. True to size and seem to hold up well from toddler wear and tear!

Verified Buyer

Reviewed by Carrie from gig harbor, wa on Tuesday, January 5, 2016

This was a price I couldn't pass up and purchased them for future use. They were smelly out of the bag, so I am airing them out in the garage before they go in the closet.

Verified Buyer

Reviewed by ND from Michigan on Sunday, January 3, 2016

My son loves his new shark boots.

Verified Buyer

Reviewed by Janna from Colorado on Tuesday, December 15, 2015

Super cute and easy to get on!

Verified Buyer

Reviewed by Crystal from TX on Tuesday, December 8, 2015

I ordered because it was on sale but was expecting a hard plastic boot since it's so cheap but you can even fold it. It's a bit heavy but very soft.

Verified Buyer

Reviewed by 12teachscience from Louisiana on Saturday, December 5, 2015

We bought these for our Grandson. They are easy to put on due to the large pull loops. Good boots for the price.