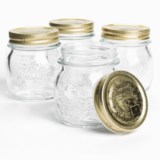 Overstock. Canning has always been somewhat of an art form, and Bormioli Rocco's Quattro Stagioni canning jars bring Italian-made artistry to the shape of the jar, the beautifully embossed glass design and even the scripted lids. Great for gifting home-made jams or storing anything at all!
Average Rating based on
14
reviews
4.928571
0
5
Verified Buyer

Reviewed by C.A. from Detroit on Thursday, August 24, 2017

These jars are very pretty and a nice size for gifting jam. I love that the lids are in one piece--less fussy. The only challenge tis spooning jam into the narrow mouth of these jars. You'll want a funnel of some kind or a super dainty ladle. All in all, a very good value!

Verified Buyer

Reviewed by luvsplants from Idaho on Monday, May 15, 2017

I actually bought these because I needed small lids for Bormioloi jars purchased previously (some of mine have gone down the garbage disposal). I discovered there are more than one lid size and these lids are larger than what I needed. Oh well, they are cute little jam jars and I can use them.

Verified Buyer

Reviewed by callalily09 from NJ on Tuesday, December 20, 2016

Very decorative and functional

Verified Buyer

Reviewed by Jennifer from CA on Thursday, November 17, 2016

I was looking for something to push my cart up to qualify for free shipping. I know, that's how they get you. But these were pretty useful, since I wanted to try canning. Now I have some tasty batches of pumpkin butter in cute glass jars for gifts!

Verified Buyer

Reviewed by Pixell8ted from Livermore, CA on Tuesday, November 15, 2016

A perfect size for homemade treats like jams and jellies.
Or storing leftover gravy!

Verified Buyer

Reviewed by Cindy from Peena on Tuesday, November 1, 2016

love them and price and packaging.

Verified Buyer

Reviewed by Ande from Arizona on Tuesday, October 11, 2016

These are the perfect jelly jars for gifting!

Verified Buyer

Reviewed by Bean from Georgia on Saturday, September 17, 2016

Can't wait to put jam in them!

Verified Buyer

Reviewed by Mountain Peak from Eastern Washington on Friday, July 8, 2016

wonderful small jars for the Frig. where large jars aren't wanted.
Nice looking

Verified Buyer

Reviewed by KGT from California on Wednesday, October 14, 2015

These jars are a great size for jam, etc. Perfect for gifts.