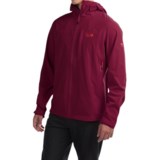 Closeouts. Mountain Hardwear's Stretch Ozonic jacket features a great combination of wet weather protection and unbeatable freedom of movement, thanks to 40 denier face fabric with Dry.Q® Active waterproof breathable technology.
Average Rating based on
16
reviews
4.687500
0
5
Verified Buyer

Reviewed by Ira from Montana on Tuesday, May 15, 2018

I'm 6'1" and 190#. I ordered the Medium, because I like a slim fit. I could still easily fit a light down jacket or vest under this shell, and the arms were long enough. What I like most is that the material stretches. I rock climb and wanted a jacket with some movement. This one has it! I have full shoulder RoM without restriction even in the Medium. Haven't seen a heavy downpour yet, but it beads up nicely in a light rain. This thing is super light and packable. It will be my "do all" jacket for skiing, climbing, cycling, beer drinking, etc...

Verified Buyer

Reviewed by Borderdog from Washington on Saturday, February 17, 2018

Great lightweight waterproof layer. Can be complemented with matching color polyester layer from Mountain Hardware or Arc'Teryx.
Lightweight so not great for cold wind, snow, etc., w/o layering.

Verified Buyer

Reviewed by Stew from Marin, CA on Friday, December 22, 2017

The XL is cut a little too close for my taste; e.g., gets restrictive across the back when you extend your arms. I decided to keep it because there is a bit of stretch to the fabric that I hope will compensate. Untried in wet weather.

Verified Buyer

Reviewed by Corbett from South Carolina on Tuesday, October 24, 2017

Jacket is super light and comfortable but also very waterproof. The best thing about it though is that it doesn't have that plasticy feel that other jackets have and it doesn't make that running sound every time you move

Verified Buyer

Reviewed by KaptSlow from Northumberland, UK on Saturday, October 1, 2016

Currently walking Hadrian's Wall (west to east, in Corbridge today) and this jacket has served well. It's light, tough, and most importantly keeping me dry! The hood works well when wearing a hat/beanie, not so great without. The pit zips are a bit small, but if you don't over-layer they are adequate. Sleeves are a good length, the pockets work well with a pack. The jacket drys quickly while being worn or hanging in a bothy. Good waterproofing; after six days of on & off rain, water is still beading. A fall downhill in the mud and brush did not damage the jacket.

I'm 5'10"/185lbs and the LG fits well. A bit snug with a base and heavyish mid-layer, but that's to be expected. Good value for money.

Verified Buyer

Reviewed by Nathan from Washington on Sunday, August 14, 2016

Took on a 50 mi. Hike in OR. Rain and hail and snow for 2 days. I kept warm and dry. Rest of my party had to fool with ponchos.

Verified Buyer

Reviewed by frosty from Wa State on Tuesday, April 12, 2016

Great looking product, stretch fabric and super light weight that packs away. What more could you ask for? As for performance, I believe its all that its hyped up to be although haven't had it out in a torrential rainfall. As for comfort and fit, the collar and hood have a nice sung fit. The hood adjustment threads took a little getting used too with a little help. Very pleased with everything about this jacket. Its true to size even though others have shifted sizes. Most of time I would take a XL but with this a L fits fine even with base layers underneath. I'm 6 ft and 210 lbs From all counts, super satisfied and time will tell whether it holds out.

Verified Buyer

Reviewed by WyoExplorer22 from Oregon on Saturday, March 5, 2016

This is a great jacket. I bought this with the intent of using it as a hardshell mountaineering jacket, not really sure what the "Stretch Dry-Q" fabric would be like. Definitely not like a traditional hardshell that I was hoping for, but it has quickly become my favorite lightweight jacket. The jacket fits very well to my expected size, and there's definitely enough room for layering, which was what I was hoping for. Even though this wasn't quite what I was expecting (fabric-wise), I still use this as my waterproof top layer when I'm out skiing or climbing.

I recently climbed Mount Hood with this jacket over an Arc'teryx down jacket, and it worked amazing. Temperatures were well into the teens, and at the summit the wind chill was well below zero. No issues at all, this jacket was a great addition to my climbing gear. My biggest concern with the fabric was how it would hold up in the wind, and honestly, it has exceeded my expectations as a wind-blocking layer. Still not as effective as a Gore-Tex jacket, but it gets the job done. Lastly, this jacket definitely does a good job in wet weather. Worn it in multiple downpours, and this jacket has left me 100% dry.

My only complaints are: (1) Pit zips are small. But the jacket's breathability is pretty good, so not much of an issue there. (2) The chest pocket zipper is not seam sealed. The zipper is covered with fabric, but I can see how water could maybe soak through there getting your chest wet. I have had no issues with this yet, however.

Bottom line is, for the money (especially with a coupon from STP), I am very satisfied with this jacket, and would definitely recommend it.

Verified Buyer

Reviewed by Carson from Tennessee on Thursday, February 25, 2016

This jacket is best suited for throwing in your pack when you are not actually expecting rain, but want to be prepared. My first impressions of the jacket were great. It has a great feel, is super lightweight, and very comfortable. My issues arose when taking it into rain. For some odd reason, all of the zippers are waterproof except for the chest pocket. It uses a standard zipper with just a simple flap over it to protect from the rain. It took about 30 seconds in a downpour before I felt water soaking through to my shirt. All the other pockets, seams, hood, and zippers held up great.

I really wanted to love this jacket, however, at a $200 price point I think there are more reliable options out there. That being said, if you simply want a super comfortable jacket for light rain then this would be a great option (especially if you could get it on sale).




Verified Buyer

Reviewed by Newk from California on Monday, February 15, 2016

I love the stretch fabric. The fit is good and it beads water well.