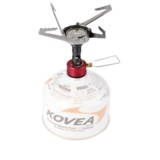 Closeouts. Ideal for backpacking and camping, the ultralight Kovea Power Nano canister stove is designed with four folding pot arms and a folding flame adjustment knob to save space inside a pack.
Average Rating based on
11
reviews
4.545454
0
5
Verified Buyer

Reviewed by Mogeezy from California on Saturday, July 8, 2017

Great burner for the price

Verified Buyer

Reviewed by Parsnip from Chicago on Friday, July 7, 2017

simple. small. effective. this stove gets food hot, real fast. i'm a fan.

Reviewed by Neeman from Israel on Thursday, June 22, 2017

The flame pattern is focused up in a tight focus
This makes the stove excellent for Cup Savers that fit round the 32oz/1lt water bottles
3"/95mm cups and small bowls
But be careful with titanium to get burn spots in cooking
So it boils water very quickly
The four arm pattern is very stable for larger pots

And under 4 oz

Recommended

Verified Buyer

Reviewed by Wnc fly man from North Carolina on Monday, April 10, 2017

This thing is great. It's tiny when it's folded up. It's light weight and it had an awesome flame distribution. It's well worth more than the price.

Verified Buyer

Reviewed by Hamm's from Norhthern Rockies on Thursday, February 16, 2017

Excellent alternative to MSR Pocket Rocket. Seems as good or better quality and durability. Will with hold judgment on the built-in wind screen. Comes with a cool little plastic container.

Verified Buyer

Reviewed by Froggy from Washington on Tuesday, February 7, 2017

I bought this and the MSR pocket rocket at the same time. This stove is slightly heavier than the pocket rocket but I get the impression that my cookware sits more stable on in with the four stand pieces vs. three. It also feels more sturdy and less likely to bend. I was pleasantly suprised by the quality. I used it on one camping trip so far and it worked great.

Verified Buyer

Reviewed by HokieTrax from Virginia on Sunday, May 22, 2016

It felt heavier than the listed weight and I was looking for something the same weight or lighter than my current stove. Legs cleverly fold out but it provided a less than stable footing for the titanium pot that I use. It seemed sturdy and was finished looking. I did not test it with a gas cylinder. I returned it with some other items.

Verified Buyer

Reviewed by Scouter from Topeka KS on Monday, March 14, 2016

Stove works OK but I'm a Boy Scout leader. Gas valve has to be open to fold and arms are a little stiff to fold which could lead to bending if not careful. If you work with Scouts, you see my point. OK for adults.

Verified Buyer

Reviewed by mfleck from Florida on Thursday, February 18, 2016

This thing is super-compact and very lightweight. It'll boil a liter of water in 3-4 minutes. I store it in my Kovea Escape cookware kit. I can also store a butane canister with it. This stove is very comparable to the pocket rocket.

Verified Buyer

Reviewed by SkyBake from Tennessee on Thursday, February 4, 2016

Great stove that puts out heat at a great rate!