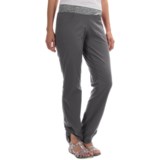 Closeouts. Mountain Hardwear's Dynama pants are lightweight, supremely comfortable and ready to go wherever you go; the low-profile stretch waistband offers a soft-next-to-skin, stay-put fit, and the DWR-treated nylon legs are infused with ample stretch for performance in the great outdoors.
Average Rating based on
20
reviews
4.450000
0
5
Verified Buyer

Reviewed by Teacher 76 from Virginia on Tuesday, December 19, 2017

These pants feel so good on and look great. I am 5'4" and about 118 lbs. Size small with shorter inseam are just right. This is a rare perfect fit for me.

Verified Buyer

Reviewed by Giselle from Oakland, CA on Friday, December 1, 2017

I got a pair for our trip to Thailand, and it worked better than I expected!!! I am 5ft and 175 lbs; size L was a bit loose on me but size M gives me a wedgie. These were very comfortable and cool under extremely hot and humid weather. I washed it a few times and it dried very fast. It was as comfortable as wearing super soft leggings, and worked better for me since I needed to wear looser pants to enter the Temples. I would buy again!!!

Verified Buyer

Reviewed by Traveler Michele from California on Tuesday, November 21, 2017

I've tried these in every color - they do run small, but the purple seems a little bigger. I'm normally a XS or S - between 4 and 6, and the Smalls are skin tight. Mediums are way too big. So order accordingly - if you are between sizes, order UP. IF they fit, then they are awesome - perfect for any kind of outdoor activities, traveling, etc. I wish they were a little higher cut - they do sometimes roll at the waist if you have waist rolls ;-) But overall, nice, technical pants, and I'm relieved the purple fit, because I do like the overall cut, fabric, POCKETS, etc. There are a lot of nice, stretchy pants out there for active wear, but very few have pockets!

Reviewed by Kristi from Alaska on Monday, November 13, 2017

Just ordered these for work (I work in athletics)- wanted something that are as comfortable as yoga pants but look a little more professional and these are perfect! I LOVE how they fit and the fact that they have actual pockets! Great pants!

Verified Buyer

Reviewed by Rower Jo from Colorado on Thursday, November 9, 2017

These pants are very comfortable and fit well . I love the pockets. Few women's pants have pockets. The fabric is fairly light so a good spring, fall weather pant.

Reviewed by Outdoor Adventures Gurl from Idaho on Thursday, October 26, 2017

I love the fit and feel of these pants but the first time I wore them hiking we went through a lot of brush on a trail that wasn't well established. Anytime we brushed by a rose bush I'd feel the thorns on my legs(It's fall and they've lost their leaves and they have lil sticks of them everywhere...brutal things).... when I got home I realized that the pants were all snagged with little strings hanging out all over. I was pretty sad they aren't more durable. They also pick up any sticker you walk by as well...especially the little ones with a million of them! They are really comfy pants however and will be great for more normal established hiking trails but not any backwoods environment. The blurple color is a lot darker than pictured and not as crazy purple looking which is great. the cinch up things are silly and the back pockets tiny and about useless as things may fall out. The front two pockets are pretty good. Wish the back pockets were zip ones and bigger. These pants seem to be the same material as my Columbia Saturday Trail II pants which have the same problem with things poking through them..... like stinging nettle will sting you through them where the pants are tight against your skin. But I have had the Columbia pants for a couple years and even though they have snagged several times they still have held up....so hopefully these Dynama pants will still hold up even though they are kinda thin and snag.

Reviewed by Machaeranthera from Bishop, CA on Sunday, September 3, 2017

I absolutely love these pants. I got them in "mountain" after reading the review below that says they are a "fairly pale slate blue" - the reviewer is dead on and I like the color a lot. The pants are extremely light and stretchy and I've been wearing them hiking all summer. Actually the fabric is so stretchy that things like chapstick and keys in your pockets tend to feel heavy - not much of a problem for me as I just stow these items in my pack while I'm on the trail. I like pants with back pockets as I think they make my butt look better than no pockets, so I'm always on the lookout for active pants with back (and front!) pockets, and these fill the bill. Also - yoga waistbands on hiking pants? Who knew how awesome that is! I may never go back to button flies for hiking pants.

The one thing I do not like is the DWR - it makes the pants warmer than they should be and really, who needs DWR on super lightweight summer hiking pants? I'll never understand why the outdoor companies are suddenly so into putting DWR on everything (even shorts, for goodness sake!) - quick dry fabric would be so much better.

For reference, I'm 5'5", about 140 pounds, shorter legs and longer torso, and the medium size, short length is perfect.

Reviewed by Patty-gonia from MN on Friday, May 12, 2017

I can definitely understand the appeal of these pants. I didn't find the sizing to be wrong at all. I'm 5'2", 180, wear a size 14 or 16 in womens, and the XL fit my butt no problem. I ordered the short inseam for my mini stumpers, but they were still too long. I realize I really prefer quick-dry synthetic cropped leggings for hiking, camping, cycling, et cetera...so these pants felt too slack and baggy on my legs. Instead of returning them to Sierra, I gave them to a taller friend. Again, these pants are truly great for people who like their pants to be actual pants instead of leggings.

Verified Buyer

Reviewed by Kevin at the mtn from Bend, OR on Monday, May 1, 2017

5'6'', 120lbs- XS Long fits perfectly, sometimes the waist is a little tight but they break in. I have these pants in four different colors. LOVE THEM. BUT- you must wash separately from other clothes. The first pair I purchased pilled horribly after a few washes- now that I have so many pairs I just wash them together and separate from other clothes.

Verified Buyer

Reviewed by Traveler Michele from California on Saturday, April 22, 2017

I am SO disappointed - these run small. I've tried two pairs now, and both were SKIN tight. I have a pair of the Dynama crop pants, and they fit bigger, so I was really hoping to find the full length that would work. So the good of these pants - they are SO lightweight and really cute - they have pockets, they are built for an active life style. Perfect travel pants - they won't wrinkle, they are quick to dry (at least my crop pants are), and the colors are nice enough. If they will fit you - go for it! The downside - they are REALLY small. I take a small in most clothing, sometimes an XS - and these in small were skin tight and binding. Medium would be too big.