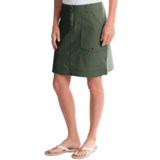 Closeouts. With lightweight stretch cotton fabric and plenty of storage to hold your essentials, Woolrich's Laurel Run II skirt is a versatile, go-anywhere staple for your spring and summer adventures.
Average Rating based on
9
reviews
3.888888
0
5
Verified Buyer

Reviewed by Nancy from MI on Sunday, March 19, 2017

Skirt was true to size but lacked any drape. Returned.

Reviewed by Marcia from Virginia on Saturday, June 4, 2016

I really wanted this skirt to work. I ordered a 4 which normally fits me. This skirt was large, boxy, and
super unflattering on me. And to concur with the other reviewer, this is not designed for work attire.
It's very casual and meant for traveling, picnics and the park.

Reviewed by nkb from ma on Tuesday, May 10, 2016

There are a lot of reasons to like this skirt and give it 4 stars instead of 3. Here are the pros:

1. Length is great. It is that critical inch and half longer than most of the shorter skirts you see that are simply too short for grown-ups.
2. Fit is really spot on. (If between sizes I would go up, but if you are a standard size I think this is really good)
3. Comfortable, and of course pockets are always great. Very nice option for a casual picnic or such on the weekend.

But here is what disappointed me:

1. I don't know where the other reviewers work, but I find this skirt *far* too casual for an office environment. Based on the other reviews I was crossing my fingers, but the material is just so casual I would be embarrassed to walk into a professional meeting in this skirt.
2. It wrinkles like crazy. If you look closely at the photograph here, you will see that this skirt is even wrinkled in the promotional image.
3. Again, I don't know where the other reviewers live, but I'm in New England and I consider this definitely a one -season skirt. Because the material is thin and wrinkley, I think it would look stupid with leggings and therefore not appropriate for spring or fall.

Verified Buyer

Reviewed by Lucky Laura from NY on Monday, May 2, 2016

This is an overall nice skirt & I feel it fits true to size.

Reviewed by Janelle from S. FL on Tuesday, November 3, 2015

Great skirt, but simply didn't care for the crunchy fabric. Fit well and a wonderful color, though.

Verified Buyer

Reviewed by buttons from California on Thursday, October 22, 2015

I like the fabric, the style, the length, the colors . . .this latest brown one is for fall (perhaps with leggings!) A "staple" they are. I'm 5'9", 135, and the 8 is just right. Not sure why they are "closeouts" but I like the price and the deal flyer - daily.

Verified Buyer

Reviewed by Bonnie from Montana on Tuesday, September 29, 2015

I now have 3 colors of this skirt. They are comfortable, true to size and I can wear them to work or on a hike.

Verified Buyer

Reviewed by Nebraska Climber from NE on Thursday, September 3, 2015

I have a couple of woolrich skirts now, and they are good go-to pieces. I bought them to replace a Gap skirt that I bought about eight(?) years ago and which has worn through. I truly loved that skirt, which had more detailed shaping in its seam work, and I'd consider this one to be not quite as awesome and flattering in its design. This is a good, solid backup. This one is light and fine for warmer weather, but not flimsy. It seems like a good 3-season piece, and I will probably end up even wearing it in the winter because it's so easy to put on and go. The shaping is good and fits well through the hips in proportion to the waist. It's sort of like an A-line skirt, but it's not hugely flared. It's NOT a pencil skirt. The sizing seems about right to me; there is some stretch to this fabric, but I think this skirt would look weird if worn too tight; that is to say, if one is between sizes, I'd go up rather than down to avoid the stretch of the fabric becoming pronounced. This is dressy enough for work if you are in a flexible environment, and easy to wear for social occasions and around town. The color I have is rather brown--which is fine--and I would consider buying it again if there were more colors available. I have this 4 rather than 5 stars because I'm not sure yet how it will wear over time, especially with washing (I'd definitely let it hang to dry) and because it does move around a bit when you wear it. While I wouldn't want it smaller, I need to remember that it might have shifted while I walk (especially if I am wearing a bag) and be off center. Likewise, I have gotten some strange folds while wearing it because of the way that the skirt responds to movement with the stretch material. I think this will lessen over wearing, however, and it is not significant enough that a quick smoothing with one's hands can't fix it. It's still comfortable enough that I'd do any everyday life kind of chores in it and don't feel the need to change out of it as soon as I get home from work. I'm not sure I'd wear it hiking (partly because it is 99% cotton, and I don't wear cotton on expeditions) but also because I wouldn't call this an "adventure skirt" ready for the elements. But I may be wrong, and the materials and make on this skirt are beyond the price I paid via STP.

Verified Buyer

Reviewed by tm from vermont on Tuesday, August 25, 2015

Great fitting and perfect skirt to throw on. Material is light weight. Good alternative to shorts.