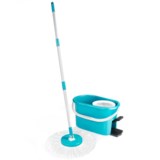 Overstock. The mop head on Fuller Brush Company's Fiesta Spin Mop set rotates as you work for quick removal of dirt, dust and other messes. Works on marble, tile, laminate, vinyl, wood floors and other hard surfaces.
Average Rating based on
11
reviews
4.727272
0
5
Verified Buyer

Reviewed by NH from Wisconsin on Wednesday, July 12, 2017

I found the Spin Mop to be very fast, easy to use, and left less streaking than the steam mop I had been using.

Verified Buyer

Reviewed by danakins from Leavenworth, KS on Thursday, July 6, 2017

I have seriously never been so happy with a mop set. This mop is lightweight and since the hinge is on the mop head you can easily mop underneath furniture that sits low to the floor. The spinner does not fling water outside of the bucket and the bucket is not too heavy when filled to the line with water. Mopping goes a lot faster with this system. I bought one for my mom and when she told me how much she loved it, I thought she was just trying to make me feel good. Then I tried my own and knew that she wasn't exaggerating. AND this set is about half the price of the As Seen On TV one. Replacement mop heads can be purchased all over the place. Do not hesitate to purchase this mop set.

Verified Buyer

Reviewed by Brenda from Florida on Wednesday, June 28, 2017

I was really happy with the way mop worked, I was afraid it wouldn't get enough water out of the mop for my laminate floors. It is dryer than the hand wringing mops and you determine how wet you want the mop by the spinning action from the foot lever. The mop handle doesn't feel as sturdy as my Fuller broom but it worked fine.

Verified Buyer

Reviewed by ms.happy from florida on Tuesday, February 14, 2017

this is the second spin mop I have bought,fuller brush seems to be the best.

Verified Buyer

Reviewed by JL from IN on Saturday, May 28, 2016

have used a few times now, seems well made, cleans floors well without leaving a lot of water on the floor. the mop head pops off almost too easily, hope this won't be a problem over time.

Verified Buyer

Reviewed by Wayne53 from Monticello,NY on Monday, May 16, 2016

Works Great, Made Super, Half the price of the others and is the only one to come with 2 mop heads!!!

Verified Buyer

Reviewed by Ghost from CA on Friday, April 15, 2016

Traffic is heavy in and out of my kitchen door ..I always think I should mop it more often but do not relish doing it.
This gizmo with its cheerful color, being really well made and super easy to use is a winner.
You can detach the mop head without bending over and hang it on a nail outside to dry.
You can then easily attach the 2nd head that they include if you have lots to do.
I actually don't mind it being more visible because it is visually ok.
Yeah the yarns might be some odd nylon...but they do spin out fast in the spinner and super light weight.
By Dad sold Fuller Brush door to door in the 50's so in our home it is highly regarded brand and this does not disappoint.


Verified Buyer

Reviewed by OCULUS from Rensselaer, NY on Monday, March 21, 2016

Fuller Brush for decades was a local company here in Albany (former owner died just last year) and their superior products last forever. I am still running some of their brushes, dust mops, soap stands and other items from my parent's house and from the former owner of my own house--all well over 40 years old.

I really wondered about this mop and bucket, and opened the carton carefully, figuring I might need to return it. Instead, after assembly, this VERY WELL ENGINEERED set sailed around the house, damp mopping beautifully. My only hitch is that along the edges of the floor, it rubs against the "mop boards" and the mop head rotates. This spinning hinders pressure applied to clean edges; the same applies to corners. Also, it balks over rough surfaces. Otherwise, it is very efficient and the wringing/spin mechanism works well. And lastly, the bucket is large but actually fits neatly inside the kitchen sink---a real concern I had before trying it.

Each of the Fuller Brush tools are well engineered...not just pretty or fluffy...they function very thoughtfully with very clever designs, including sturdy handles and attachments. Worth every penny.

Verified Buyer

Reviewed by Wallflower from Houston on Tuesday, December 1, 2015

I have not used the spin mop yet. However, the bucket and spin assembly seem "sturdy", the mop assembled easily and the directions are straightforward. The only potential issue may be getting the mop strands completely inside of the spinner to avoid throwing "wet stuff" around the area. The dry mop strands did not fit into the spinner very well.

Verified Buyer

Reviewed by Mumbo Jumbo from Florida on Sunday, November 8, 2015

My husband has wanted one of these since he saw it on an info commercial but I don't care for info commercial products. When I saw that this one was made by Fuller Brush I was sold! STP had the best Price! I've seen this for sale for $50.00!
He loves this for use on our deck tile floor.