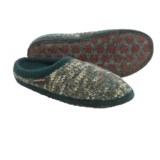 Closeouts. Haflinger's Meadow slippers will refresh your tootsies with soft, temperature-regulating and breathable boiled wool, and the cozy footbed provides arch support for a comfortable fit.
Average Rating based on
13
reviews
4.538461
0
5
Verified Buyer

Reviewed by Gail from PA on Thursday, February 9, 2017

I love the natural warmth of the boiled wool. The slippers also have a good bit of support in the arch. The fit is spot on.

Reviewed by Poconogirl from Pocono, pa on Tuesday, January 31, 2017

I love these slippers. Being wool they are very warm. Run true to size. The sole is about 1/2 inch thick with a slight molded arch. Another reviewer mentioned how the toe are wore out and I do understand how that can happen. There is no toe reinforcement fabric or covering inside the slipper. I havent worn mine enough yet for this to happen. I am hesitant to throw them in the laundry so I sprayed mine with scotch guard on the top and bottom to protect them from coffee drips and dampness when I run outside for the mail. I really like them.

Reviewed by Jenny from Iowa on Saturday, January 28, 2017

All wool with an arch support. I couldn't ask for more.I wear these year round since they are so breathable, the only time I get overheated in them is if I am doing a lot of cooking and running around a lot. Then I just switch to my birkenstocks.
I am amazed that these have such a comfortable arch support. I have high arches and need support in any shoes I wear. I have never had pain wearing these. If I cant find them on sale when these wear out, I will be glad to pay full price. I have had my pair for over a year and a half. The very back under my heel has started wearing through the knit to the inner material. I have rough heels and wear these several hours a day so I'm not surprised this happened, it doesn't affect wear at all. Be sure never to wear these outside in any kind of wet or damp conditions. Water will instantly seep through the sole. They are not intended for outside use anyway, but I have worn them to run out to get the mail or take the trash out.
They are also lightweight and stay on my feet very nicely- no shuffling required.
All in all the best slippers I have ever had.


Verified Buyer

Reviewed by Faeriegrandma from Salem, OR on Monday, October 17, 2016

I wish they came in nicer colors but it is what it is. They are soft and warm and don't make my feet sweat because they breath. There is no liner, which makes all the difference. Love Haflinger.

Verified Buyer

Reviewed by mtinnkeeper from Northern Rockies on Thursday, September 22, 2016

Having read the previous reviews, I wasn't sure about ordering these slippers even though I've had Haflinger boiled wool slippers in the past. Sizing: I ordered 39, which is my normal size--the slippers fit perfectly without socks; they might be a little small if I was wearing thick socks (I wanted these slippers to keep beside the bed & be able to slip into them--so I won't be wearing them with socks). They are very lightweight, which is great because I want to tuck them in luggage when I travel. And YES, whatever the soles are made of, the slippers are quiet--exactly what I want. So 5 stars & thanks to STP. Can't comment yet about durability.

Reviewed by bklynteacher from NYC on Friday, July 1, 2016

My wife absolutely loved these...until the stitching that holds sole to upper began to snap, spreading progressively especially around the front so that, 6 months later, they are no longer shoes but unwearably detached pieces. I can't understand how somebody said these lasted for 10 years. I asked a shoe repair guy to stitch them together again, and he said not to bother because the design was just inevitably flawed. Really, really disappointing trash.

Verified Buyer

Reviewed by wbb from Calif on Friday, April 29, 2016

Bought a size large for a size 8-1/2 Wide foot. They are too small and had to return them. I bought a size 40 Euro. Disappointed that they did not fit.

Verified Buyer

Reviewed by Alex from OK on Thursday, January 28, 2016

My mom absolutely loved these.

Verified Buyer

Reviewed by Crista from Boston on Wednesday, January 20, 2016

I love these slippers. I like waking up in the morning and slipping these on and silently padding through the house without waking anyone else up. I have not been able to find a single other brand of slipper that isn't hard-soled but also easy to slip on! I bought by first pair of Haflinger slippers over 10 years ago and finally had to replace them. They outlasted even my other popular name-brand hard-soled slippers! If you want warm and quiet slippers, you will not be disappointed!

Verified Buyer

Reviewed by oldie from Idaho on Monday, January 11, 2016

This brand is the best. They conform to my feet and are perfect whether it is hot or cold weather.