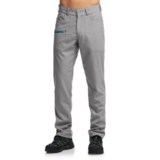 Discontinued. You'll never be led off-course by Icebreaker's Compass pants, comfortable any time of year in smooth, lightweight and itch-free merino wool that regulates body temperature, wicks moisture and manages odor.
Average Rating based on
12
reviews
4.583333
0
5
Verified Buyer

Reviewed by Matt in the Mitten from Michigan on Friday, October 14, 2016

These pants are extremely comfortable, fit great, and are made of wool.

The fabric has a bit of stretch to it, which I really like. Its not a crazy amount, but just enough to make them forgiving.

The cut of the pants really works for me. I have very square hips, and muscular legs. The pants fit well and the little bit of fabric stretch eases any tight spots.

Merino wool is just about my favorite material. I would have all wool pants if I could. It doesn't carry any odor, and it breathes really well.

Verified Buyer

Reviewed by adk mike from Adirondacks on Thursday, August 25, 2016

Excellent Icebreaker quality. Very well made with nice details. Size 38 fits like a 40. Could use a gusseted crotch.

Verified Buyer

Reviewed by Steve from Dallas, TX on Wednesday, May 25, 2016

Awesome pants. I can wear them for days at a time. The size 38 will probably fit up to a 40 waist.

Verified Buyer

Reviewed by Gregory Morris from Columbia SC on Tuesday, March 1, 2016

Nice pants that I used as a mid layer for skiing in 20ish degree weather in WV (no leg base layer). They are mid weight and would work for cool weather hiking as well. Compared to my Army/Navy store wool pants these breath much better! They look sharp and I would wear them around town.

Verified Buyer

Reviewed by Dr. Gleepglop from Earth on Friday, February 12, 2016

I think these look and feel quite nice. They are not too warm, pretty soft and not scratchy. Yes the zipper is blue on the front, so if that is a non-starter then don't buy these. I don't mind the accent and appreciate the zip pocket that shouldn't crinkle things too much on plane flights. No idea about durability yet, but I plan to put these things through their paces.

Reviewed by John W from Montana on Thursday, December 31, 2015

Bought these and the Icebreaker Field Pants. Returned these because they were slightly trimmer than the field pants in the crotch and thighs, which caused a squeeze sitting down. I have a cyclist's lower body build though and need loose fitting pants. The fit...I'm a 36 waist and trust me, a 36 with these and all Icebreaker pants is a 37. So no need to size up, but sizing down can be taken care of with a warm wash and a toss in the dryer. I wouldn't order a size smaller than you normally wear. These are great quality pants. Length is 33.

Verified Buyer

Reviewed by El Presidente from Lake Tahoe on Sunday, December 13, 2015

(Revised review) I eat my words from a earlier review. Usually wear a 35" waist. The 36", too big all around. Returned for 34". Still a little big in the waist but nicely forum fitting elsewhere. Athletic fit makes all the difference in look and feel. Holds its shape, even after several wearings.

Verified Buyer

Reviewed by Guy who likes trail pants from WI on Thursday, December 3, 2015

These are wonderfully comfortable pants. They look great. Fabric is compliant and durable. I need to get another pair!

Reviewed by Ephblum from Amherst, NY on Sunday, October 25, 2015

I have become a fan of Icebreaker because they seem to have a better fit for me than Smartwool which I have found to be a bit roomy. Also, they have more casual wear vs mostly Smartwool's active wear, which for me is about the only area where I need some tweaks to the wardrobe. I purchased 5 pairs of the Compass shorts over the summer and really like the fit, finish, length, etc. I decided to get 3 pairs of these to start even though they are a bit pricey for casual pants. As I thought, I really like them and they are quickly becoming my go-to at home pant. The length for me is perfect at 33" inseam which is what I normally wear in slacks (36x33). Not sure if I will get more of this particular style since there is only the one color, I may try the other Icebreaker pant that STP has although I am not sure if the material is the same. The blue front zipper is a quirky feature and it makes the pant much more casual/sporty than if it didn't have it. For what I am using them for, they work out great. Only thing I don't particularly like is the single rear pocket, but I have gotten used to it as the shorts are the exact same setup. All the Icebreaker stuff I have has washed great, and I wash them in cold on low spin and on "delicates" in the dryer.

These pants for me strike a balance between yard-work type (i.e. Carhartts) and dress slacks like Incotex and really are a great casual pant. Very comfortable to be in all day on a weekend and they seem to regulate well in the cool to colder weather. They are not great indoors in a hot environment, but if there is air flow they are comfortable for me from 60s down.

Verified Buyer

Reviewed by BigBarn from N. CA on Sunday, October 4, 2015

While I haven't worn these enough to judge all the virtues of merino wool, I can say that they are very comfortable — it may be the unusually smooth texture and easy drape over the knees when moving. The 38" waist seemed to be cut a bit large.