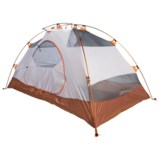 Closeouts. Color-coded "Easy Pitch" poles and clips make pitching Marmot's Limelight 2 tent easier than easy. Thanks to its streamlined design and ultralight construction, it's a great light-carry option for weekend backpacking trips. A seam-taped catenary cut floor and full-coverage fly prevent water leaks in rainy conditions.
Average Rating based on
13
reviews
4.384615
0
5
Verified Buyer

Reviewed by Baja Bert from San Diego on Tuesday, August 22, 2017

I've had many Marmot tents through the years and have always been very pleased. They are battle scarred but still doing the job! This tent is no exception. I've got several ultralight tents from another manufacturer, and while they are very light, every time I use them, I am afraid they are going to get shredded if the weather gets radical. This tent is so well built, that I have no doubt that it can withstand several years of heavy use. One example: the ends of the brow pole are encased in heavy nylon webbing when the tent is in use, so I don't worry about the pole creating a hole in the fly. All my other tents with brow poles have weird plastic tabs that "lock" the ends of the pole in place. Unfortunately, when the wind kicks up, the ends of the brow pole pops out and it is just a matter of time till something bad happens to the fly. That will not happen with this tent! The brow pole will not budge! NICE!
Yes, it only has one door and one vestibule. But as long as that is not a deal breaker for you, I would get this tent...now, because it is a great STP deal!!

Verified Buyer

Reviewed by Goldilocks from New York on Wednesday, August 2, 2017

When the package showed up my husband and I were amazed at how easily it pitched. We were figuring it out and it couldn't have taken more then a few minutes. Had a quick camping trip to try it out and it worked splendidly, my husband and I aren't big people (5'3" and 5'11") and the tent fit us will room to spare at our heads and sides. There isn't a lot of space for much else while sleeping but keeping our packs and shoes out under the fly kept them dry- I didn't tuck my shoes under all the way and they were the only damp thing from dew. Can't wait to see how performance holds up in some rain! We did choose to order the tent footprint separately.

Verified Buyer

Reviewed by Hikerb from Lunenburg, MA on Monday, July 24, 2017

My husband and I have had a 3-man Limelight for several years which always worked well for just the 2 of us. Now that my kids are old enough to manage themselves backpacking, it only seemed right to get them their own rooms. This tent is lightweight, has reasonable headroom, and the 2-man sleeps 1 with gear, or 2 without. I had to find the footprints elsewhere, but that's ok. Great tent, great price, excellent packability. Only drawback is one door, but if it us for 1 person, that's all you need.

Verified Buyer

Reviewed by Coolrunner95 from COOL, CA on Monday, July 10, 2017

I have not actually used it yet, but did set it up in my living room. Easy to set up, love the colors, like the large door and ventilation. Can't wait to use it.

Verified Buyer

Reviewed by Hiker from Maine on Wednesday, May 31, 2017

Love the tent but it doesn't come with the gear loft or the footprint would have been awesome if it was included. I purchased the footprint somewhere else a bit expensive but it's okay. It might have been worth it just to buy from somewhere that they were included as in the end I didn't save all that much especially since I still might buy the gear loft. I Don love my tent though.

Verified Buyer

Reviewed by Toots from Los Angeles on Saturday, May 20, 2017

Unlike most other retailers this package does not include the footprint or ditty bag which makes the Marmot 2P such a good value. Customer service apologized and offered free return. Wished I had read other reviews which described this issue but STP should also post as the package is normally standard. Found a footprint online at another retailer and ordered it instead to avoid hassle of return, but purchasing from another retailer for full is ultimatlely better bargain if you are interested in the other items and newer model (2 doors). Tent itself appears solid. Big fan of STP over the years and will continue to be -- first time I have been disappointed.

Verified Buyer

Reviewed by Waterbird from Oregon on Saturday, May 20, 2017

Perfect size for one person and gear. Great design to allow star gazing and still offer privacy with solid panels on sides. I set it up in my house when it arrived, and it was super simple and quick. Unfortunately, one of the buckles on the fly is misshapened and doesn't click into the buckle on the tent. I called customer service and was told I can send the entire tent back, when I asked for STP to just send me a new buckle. So, I am going to try to replace the buckle myself because I plan to use the tent this week.

Verified Buyer

Reviewed by Joseph from Colorado on Tuesday, April 11, 2017

I'm only giving it 4 stars b/c I haven't actually used it yet, but I have erected it and waterproofed the seams and it looks like a great value for the money. Plenty of room for myself and my dog and very light w/o costing a small fortune. STP rocks!!!

Verified Buyer

Reviewed by ovirgie from California on Wednesday, August 10, 2016

My first time using this tent was at Joshua Tree. It was very easy to set up, very roomy inside.


Reviewed by 4X4 Guide from Oregon on Tuesday, July 26, 2016

This tent is not the one on the Marmot web page, this is the old model with only one door. The new Lime light 2P has a redesigned rain fly and double doors. This models rain fly does not fit well and will allow water to run under the tent :(
This tent did not come with the footprint, the repair kit or, the mesh interior basket. With one door this tent would work better for one person in good weather.