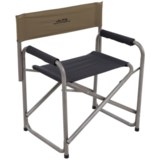 Closeouts. Call for action, then watch it unfold in the comfort of ALPS Mountaineering's director's chair. Whether you're on location or on vacation, Alps Mountaineering has your comfort in mind.
Average Rating based on
102
reviews
4.450980
0
5
Verified Buyer

Reviewed by Me from California on Tuesday, March 27, 2018

Great chair, sturdy, lightweight enough for what it is, solid.

Verified Buyer

Reviewed by Tommy from New Your State on Wednesday, March 9, 2016

Awesome chairs for summer, rugged and comfortable. Holds 325 pounds 25'' wide, Strong well built. A Grest Value.

Verified Buyer

Reviewed by OldClimber from Jackson Hole, Wyoming on Thursday, September 3, 2015

The name, "Director's chair" is misleading. it is just a normal-height chair, NOT taller like we envision a Director's chair. It is well made, sturdy, and comfortable. It is a bit stiff to fold up, but works well after a good strong pull. (You face the chair, grasp the sides of the seat, and pull them up). My only complaint is that the chair is heavy, due to the steel frame. Carrying 2 would be a chore for this little old lady.

Verified Buyer

Reviewed by Mulequeen from NC on Wednesday, July 15, 2015

i bought 5 for an outdoor trip this month. Very sturdy and durable chairs for my large guests. No complaints! And as always an exceptional deal at STP!

Verified Buyer

Reviewed by Guide's Wife from E. Washington on Wednesday, June 24, 2015

I bought these for the motorhome because they fold up and yet are very sturdy and have great back support. I like them so much I got more for my parents who have trouble getting up out of most camp chairs. These are stiffer construction, and you can push off with your arms to get up. They look great, and are half the price of comparable chairs at Cabelas.

Verified Buyer

Reviewed by Gail the camper from Honolulu, HI on Thursday, June 18, 2015

The chair is sturdy, stiff, and substantial. I like the chair since it won't topple, is wide bodied, and is very reasonable.

Verified Buyer

Reviewed by Ixnorp from central USA on Sunday, November 16, 2014

This chair seems to be very sturdy, and IMO looks nice too. However, although the chair pictured in the listing seems to have a seat height tall enough to be a director's chair, in reality the seat height is not any taller than a regular outdoor folding chair. This makes it a bit short in seat height for taller persons. And if a tall person does sit in it, the arm height is too short to do any good. My average-height wife can use it, so even though the chair is wider than she needs, we will keep it. This chair would be perfect for a wide person of average (or slightly less) height.

Verified Buyer

Reviewed by Gail the camper from Honolulu on Saturday, September 27, 2014

Director chair is collapsable and comfortable. It is sturdy and durable. I keep it in the patio area.

Verified Buyer

Reviewed by Appalachian from NC on Monday, September 15, 2014

I have two earlier versions of this chair, which. They are black, and one that was kept outside in the intermittent sun suffered autodestruction of the fabric, resulting in ripped out seat at the side stitching, which i repaired with sewn on strips of wide nylon fabric tape. The one kept indoors looks like new after several years of very light use.

My new gray chair differs in some ways which suggest slightly greater potential service life.
1) the new chair is coated with what seems to be somewhat thicker ?epoxy paint, versus the older thinner coating on the older black chairs.
2) the new chair has deeper plastic glides on the end of the legs

neither of these features has been a problem on the older chairs, however. The bright metal fittings of the older folding mechanism have rusted in outdoor use, and the new chair seems to have the same kind of fittings.

Overall, a good deal at the max Sierra discounts offered occasionally.
I don't recommend these chairs for continual outdoor use, but they are comfortable and apparently reliable for intermittent indoor use.


Verified Buyer

Reviewed by JHS from Tennessee on Wednesday, September 10, 2014

I do not like most collapsing camp chairs. I sink into them and it is difficult to get up out of the chair. I had sat in a folding director style camp chair at a friends and like it, so I order several of these. They are really solid. One sits upright with lots of support. Easy to get in and out. They are a little difficult to fold up, but once you do it a few times it becomes easier. These are not lightweight chairs and are very sturdy, but that also makes them less portable and are not recommended for chairs that one need to transport any distance by foot. Overall they fit my needs perfectly.