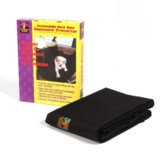 Closeouts. Let the dogs be dogs without compromising your vehicle. The Outward Hound Back Seat Hammock Cover protects your seats and lets the pooches move freely. If the dogs try to drive, this hammock's front barrier effectively cuts them off from the front seat.
Average Rating based on
10
reviews
4.500000
0
5
Reviewed by You Better Shop Around from Marin County, CA on Saturday, May 28, 2016

This provided minimal protection to our of our cars' back seats (2016 VW Golf R). The material is quite slippery hence I had to purchase a non-slip runner type rug on top of this hammock back seat cover to minimize slipping.

Verified Buyer

Reviewed by Nebraska Climber from Nebraska on Tuesday, May 24, 2016

I had another one of these covers by a different company, but it was stolen (crazy, I know) and I needed a replacement. In general, these covers are really helpful because they a) keep the dog safer while driving, b) keep your seat much cleaner, c) help keep the dog from wandering about the cabin of the car (especially from jumping into the front seat). I have a small hatchback, and this seat cover does ok; the adjustment straps are very long, so it can certainly work for average size cars, but cinching them all the way down still leaves the hammock with a little play. This is the only negative really for this design; the hammock can be a little gappy at the outside edges, or the dog's weight might pull it down a bit in the middle. This gives the pup a better shot at jumping the barrier into the front seat. The other version of this hammock I had featured a zipper that divided the hammock perpendicular to the bench seat (letting you cut it in half, essentially. This is helpful for being able to put a person in the car and keep half the hammock up. However, the dog also could help push the zipper down (and get his head into the front seat and, say, a bag of snacks, or even be able to jump the barrier easily). this design doesn't feature the zipper, which is probably better, but does have velcro that lets you separate the hammock lengthwise (across the bench seat), and thus could allow you to still fold back half the hammock and put someone, or a car seat, in the back with the pup. I haven't tried this, but it seems like it would work fine. The material is strong, and a little better than the previous version I had. The dog seems to slide around a little less. Even if he slides a bit, he's much safer not falling off the seat. Even though my seats can fold fully flat, I'd rather use this than just flatten the seats. This keeps the dog confined more, keeps him from hopping all over the back cargo area, and allows me to keep food out of reach. You also can still use the space under the hammock to store items when taking trips, and keep those things relatively safe from the dog, so it's helpful for creating efficient use of cargo space. The only other thing I worry about as we go into summer is that the black material will get very hot.

Verified Buyer

Reviewed by Denise, kid wrangler from Iowa on Thursday, April 7, 2016

I bought this not for my pets but for my grandkids who have dirty feet and kick the back of my car seat when in their booster seats. Works great for this when you fold it in half and hang it from the front seat head rests. Also works great when you use it as designed, for dogs. They seemed to feel more secure with it on the seat.

Verified Buyer

Reviewed by Anonymous from seattle on Monday, March 28, 2016

I already have one of these and I love it! Nice and heavy fabric and sturdy. It opens up with Velcro to just cover the seat, not use as a hammock. I bought another model, but like this the best. Right after I got my first one, STP didn't have them anymore. I was so happy to see them again!

Verified Buyer

Reviewed by Bayfield Bound from Bayfield WI on Friday, October 30, 2015

I'm happy with the product. It's heavy duty fabric, well designed, at an amazing price compared to that I've seen elsewhere. If someone wants to ride in back, the Velcro opening allows for foot room without taking the works out. I hate the animals in my car to begin with, but this seems to help the marriage, at a cost well below counseling ( she loves her dogs more than me). For any prospective buyer, get it: Easier all around than putting the dogs down, and your spouse will love you for it. A Marriage Saver- to date.

Verified Buyer

Reviewed by jeff from westlake from Cleveland,OH on Tuesday, October 20, 2015

This hammock cover was replacement for another cheap one I had that the straps eventually broke on. This one is thicker and is of a more durable canvas. Although when sitting in the sun and heating up, it kind of smells. (plastic/rubber smell) Not sure if it's because it's black and if it will go away with time. Overall for the price, it is much better than the last brand I had.

Verified Buyer

Reviewed by SueWho from Pennsylvania on Wednesday, October 14, 2015

This seat cover is just what I wanted. It fits my Subaru Outback perfectly and I no longer need to worry about Collie footprints on my black seats.

Verified Buyer

Reviewed by winslow from Pacific NW on Tuesday, September 8, 2015


This hammock style seat cover lands in just the right spot on the price - functionality continuum.



Verified Buyer

Reviewed by Anonymous from seattle on Wednesday, August 26, 2015

I need to clean my car before I try this. Excellent quality for an unbelievable price. I hope it fits!

Verified Buyer

Reviewed by RIDGERUNNER from Knoxville, TN on Tuesday, August 25, 2015

Heavyduty and protects your vehicle.