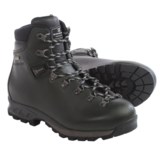 Closeouts. Garmont's Civetta Gore-Tex® hiking boots let you wander off the beaten path with a rugged Vibram® outsole, while protecting your feet from moisture with a Gore-Tex® waterproof breathable membrane.
Average Rating based on
37
reviews
4.324324
0
5
Verified Buyer

Reviewed by hammer from ohio on Tuesday, November 29, 2016

Boot construction is a 5, but fit is only a 4. I normally wear a size 11.5, but that was way too small (STP simple and easy return gets a 5). I would like to have gone a a full size up, but 12 was my only choice. This size just fits. If I were to wear thicker socks I think I would be in trouble. Good ankle support, one piece leather boot (which is hard to find) - overall I am pleased with the boot.

Verified Buyer

Reviewed by eldoux from Seattle on Saturday, October 15, 2016

I normally love Garmont Gear but this boot was a little off. The main reason returned them was because they were a bit short. I've had mixed sizing with Garmont. Sometimes they're spot on with a 10.5, sometimes they're about 1/2 size small - and like these specifically short.
The other strange thing I found with this boot is the Heel Lock feature.
This is a looped eyelet that is apparently there to help pull your heel in to the back of the boot. The problem is that there is a hook eyelet below and above this loop. It makes it incredibly difficult to keep the lacing below the "lock" tight as your're manipulating the laces for the hooks above. Strange design.

Verified Buyer

Reviewed by J Price from Washington on Monday, October 10, 2016

Pretty comfortable. Tight around ankle, not much flexibility, but gets better over time. Runs a little small. Good for wet weather.

Reviewed by frankie, foreign service from DC/ Salzburg on Monday, September 26, 2016

In the last twenty years I've been to almost forty counties all over North America spending quite a bit of time in the mountains of Vermont, West Virginia, Maryland, Wyoming among others including areas in Mexico and Canada with a trip coming up to Iceland.
I also spent a great deal of time in both eastern & western Europe working in various capacities; the development, coordination, facilitation and the implementation of grants for small and large programs with both small local and international nongovernmental agencies for the first few years.
Then once I gained an understanding of the language and the cultural idiosyncrasies of the region I moved into diplomatic work first spending a few months both learning and tweaking the local election laws and mandates and then training local staff in the process. And ultimately working hand in hand with UN, NATO and in that specific case the SFOR and KFOR military forces where we lived on their bases to accomplish this work.
Shoes were probably the most important choice to make as often in these areas you were stuck with the clothes on your back and limited to a 20 kilo backpack as you never knew where you'd be the next day and if power and water would be available day to day and location to location
I always needed a pair of hybrid type dress/sneakers and a pair of waterproof breathable boots GoreTex almost being an absolute MUST.
Over the past ten years I have had to use two pair but I just started wearing the Garmont Civetta GoreTex Hiker and they preformed perfectly in wet weather temps from 45 to 80 degrees with out getting too hot. They breath really well and I can tell they have as much insulation as the winter Garmont GoreTex boots I have used in conjunction with a pair of Zamberlain GoreTex hikers for the past ten years but my feet can get cold when it drops below 10 degrees in the Zamberlain hikers so the only way I avoided frost bite was by using both pairs of boots and/or variations of sole inserts.
I have a great feeling these boots will do the trick and cover temps from -20 to 75 degrees.
They fit like a glove and have no seams and are tough as they come, no doubt 100% WaterProof!! They allow me to add thicker socks and or an added sole for temps below 10 degrees and for situations where you are stuck in your boots for days at a time when inserts must be infused with charcoal or other chemicals that combat damp conditions leading to the creation of bothersome micro-organisms. The insets that come with these boots provide outstanding support and only time will tell how they do with micro-organisms and whether or not I need to replace them. At first glance they have the look and feel of the modern inserts that are infused with charcoal and or bamboo or other high carbon substances that don't allow damp conditions and thus the cells that thrive and create the negative issues that can cause major problems.
They are incredibly comfortable and I did not go through the blister phase that are typical of new boots of this caliber after putting 5-6 miles on them medium conditions and surfaces.
I will check back in once winter conditions hot and I get into some snow and ice but think I've found the best boot I've had in the last 20 years.
Grip is outstanding in all conditions


Verified Buyer

Reviewed by Troop20Quartermaster from Illinois on Thursday, September 8, 2016

Great boots, great company. Check back in a few years for durability report...

Verified Buyer

Reviewed by Troop20Quartermaster from Illinois on Thursday, September 8, 2016

Ordered several sizes to get the one that fit, but when they fit, the fit was great.

Verified Buyer

Reviewed by commuterguy from MD on Tuesday, September 6, 2016

I continue to rave about Garmont. Every boot and I have bought from Garmont fits me perfectly. My foot is slightly wide and I do not have to order 'wide'. Not only is the fit good, these boots are well-made and feel comfortable. This is the only Italian hiking boot manufacturer I have found that is geared to the American male foot. All others are too narrow for me. (Even Zamberlan wides are a little too snug.)

Reviewed by David Drillis from Salem MA on Sunday, September 4, 2016

Love this boot, first time owning a pair of garmont boots so I took a chance not being able to try them on, but the price was marked down from $319.00 to just $69.99 it was a no Brainer, Aven if I don't like them im not loosing a lot of money but surprisingly last week I received them and I've been wearing them for a week now and yes I love them, going to put them threw the test In a few weeks, my brother and I are going to hike Mt Washington in N.H.

Verified Buyer

Reviewed by Will from Massachusetts on Friday, September 2, 2016

The boots are nice don't get me wrong at $70 I'd buy another pair. But as a boot valued at $320 I would expect a little more durability first day (break in) the leather was scuffed/torn in a couple spots and there was some discoloration from use. This didn't detract from the functionality or comfort as they still did there job well, however I hope they can last longer than the wear suggests.

Reviewed by Montana Hunter from Montana on Friday, September 2, 2016

These boots are incredible for the price. They are identical to the Zion GTX as far as I can tell. Possibly the European model? Stiff out of the box, but I did a 6 mile hike after only wearing them around the house and went on a 6 mile hike. Feet felt great. Only problem with comfort out of the box is the top digs in the back of your legs on downhills, but I suspect that will lessen as they break in. Again, that was six miles out of the box. Great boots and an incredible price. Get em while they last!