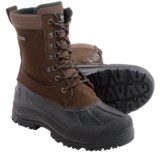 Closeouts. A snow boot you can count on, Tamarack Tundra pac boots features a suede upper, waterproof rubber foot and removable Thermolite® liner.
Average Rating based on
21
reviews
3.857142
0
5
Verified Buyer

Reviewed by winter snowplower from Rochester NY on Monday, January 15, 2018

This reasonable priced winter rated boot has failed me. First of all the liner has no foot bed at all. Not kidding, none at all. so that makes it a totally flat and uncomfortable fit. Second if you pull the liner out there is a paper thin paper board that is supposed to cover up all the recess holes on the inside of the heel bed. well sere enough the paper disintegrates on your first outing then you have a heel cup with a really awful feeling holes under your heel. this boot is horrible!

Reviewed by BIKER HIKER CHICK from NORTH EAST, USA on Friday, January 12, 2018

I bought these for my husband hoping to get a bargain at $29.99... but that didn't work out at all. I had to order these twice each time in a different size. The first time I 'ordered up' because reviews said they run small so I ordered a size 12 for my husband who normally wears a men's size 10.5 or 11. We received the size 12 and he could barely squeeze his foot into the boots which he said were painful and uncomfortable. Not being the type to give up quickly, I figured I'd try again and this time I ordered all the way up to a size 13 which is the largest size offered in this boot, AND THE 13 WAS STILL TOO SMALL LOL! My husband said the size 13 was also very tight and hurt his feet. So we lost out on this 'deal' . Both of these pairs will be being returned. I'm not sure who they were designed to fit, elves? Children? Definitely not for grown men.

Verified Buyer

Reviewed by DappaKing from New York, NY on Wednesday, January 10, 2018

These boots are the cheapest, lowest quality boot that I think I've ever put on my feet. If I could of given minus 0 stars, that would have been my rating. I wear a secure size 11 in shoes, sneakers and boots. When my foot is in this boot, it feels like it has no sole.It feels like I'm walking in a pair of flip flops. Almost like I have nothing between my foot and the ground. It feels like my foot is flopping around inside the boot. The boot does not securely fit on my foot. The boot is cheap and poorly made. I'm going to return these boots as soon as I have time to get to the UPS store. I truly suggest that your company discontinue selling this item. Sincerely MINUS 0 RATING!!!!!!

Verified Buyer

Reviewed by Lori, from Kentucky on Wednesday, January 10, 2018

I can't describe how much I love these boots. I haven't tested them in the wet yet, but if they are as waterproof as they are warm, then I'll not have any complaints. They are the warmest boots I've ever owned & very comfortable.

Reviewed by john creek's wife from pennsylvania on Friday, December 29, 2017

These boots felt very good when I tried them on. After walking for a half mile the soles of my feet were in extreme pain. I pulled out the liner and took out the flimsy cardboard soles and found that the floor of the boot was not a flat surface but rather a raised grid of rubber bars. The flimsy cardboard sole was deeply indented by the rubber bars, as was my foot! My feet hurt for 2 days after walking in these things. Absolutely disgraceful, comically bad, utterly horrendous boots

Verified Buyer

Reviewed by Jason from Quebec vacation on Thursday, December 28, 2017

The fit of these boots feels a bit oversized and maybe not the best for long distance hiking, but they have been great in many other ways while I've been walking in Quebec City at -12• F. They have great traction on the icy sidewalks. Having tall boots also kept the snow out.

For the low price, I think these boots are a great value!

Verified Buyer

Reviewed by Hkormanec from Pennsylvania on Saturday, December 23, 2017

Got these boots for my 22 year old son for Christmas so we will find out in 2 days

Verified Buyer

Reviewed by MrsSexyRed from Georgia on Tuesday, December 19, 2017

I'm very pleased & happy cause my husband absolutely loves his boots. It was a surprise birthday/ Christmas gift.

Verified Buyer

Reviewed by CountryCitySlicker from North Carolina on Thursday, December 14, 2017

I love these boots!! I could not wait for them to arrive. I was skeptical about ordering men's boots because, I purchased them for work which requires me to stand for long periods of time and I thought they would be too big and uncomfortable; but my husband suggested that I should, and I did. I love these boots, they make my feet warm and provide great support that my feet feel like they are in a surgical boot made out of memory foam. With the insulation and the waterproofing, I am very excited about what I will find next.

Verified Buyer

Reviewed by Rue the snow lover from Ohio on Wednesday, December 6, 2017

Awesome boots. No snow in Central Ohio. But these boots have the right stuff. No need for thick socks d/t extremely warn insert. I should probably move to Alaska to give these boots justice!!!