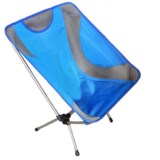 Overstock. Make room in your gear bag for the Alpine Mountain Gear ultralight chair. The durable, padded seat and aluminum construction provide a good place to sit outside the stadium or in the great outdoors.
Average Rating based on
23
reviews
4.347826
0
5
Reviewed by Backcountry Jon from Boundary Waters, MN on Thursday, February 22, 2018

I bought one of these chairs for use on an extended canoe trip in the Boundary Waters. The first night out my son (170lbs) sat in the chair and the pole that fits into the bottom of the chair came right through the material. This chair looks similar to the two Helinox chairs I bought through REI but those chairs are still going strong after many trips and this Alpine Mountain Gear chair was a huge disappointment.

Reviewed by Vonfromvegas from Las Vegas Nevada on Sunday, January 14, 2018

I have tried several other chairs of this style. Most of them where as much as twice this price. This is the most comfortable of all of them. It sits you up much better than any of the other ones that I have sat in. The overall quality of materials and construction of this chair is as good or better than any others that I have tried as well. Overall they did a fantastic job of offering an affordable option.

Reviewed by Dayhiker from Denver on Monday, January 1, 2018

I am very happy with this chair. It is super light and compact for packing. Once I get to where I am going it as comfortable as any chair that I have tried. I have used this one for several trips now and it is holding up great.

Reviewed by Traveltime from Denver on Sunday, October 8, 2017

I have tried several chairs of this type and this one is the best one I have came across. It sits up better than all the others and feels more stable. I have used this for an entire season and it has held up very well.

Reviewed by edwards19189 from Mo on Wednesday, August 23, 2017

Easy to put together. Easy to get in and out of.

Verified Buyer

Reviewed by Mike from Boston from Boston on Thursday, July 27, 2017

Bought this chair, along with the Leki Chiller and Leki Breeze. The Alpine was the most comfortable, and lightest, of all. The Chiller was terrible in my opinion. The Chiller was a 3.5 star.

Verified Buyer

Reviewed by Shoeprof from Finger Lakes, NY on Thursday, January 12, 2017

Astonishingly lightweight chair. Sort of fun to assemble; legs and back supports are shock-corded. More comfortable than a camp stool, but lacks back support--no fun to lean back in these chairs. I have ordered inflatable pillows from ebay to see if a pillow helps. Should be a great way to tote along a light, non-cumbersome seat to have handy at outdoor events.

Verified Buyer

Reviewed by Bonnie from Colorado on Tuesday, January 3, 2017

Just received this as a gift for my 11 year old son, who was able to easily put it together. My husband, who is 6'1" and 230 lbs, thought it was comfortable. Ready to try it out camping!

Verified Buyer

Reviewed by Michael D from CA on Friday, December 30, 2016

Very Cool portable camping chair at half the price. My weight is 175 and it holds it well. If you're not counting grams or size is less of a concern, I would buy this again for backpacking.

Verified Buyer

Reviewed by stevew from Aspen on Saturday, November 12, 2016

I bought this ultralight packable chair for motorcycle camping and being a bigger guy, I liked the 300 lb. weight rating. You can sit in it, vs. on it, although I'm a little skeptical of leaning all the way back in it. It seems like a perfect fit for me.