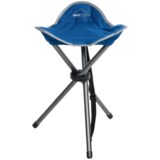 Overstock. The durable Alpine Mountain Gear Tripod camp stool provides a simple, convenient alternative to a larger camp chair. It sets up and folds easily, and includes a shoulder strap for easy transport.
Average Rating based on
14
reviews
4.500000
0
5
Verified Buyer

Reviewed by Denie from Midwest on Tuesday, September 26, 2017

This is perfect for rest stops after paddling awhile in our kayaks. We pull the stools out with the snacks and have a seat while we recharge and dry out a little. Small and packable but functional, this little stool lives in the back of the Jeep at the ready, when not in use.

Verified Buyer

Reviewed by Rosaeit from Stamford on Wednesday, September 20, 2017

Thus outdoor collapsible stool does its job and serves its purpose well. The weight limit of up to 250lbs is an added bonus.

Verified Buyer

Reviewed by PCKaren from New York on Wednesday, July 26, 2017

I was concerned about the stability of this stool, but after using it for a day with lots of getting up and sitting back again (with reasonable care, of course) it never wobbled even once. I even wiggled around a bit at first to test it. In addition to the attached shoulder strap, it came with a carry bag as well, which was a welcomed surprise. True to the description, it does set up easily and packing up is just as simple with the help of an attached velcro tie for the seat itself. While most camp stools do have small seats, this one is rather comfortable, though I don't think I could handle several hours straight on it. It is also higher off the ground than others i researched, making it easier on the legs. The downside is that makes it a little longer when transporting, but the extra comfort is well worth carrying it independenty of a normal sized backpack. It does fit easily into a suitcase, though, and at about 2 lbs doesn't use up too much baggage weight allowance. All in all, I consider this a great deal!

Verified Buyer

Reviewed by Your Average Joe from Massachusetts on Monday, July 10, 2017

This stool is as advertised - "simple, convenient". It is mainly being used by a woman who is slightly over five feet tall and 100 pounds. For her the stool is just barely adequate as a light weight easily portable seat from which to paint out doors. For a larger person it would be too low. That person's knees would be in his or her chin. The hammock seat is no bigger than a table napkin resulting in discomfort along the inside of both thighs over a long period. If the stool were lighter I would say it would make an ideal backpacking chair but it is heavy for its size being all steel.

Reviewed by organic mama from Bozeman, MT on Friday, June 23, 2017

This was a great stool for the money. It's comfortable for me and my kids and is sturdy.

Verified Buyer

Reviewed by Inua from Massachusetts on Thursday, June 22, 2017

I would not call this a alternative to a large camp chair at all- but a portable rest station. It's not a "comfy sit back and relax thing"- but I "need to rest and the ground is not a good option" thing. We brought one to a outdoor concert to rest my broken foot, and it proved to be convenient and helpful. It was used as a stool, and elevation for the foot. Easy to carry or pack, small footprint when open, many uses here...

Verified Buyer

Reviewed by Jim D from Evanston, IL on Sunday, May 7, 2017

This was a bit of a gamble buying online. It was hard to compare stools with the pics and specifications. This stool will be perfect for my son.

Verified Buyer

Reviewed by Kathy from Colorado & Smokey Mtns on Monday, October 3, 2016

We bought 2 of these to keep in the car for events, or when changing into/out of ski boots or river shoes. Very stable on even or uneven surfaces.

Verified Buyer

Reviewed by shedarkandfullofterrors from Minneapolis on Wednesday, August 10, 2016

This is small and convenient. Not the lightest for serious backpacking but great just to have in your car or bring out to a crag. Pretty comfy and feels durable. It is not for big butts probably. Medium and small butts, though? Yeah.

Verified Buyer

Reviewed by Jesse from North Carolina on Wednesday, June 8, 2016

I bought this for a 3 day canoe trip I recently went on. I needed something that didn't take up to much space because we had to carry all our gear in the canoes. This stool worked great, pretty compact and comfortable.