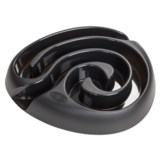 Closeouts. If your dog is one of those that can empty his food bowl in a matter of seconds, then Kruuse's Buster DogMaze bowl is the perfect tool for slowing him down. Its spiral design means it takes more self-control and brain power to get to each bite.
Average Rating based on
10
reviews
4.800000
0
5
Verified Buyer

Reviewed by Crazy Dog Lady from Idaho on Wednesday, August 10, 2016

My dog always ate too fast. I tried a simpler design "maze" bowl, which helped a little, but this one REALLY slowed him down. The design not only slows him down, but he enjoys solving problems, and this gives him another one. The only drawback I can see is that he needs to have water on his food, and the ends of the spirals on this are open, so won't hold liquids. I put Gorilla tape over them and the problem was solved.

Verified Buyer

Reviewed by Nancy from Michigan on Thursday, July 28, 2016

Our dogs are fast aggressive eaters, who usually choke on their food if served in a plain bowl. This design is perfect for reducing the post meal gagging. Sturdy plastic stands up to constant chewing.

Reviewed by Alphamom from Vermont on Friday, July 22, 2016

This works. The large one holds 4 cups of food! It is big but even with 1 cup of food it slows my puppy down and he seems to enjoy the chasing and searching for it in the dish. Worth the price!

Reviewed by DIYfam from Newtown Square, PA on Thursday, June 2, 2016

These bowls were recommended to us by the rescue organization from which we adopted on of our dogs. Our 1-year-old male lab developed a very fast eating habit and needed to be prevented from inhaling his food. Thus the recommendation.

These bowls normally go for a lot more than the deal we got with STP. I took advantage of it and bought both the teal blue and purple-pink colors in this bowl. I also bought another one STP had available (by Outward Hound, in 2 patterns). All of the bowls are good quality. This Kruuse black one has some rubbermaid-type give to the plastic so it bends in your hands for durability. The Outward Hound ones are stiff plastic, but they do have a rubber bottom which this Kruuse one does not have.

It does not say on the package if this is dishwasher safe. (The Outward Hound packages say they are dishwasher safe, on the top rack on warm.)

Our dog is definitely slowed down by these bowls. I think he likes the challenge of having to maneuver through the maze, and likes to lick every crevice when finished. We mix dry and canned in a separate bowl, then put in the feeder. It makes him work harder when kibble is mixed with the canned. He has even developed a strategy for how to go around the bowl in a pattern to cover it all. This is a GREAT purchase! I am just sorry we didn't get one sooner!

Verified Buyer

Reviewed by Gracie from Evergreen on Monday, May 30, 2016

This bowl works very well for our Mastiff, and has slowed down her eating significantly.

Verified Buyer

Reviewed by sprinting from Cortez, CO on Wednesday, May 25, 2016

My big boy just isn't interested in chewing his food - for years, he's been able to empty a bowl in about 45 - 60 seconds unless I remove it every so often to get him to slow down. I bought this bowl and the first time I filled it, it took him about 10 minutes to clean. Since then, he's gotten smarter as to how to get it out of the cracks but it still takes 6-8 minutes. I'm satisfied...I don't know if his digestion or anything else is better, but it just seems more appropriate when he's forced to take his time!

Verified Buyer

Reviewed by BobN from USVI on Wednesday, May 11, 2016

I bought seven of these (lots of foster dogs, don't ask). It really slows them down and, best thing, they almost all finish at once, so no attempts at roving and trying to snag something out of the others' bowls. Tough, dishwasher safe.

And fun to watch!

Verified Buyer

Reviewed by Lily dog from Florida on Saturday, March 26, 2016

We needed a dish to slow our food gobbling labrador down.... not only did this but made her use her brain while eating. After she eats, she wags her tail like she's accomplished a huge goal. An empty bowl. Takes her about 4-5 minutes to finish 1 1/2 cups of food, in a standard bowl it's about 3 seconds. Awesome purchase.


Verified Buyer

Reviewed by labriek from Wisconsin on Monday, February 8, 2016

Very sturdy product. I'm getting a kick out of watching my dog figure out how to get the treat out!

Verified Buyer

Reviewed by Mommajan from Oregon on Monday, December 21, 2015

This really slowed down "the bolter" and as a bonus it stimulates her brain. It is big enough for her food (she weighs 120#), and heavy enough to stand up to her irritation.