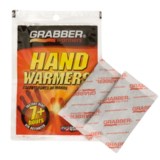 Overstock. Grab a Grabber hand warmer heat pack -- handy for spectators, skiers, hikers and anyone who needs a little warmth when temperatures drop.
Average Rating based on
593
reviews
4.475548
0
5
Reviewed by ASchultz from Texas on Wednesday, January 17, 2018

Purchased for my wife and they did not work at all. Tried over 5 pairs and none would produce heat. Tried shaking, letting them sit 30 min in open air to potentially jump start them and nothing. Don't waste your money and get another product.

Verified Buyer

Reviewed by Miner Dave from Yellowstone Natl park on Wednesday, January 18, 2017

lasted more than eight hours with in my gloves. The were not hot just warm. It I needed more warmth i set them out early to increase the chemical reaction.

Verified Buyer

Reviewed by Bob from Chicago on Tuesday, January 3, 2017

Works perfectly well and a surprising long time

Verified Buyer

Reviewed by James from Seattle on Saturday, December 31, 2016

Great for a winter walk in the woods or winter fishing or pretty much anything in the winter. I used to dread being out on the river for 14 hours in the winter time, but with a couple of these and some felted wool mittens, it's now a joy. Also, walking in the woods with a shotgun in the winter has always been an exercise in numb hands, but if you keep one hand in a pocket with one of these, and switch off when your carrying hand gets too cold, you will last a lot longer in the woods without getting grumpy. Also, they are far less fiddly and smaller and lighter than the liquid fuel warmers.

Verified Buyer

Reviewed by Addie from STL on Friday, December 30, 2016

When I am standing out in the cold for longer periods of time these things really work--they last a long time--they stay warm for a long time. They are genius!

Verified Buyer

Reviewed by James from Da U.P. of Michigan, eh. on Wednesday, December 28, 2016

Once upon a time ..... I do have golden locks but not that story today. An older version of this type of warmer was very hot to the touch. This edition is skin friendly and warm enough for hours outdoors standing in silence on a bridge in protest of a proposed mine that would pollute/kill fish& wild rice in my home state. My excessively long skinny oft frostbitten fingers were comfortable in 20* weather. Nice price too! If you are thinking of below zero F. temps I recommend 2 in each mitten. On the bridge they worked well in gloves.

Verified Buyer

Reviewed by Kat from Coconut Creek, Fl on Wednesday, December 28, 2016

Purchased these before, Great for the winter, put them in your coat pocket or right inside your glove.

Verified Buyer

Reviewed by Susan from NY on Monday, December 26, 2016

This product has proven itself in extremely cold weather. Fits in gloves easily, I keep a pack in my purse throughout the winter months.

Verified Buyer

Reviewed by CindyC from New York on Saturday, December 24, 2016

Ok for cold days to keep hands warm. Formula must have changed not as warm as my older ones.

Verified Buyer

Reviewed by Rikki from Tennessee on Thursday, December 15, 2016

I bought these because of the low price. I am happy to say they work wonderfully.