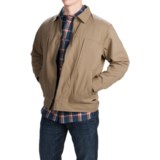 Closeouts. Practice the fine art of concealed carry in this hard-wearing 1816 by Remington Ryder jacket. The ambidexterous, low-chest pockets are each fitted with a smooth-draw holster inside, and two interior pockets supply secure storage for magazines.
Average Rating based on
7
reviews
4.571428
0
5
Verified Buyer

Reviewed by JB from Richmond on Thursday, June 30, 2016

Huge pocket for conceal. Sharp looking. Well thought out. Unfortunately, I had to return mine as the range given from size 39 to size 41 was completely unrealistic. I wear a 40 and it wasn't close. Buy a size up.

Verified Buyer

Reviewed by Fred from Illinois on Friday, April 1, 2016

It is a nice jacket. It fits well and it seems tough. The pockets are probably large enough to carry a 7 inch bbl .44 if that's your thing. It is a little weird having a zipper pull on the left side. I think they used to do that for ladies clothing and for jackets with a zip in liner. I'm not sure why they put the pull on the left side on this jacket. I would never pay $400 for this but $150 seems reasonable.

Reviewed by DDartman from Ohio on Tuesday, March 8, 2016

I'm 5'11", 215 lbs, and a little bit of a belly. In a suit jacket I wear a 44R so I figured a large might fit pretty good since it was listed as 42-45...and it kind of does, just not well. It fits and with the way it is cut, you still have freedom to move. I even put a 4" barreled 38 special in the conceal pocket, and it hides it well. My biggest complaint was when I put a cell phone in my shirt pocket under the jacket, it became tight in the chest. I returned the L (42-45) and went for the XL (46-48). The XL fits much better for me, allows a little extra room to move around, and I could even wear a sweatshirt underneath.

As for the material, in the pictures it looks to be a smoother texture but, in reality it is more of a broad canvas (similar to say Carhartt work wear). Even so, it is a classy looking jacket and should last a VERY long time! And, in case you didn't catch it in the description...it is DRY CLEAN only. My only complaint in how it is built is the zipper on the left side, like another reviewer pointed out. It's not a huge deal...and by the way, the zipper is metal, not cheaper plastic! Full retail might be a bit much to pay but, at the prices here, I think this jacket is a great deal!

Verified Buyer

Reviewed by Scott from New Jersey on Friday, January 29, 2016

This jacket is well made, and perfect for carrying a firearm while driving a car. I find the inside "magazine" pockets are just the right size for a cell phone. the "holsters" are just large velcro "t"s, but the chest pockets are enormous, and can hold any type of handgun. with a little ingenuity you could stash all of your EDC items in this jacket. And made in America! When was the last time you found a "Made in USA" jacket for under 200 bucks! Sizing is accurate. I am 6", 180lbs, and the large fits well, even with a sweater underneath. If it came in additional colors, I would buy them all.

Verified Buyer

Reviewed by Mister Bill from SC on Sunday, January 24, 2016

I liked the look of this jacket on the Web site, but hesitated to order it because I had questions that weren't answered in the description. STP eventually made an offer I couldn't refuse, so I took a chance. Once it arrived, I found that my questions were answered in a positive way, and I am very happy with the purchase.

The outer shell fabric is a sturdy, canvas, Cordura–style nylon. The jacket interior and hand-warmer pocket lining is soft, brushed polyester. The arms are lined with polyester taffeta. The jacket is extremely well made, comfortable, attractive, and roomy enough for a sweater underneath.

This is advertised as a "concealed carry" jacket. I don't carry a weapon, and was concerned that the pocket design might be too restrictive for use as a normal jacket. I was pleased with what I found. The two inside "magazine-carry" pockets are sewn in at chest-level and made from the same heavy nylon canvas fabric as the outer shell. The pockets are bellows-style with snap flap top closures. Interior dimensions are approximately 5 ½" high, 4" wide, and ¾" deep. The pockets are not divided into individual magazine compartments. I can get my iPhone 6 Plus snapped in, but just barely.

I was most curious about the exterior chest pockets, and whether the holster system would take up too much space. I found that the chest pockets are CAVERNOUS! They extend from the pocket opening down to the waste-band, then backward along the waste-band for approximately 11 inches (size XL jacket) to the second vertical seam, then vertically upward about 14 inches, to just behind the arm hole. If not for the constriction at the armholes, you could fit a full-sized laptop into these pockets. The chest pockets are constructed from the same tough nylon material as the outer shell.

For concealed carriers I'll try to explain the holster system. Inside each chest pocket are three heavy-duty, two-inch-wide, Velcro strips. These strips are sewn, fuzzy side out, to the rear face of the pocket. The strips run vertically from the top to the bottom of the pocket. These three strips are roughly parallel to each other and spaced about 2 inches apart. Provided with the jacket are two Velcro inserts, one for each pocket. These inserts are T-shaped, and made from the same heavy-duty, two-inch-wide Velcro. The Ts are 10 1/2 inches tall and 8 inches across the top. They can be attached in a variety of ways to the Velcro strips sewn inside the pockets. You can use them to attach your own holster, or, in a pinch, configure the long part of the T into a loop and use the loop as a holster. The system is sturdy enough, and the pocket big enough, to accommodate even fairly large handguns without causing sagging in the jacket's chest area.

This is a very nice jacket. It works well for normal use, and the huge chest pockets would be a shoplifter's dream. And, well, just in case of that zombie attack……


Verified Buyer

Reviewed by Deni from Michigan on Friday, December 25, 2015

Excellent quality, very nice in appearance.

Verified Buyer

Reviewed by Budget traveler from WV on Monday, November 16, 2015

Very nice jacket so far as fit and function. However this is the first time I ever owned a jacket with the zipper pull on the left side as opposed to the customary right hand side. Good Price even in view of the manufacturer's suggested retail of $ 500.