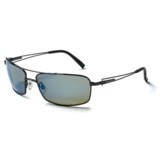 Closeouts. A smooth, sporty silhouette and glare-free lenses that adapt to changing light conditions are just a couple of the reasons why Serengeti's Dante sunglasses are a must-have for everything under the sun.
Average Rating based on
15
reviews
5.000000
0
5
Verified Buyer

Reviewed by El Presidente from Lake Tahoe on Sunday, July 9, 2017

Accolades from other reviews hold up. A little heavier than polycarbonate but hardly noticeable because the fit is so good.
Tint is fairly light. Ones eyes are visible from the outside.

Verified Buyer

Reviewed by Larry the Liquidator from In the Mountains on Saturday, July 8, 2017

I have not owned Serengeti for quite awhile... I forgot what a great lens / frame they make. Glass; Polarized; Photochromic. Durable. I've used them boating, and skiing in Portillo, Chile. Solid!

Verified Buyer

Reviewed by Cbbtex from Houston, TX on Wednesday, July 5, 2017

These sunglasses are good for someone - like me - with a wider face. They are very good for driving, especially in fog or rain. They filter out the haze, but enhance visibility. They make the light seem brighter than normal sunglasses, but at the same time I'm not squinting or uncomfortable.

Verified Buyer

Reviewed by Bruce Boyes from SLC, UT on Thursday, June 22, 2017

Glass lenses, really nice quality: no distortion. Glass holds up waaaay better than any polycarbonate. Glass costs more to make, so it is hard to find anymore except in premium sunglasses like these. I wear these with contacts, so I don't need $$$ prescription sunglasses. These stay on my medium (7-1/4") head just fine. The photochromic aspect is hard to detect: I can't see a clear difference when first going out into the sun and after being there a while. They are not super dark, which is fine with me. Contrast seems enhanced by the slight blue tint and UV blocking. Highly recommend these. They wrap around enough to provide some wind protection esp when riding a bike.

Verified Buyer

Reviewed by P & G from Nevada on Sunday, June 18, 2017

Yes- it says they are men's, but when I borrowed my Husband's awesome new sunglasses- I got SO Many compliments. It is very hard for me to find the right style- so He graciously bought another so I can enjoy them. Wear day or night driving, inside stores and especially outside with those windows or moon roofs open, or even convertible down, and your eyes are safe and pleasantly protected in great style.

Verified Buyer

Reviewed by Dr. J from NY on Sunday, June 11, 2017

It's fantastic tp have such high quality glasses that are still made from real glass

Reviewed by Dr. Bison from Somewhere over the rainbow on Monday, May 29, 2017

If someone called me a sunglass snob, I wouldn't be able to fight the title. I have lots of premium sunglasses and Serengeti's are easily my favorites with Costa's being a close second. These glasses were great. Nice color and beautiful frame. They are a little large for my medium noggin but I loved them so much I kept them anyway. The main issue is the width, but those with larger heads or a need for weirdly wide fits would be in heaven. I'd say I'm in the clouds and for the value, that's good enough.

Verified Buyer

Reviewed by Franky J from Oregon on Thursday, April 27, 2017

Very very comfortable and well made. No disappointments at all.

Verified Buyer

Reviewed by DooDad from Monterey,CA on Monday, April 24, 2017

Great optics, great fit, and a fine appearance on my oversized melon.

My only concern is how well will they hold up, as the architecture of the frame seems a bit light.

Verified Buyer

Reviewed by Jim from Orlando on Tuesday, April 11, 2017

Polarized, photo-chromatic and made of glass. These glasses are very clear and fit my large (7.75) head perfectly.