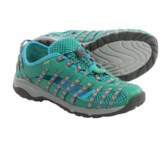 Closeouts. Go off trail and into the creek in Chaco's OutCross Evo 2 water shoes. These babies feature a protective, partially open design that's drainable and supportive, outfitted with allover webbing straps that are adjustable with one pull at the top.
Average Rating based on
11
reviews
4.272727
0
5
Verified Buyer

Reviewed by trail Pam from Minnesota on Wednesday, May 16, 2018

These shoes must be seconds, left shoe inside sole area by the big toe was faulty, hurt my toe to wear the shoe. Soles very hard & stiff. I have to remember to not buy shoes from Sierra trading, I have returned more than I have kept, and the ones I have kept I got rid of!! I don't think their shoes are 1st quality.

Verified Buyer

Reviewed by Kayaking Shaye from GEORGIA on Thursday, March 22, 2018

I bought these for my mother-in-law as a birthday gift. She had been wanting some water/ trail shoes for awhile now, but never took the time to purchase any. She has been beyond pleased with these. Said they were very comfortable and give great support. Also, they fit true to size.

Verified Buyer

Reviewed by Stephanie from West Hartland CT on Wednesday, August 30, 2017

Bought these for the water park. So comfortable and they look great. Ended up wearing them for 12 hours that day and they never once bothered my feet. Would buy again in another color.

Verified Buyer

Reviewed by No nickname from Indiana on Wednesday, August 23, 2017

True to size. Comfortable out of the box. I have not worn them in the water yet, but they are very well made and have been comfortable for a full day's wear. The toe box is comfortable on a slight bunion and I find them to be a nice cross between athletic shoe and sandal. Love the color!

Verified Buyer

Reviewed by lswnewmex from New Mexico on Friday, July 7, 2017

My niece fainted with delight!

Verified Buyer

Reviewed by LTRANS from Colorado on Friday, June 30, 2017

I was with a friend two years ago when she bought these shoes. I held off buying as we were traveling and I didn't want to take up space in my suitcase. MY BAD!! I finally bought them after being on another trip with her and seeing how comfortable the were for her. They are amazing. They keep your foot cool in the summer, while offering support and not requiring a sock. Love the colors and the comfort.

Verified Buyer

Reviewed by Mary from Maine on Saturday, June 24, 2017

Runs a bit large- my favorite remains the discontinued Out cross lace which I wore in a size 9 but had to get an 8.5 in the outcross evo 2. This model has a bit less mesh but remains breathable.

Verified Buyer

Reviewed by Trying to stay cooler from Florida on Tuesday, June 6, 2017

this footwear is functional but the material is very unforgiving. It has good traction but the foot bed is too hard.

Reviewed by funinthesun from Montana on Saturday, October 8, 2016

Four of us (2 women 2 men) bought these for an 18-day CO River Grand Canyon self-supported raft trip. The men were happier than the women although all of us thought of improvements. Other folks, BTW, wore Chacos sandals, Tevas, tennies, boat shoes, and orienteering shoes. On this trip, our feet were wet from about 8 am-5 pm in hot sun, chilly rain (3 days running) as we ran rapids, hiked side canyons, loaded and unloaded gear, changed clothes on the boats, etc. First the kudos: Great to have an easy release for getting into and out of clothes (wetsuits, splash gear, longies, splash socks, etc.) when quarters are tight and everything is wet and getting wetter. The shoes drained pretty well and sometimes managed to be dry by morning. They did not get smelly--hooray! BUT, the women's model has slots that allow in pebbles (ouchy when carrying gear) and they lack a neoprene collar that snugs down around the shoetop (more pebbles). When hiking side/slot canyons, these need a less slippery sole--how about one like Chaco sandals (or use 5.10 rubber?!)! I didn't feel I could trust my feet 100% on the smooth limestone, Vishnu shale that was like glass and the raft surfaces when I needed to climb around getting food, gear, etc. We all had serious climbing shoes for the 5.5 and above stuff we did, but when we were doing combo wading and climbing, we used this shoe. So please use a stickier sole, get rid of the slots on the women's model and add that neoprene collar to the top.

Verified Buyer

Reviewed by Trish a llamamama from Northern Ca. on Saturday, July 16, 2016

True to size, and the quick tie draw is very handy. Even with wet hands. I use them all around the property, and when cleaning the barn with the hose. fast and easy to slip into, tighten string and away you go. I have a narrow foot, but the tie capability lets me get a good fit, and support. Very stylish looking, so have worn them to the store. Will wear them to the fair, so I can wash my llamas then go into the ring without changing shoes.