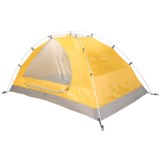 Closeouts. Jack Wolfskin's Chinook II tent is lightweight, easy to pitch and a breeze to ventilate, even in the rain. This dome tent utilizes innovative Zipvent door ventilation that's easy to regulate and draws in fresh air.
Average Rating based on
13
reviews
4.615384
0
5
Verified Buyer

Reviewed by Sergyi from Ukraine on Friday, September 22, 2017

Very high quality tent !! After three days of rain, the tent was dry and things were not wet. I recommend it to everyone !!!

Verified Buyer

Reviewed by Mark from Ohio on Tuesday, September 19, 2017

Hard to find a better deal than the Jack Wolfskin 2 man tent. Easy to set up. Have not had it up in the rain yet but I think it should be good. Seams are taped but I still put a coat of Seam Sealer on all the seams. Had a Jack Wolfskin 2 man tent 18 years ago. Lost it to a basement flood.

Verified Buyer

Reviewed by Vadim from New Jersey on Thursday, September 14, 2017

Very goob

Verified Buyer

Reviewed by Ellen from Ohio on Wednesday, September 13, 2017

extremely easy to set up and take down/pack. Pretty roomy for a 2 person tent - plenty of space for 2 people and 2 dogs

Verified Buyer

Reviewed by :) from Pennsylvania on Thursday, July 27, 2017

This tent took me, no kidding about a minute and a half to set up, not including staking it down that is. It's a present, but I wanted to make sure it was good enough before I wrapped it. Even though it has a waterproof bottom, I also purchased a footprint to protect it. It took a while to find the right size but the "ALPS Mountaineering Tent Floor Saver" for a 2-person tent (bought on another site) fits very well. I hope that helps someone out there. Anyway, this is a beautiful tent. I am impressed with the quality and am very happy with my purchase.

Verified Buyer

Reviewed by Jeong jean keun from South korea on Thursday, July 13, 2017

It's very simple tent!

Good product.

Verified Buyer

Reviewed by Maimonebus from Ohio on Saturday, July 8, 2017

Already have used the tent twice. My son had used it for boyscout camp and saw plenty of rain without any issues at all. Set up and teardown was easy, and top vents have plenty of circulation.

Verified Buyer

Reviewed by MesaGuy from Cupertino, CA on Friday, June 16, 2017

The 2-person Jack Wolfskin is a backpacking tent. As with all backpacking tents, the 2-person rating is a (just barely) minimum size per person assessment based on the smallest space that can accommodate 2 people. The tent fits me at 6'2". Width is only enough for standard width backpacking pads (20-23 inches max) for two. It has an included gear loft. Weather proofing is excellent and said to be 2000mm at Jack Wolfskin's site. This is not an ultra-light (its polyester, not sil-nylon). It has DAC 7000 hard anodized poles. 3 poles, the standard X cross poles, and then a short cross-top pole that increases internal room and makes the tent walls more vertical. THIS TENT HAS ONLY 1 DOOR. (Hence only a 4 star rating). The tent does not have a pre-fab footprint cloth included, or available. However most other retangular footprints would work to as a bottom protecter. The tent CANNOT be quick-pitched in rain (lacking a footprint), and there is no rainfly/footprint pitch option. Even with a 3rd party footprint, you cannot really quick-pitch well, because the cross bar pole mounts to the tent body (it is not part of a single pole hub system). But most people do not quick-pitch (setup the tent under the rainfly), and most people do not minimal ptich (rainfly + footprint only, no tent body), so most people will not care.

The quality is excellent, and the value is excellent. Quality zipper, rainfly, tent body, poles. Quality cord locks on pole bag. Tent bag has above average dry-sack type closure. Comes with guylines, and aluminum stakes. At this price point, this is an excellent backpacking starter tent, that is relatively low weight, but at the cost of only one door.

Perfect for a luxurious 1-person tent, 1-person + dog, or 1-adult + 1-child. OK for 2-adults but tight, and only one door.

Verified Buyer

Reviewed by Gabriel from Colombia on Saturday, June 10, 2017

I just received the tent. I made a mistake because the 3 person model hace two doors and two vestibules, I assumed that the two person model was the same, but that´s not the case, only one door.

It feels heavy for a two person tent, and the inner fabric looks cheap, a rough plastic.

We will see how it goes in the mountain.

Verified Buyer

Reviewed by Pamela from Minnesota on Friday, June 9, 2017

Very good quality, excellent price.