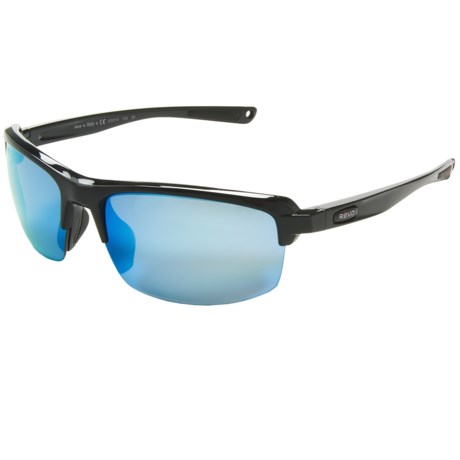 Not Of The Highest Quality
Verified Buyer
Reviewed by Louisville Cardinal Football Rules from Kentucky on Friday, July 25, 2014
I tried Revo's on in my local Sunglasses Hut to get a feel for how they felt and what the lenses looked like. They did not carry the Crux-S, so I could not try on the particular model I purchased here. For the most part, the Revo's I tried on were well made and had nice lenses.

The Crux-S sunglasses I recieved I will catagorize as an average pair of sunglasses. The lenses are certainly not the same as most of those I tried on in a store. I got the blue lenses and they block light just fine, and have more of a brown tint to them when looking through them, so from that aspect they work well. They are not as clear and crisp as the lenses of what must be higher end models. The frames also have a cheap feel to them. They are light, but they just don't feel well made, especially when opening and closing their arms. They may last forever and completely surprise me, but they feel cheap.

The Crux-S fit well and rest on my nose comfortably. I tried some Oakley's that sat too close to my face and my eyelashes brushed against the lenses. I don't have that problem with these. They feel good, and they are light. Also, since Revo was still a Luxottica brand when these were made, they were designed by Oakley and have the Oakley "unobtanium" nose pieces and temple grips. So, they don't slide off your nose easily, which is a plus. Since Luxottica sold Revo to another company, I don't know if the use of "unobtanium" will continue, but it is a nice feature. One drawback is that the nose pieces are large and when you are looking through the glasses they are well into your field of vision, which is a little distracting until you have worn them a little bit.

So, to summarize, I will keep these Revo's, as they fit well, the lenses are adequate and they have non-slip nose pieces and temple grips. However, they feel cheap and the lenses are not the high quality of Revo lenses used in models you find in local sunglasses stores. I got the typical Sierra Trading Post deal-you-can't-beat, so I paid right at $64.00 for these sunglasses, which I can live with but feel is still about $25 overpriced for what you are getting. If I had paid the over $90 price before discount, or the retail price, I would have had these on their way back for a refund as quickly as possible.
Most helpful positive reviews
Most helpful negative reviews
Similar items and more information in the following areas: